SPINEXPO®, Indigo, Printsource and DG Expo have found New York City a good venue. At SpinExpo, yarn
spinners, fiber companies and producers of textile machinery had news. Indigo and Printsource had
new exhibitors. DG Expo, a biannual show geared to small orders, is expanding.

SpinExpo


Fiber companies at SpinExpo provided information about their products. Australian Wool
Innovation Ltd. (AWI), with its subsidiary The Woolmark Company, gave general facts about Merino
wool along with a fashion forecast, and directed potential customers to what spinners are doing
with Australian Merino wool yarns and fabrics.
Meadowbrook Inventions Inc., Bernardsville, N.J., showed Angelina® metallic
fibers that look like Brillo® and feel like cashmere. Angelina copper is an antimicrobial yarn
suggested for apparel, home fashions including bedding, and antimicrobial textiles for use in
hospitals.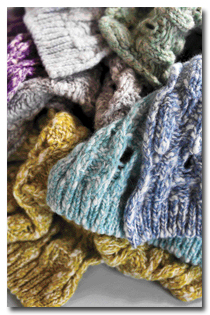 Todd & Duncan's offerings at SpinExpo included Burleigh, a two-toned textural cashmere
yarn.

Nylstar S.A., Spain, introduced Nylgold®, a nylon 6,6 product. Nanoparticles are infused
into the polymer, and the yarn has elasticity and moisturizing properties. Along with apparel, it
is going into bandages. Two other products on display were Nylair, an ultralight hollow fiber that
provides thermal insulation; and Nylcare nylon 6,6 fiber that keeps bacteria stable.
Afghanistan, through U.S. assistance, has a developed cashmere industry and today is the
third-largest cashmere-producing country after China and Iran. Herati Cashmere and Skin Processing
Plant sells to U.S. customers including J. Crew and Kate Spade.
Two machinery companies with extensive displays were H. Stoll GmbH & Co. KG, Germany,
and Santoni S.p.A., Italy. Stoll showed garments and fabrics made on its equipment as examples of
what learning experiences are available at its Fashion & Technology Center in New York's
garment district.
Santoni presented its newest seamless knitting machine, Mec-Mor Variatex CMP, which can make
a sweater in four minutes. It features stitch structures using various types of yarn and can do
single and double jersey, jacquards, plated effects, pockets and four-color stripes.
Spinners showed novelty and quality. Südwolle Group, Germany, the largest spinner of worsted
knitting and weaving yarns, grows its own Merino wool in Australia. Catering to luxury markets, it
was selling a variety of yarns including coarse-gauge fine yarns for flat knitting, 2/28 and 2/60
cashmere, and blends with Merino wool and silk.
Z. Hinchcliff & Sons Ltd., United Kingdom, has been selling quality woolen yarns for
nearly 250 years. The company sells fine to heavy yarns of cashmere, angora, camel hair, and
lambswool. With stock service, it promises fast deliveries.
Todd & Duncan Ltd., Scotland, has 165 colors in 2/28 cashmere and stock service. It
showed cashmere and lambswool heathers and slubs.
Felise Erdal of Yarn Mavens Inc., New York City, sells China-based Yarns & Colors Co.
Ltd.'s line to mid- and upper-level designer lines in the United States. The new collection
includes alpaca, camel, angora, cashmere, fox, yak and mink. Some is blended with silk. Yarns are
ultrasoft, lightweight and bulky.
Another Chinese line handled by Yarn Mavens is Shenzhen Everwin Yarn Co. Ltd. Here, the
specialties are fine-gauge cotton heathers for T-shirts, wool and blends. One that was pointed out
is spun of rayon, wool and Pima cotton.
Three firms from Italy showed quality and creativity. Miroglio Textile had soft
mohair/wool/nylon bouclé yarns, felted and thick-and-thin wool/nylon yarns and thick
viscose/acrylic/Merino wool marled yarns.
Cariaggi has stock service with more than 180 colors in its two-ply cashmere range, and
sells both woolen and worsted spun yarns. Woolen yarns include blends of cashmere with vicuña,
mohair or ultrafine Merino wool. Some of the worsted yarns contain metallic and elastic fibers. New
are two-color cashmere bouclés, some twisted with silk, or printed with metal or with rubber for a
tweed look.
Filosophy S.r.l. sells shiny yarns, fancy yarns and thick gauges in cashmere blended with
mohair. Most of its yarns have a clean look. Some yarns are recycled from old sweaters.
Filatures du Parc, France, has yarns of carded wool and blends with cashmere, yak, cotton,
silk and nylon. A lot of the line is recycled. One best seller is a handknitting yarn that is a
blend of cotton, nylon, acrylic, silk and linen.
Seritex Inc., New York City and Los Angeles, showed yarns from global sources spun with
paper along with two-ply cashmere, nylon in blends with alpaca or mohair, and wool or cotton in
fluro colors.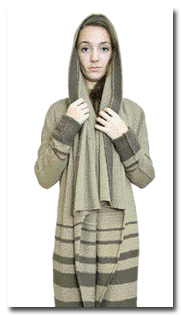 Herati Cashmere and Skin Processing Plant supplies product to several U.S.
customers.

Indigo And Printsource


Indigo had new exhibitors from Brazil. Capim Puro showed prints combining photographs with
hand-drawn designs. Nature was a big theme. São Paulo city scenes, hand-drawn abstracts and dots
were other designs.
A lot of British firms showed at Indigo. Made in Brighton's line is digitally printed and
has lacy looks, animal skin abstracts, small geometrics, large all-over abstracts, and plaids that
are blurred and misted or precise. Amanda Kelly showed black-and-white and patchwork abstracts,
realistic florals, and blurred dots. At Gather No Moss, engineered florals are a take on Russian
folkloric. There are huge misted abstracts, playful landscapes, geometric borders and mixes of
paisleys in patchwork designs.
Three New York City designers showing at Indigo have elegant lines. Tom Cody Design showed
Baroque designs, phenomenal dots, elegant embroideries, jewel prints and less casual T-shirt
patterns. The Style Council is selling Art Deco-inspired designs, Baroque styles, paisleys, ikat
flowers, blurred geometrics, marbleized looks and photorealistic patterns. At Marilyn Kern Textile
Designs Inc., there are foulards, tonal burn-outs, textural designs, paisleys, dots and "anything
engineered."
Printsource exhibitor Lewis Orchid, U.K., is into "non-season vacation living." His line of
contemporary classics has linear black-and-white designs, skins with stripes, and new
conversationals including big fish.
Mixed Media Studio, Carrolton, Ga., also showing at Printsource, has natural motifs in
offbeat colors. There are blueberry bushes, monolith patterns, wood carvings and pansies in a
garden.
Creativo Surface Design, New York City, showed abstract textures, graded ombres and mirror
images. There are photorealistic animals for childrenswear.
Design Works International, New York City, showed paisleys, Baroque designs, scarf prints,
photorealistic florals, opulent jewels and bold geometrics.
Tana Bana Design Services, Morristown, N.J., sells designs for the home. Vibrant colors,
painterly watercolors, ikats, skins and botanical drawings were popular patterns.

DG Expo


At DG Expo, now in its second season, most of the exhibitors have no minimums and offer
stock service. In February 2013, exhibit space will double.
Hemp Traders, Carson, Calif., showed knitted and woven hemp and cotton fabrics. The line
ranges from heavy upholstery fabrics, corduroys and French terry to ultralight jersey and lawn.
Carr Textile Corp., Fenton, Mo., sells knits and wovens of organic cotton, recycled
polyester and nylon to the apparel and home-fashion industries. A lot is made in the United States.
Along with light- to heavyweight solid fabrics, there are yarn dyes and prints.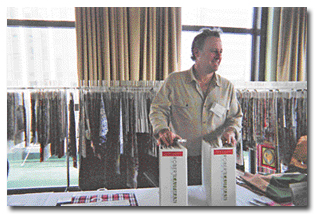 DG Expo exhibitor Robert Kaufman showed his latest collection of prints and yarn dyes.
Novelties at D. Zinman Textiles Ltd., Montreal, include laces, beaded fabrics, jacquards and
prints. Sextet Fabrics, East Rockaway, N.Y., sells viscose/spandex, Modal®, MicroModal®, polyester
and nylon knitted fabrics in a variety of weights including matte jersey, mesh, piqué, ponte di
Roma, French terry and double-faced knitted fabrics. Robert Kaufman Fabrics, Los Angeles, has a new
collection of prints and yarn dyes every quarter. Paisleys, flowers and mini designs on organic
cotton lawn were selling at this show.
November/December 2012