New York City has captured the first glance at what fabric companies have created for fashion
designers for Fall/Winter 2013-14. Première Vision Preview presented apparel fabric collections
from European and Asian firms. Texworld USA included apparel and home yarns and fabrics and
sourcing exhibitors. Kingpins and The Continuum focused on denim and sustainability.

Première Vision Preview


For exhibitors at Première Vision Preview, colors are dark with bright highlights. Fabrics
are light, soft, clean and bulky. Many lines are showing double-faced fabrics. Stretch is a given.
Woven patterns tend to be small and classic. Prints are digital, covered and very colorful.
Metallics, paisleys and animal skins are still offered, and don't forget black-and-white.
In the woolen sector, Robert Noble, Scotland, is showing ultralight Merino suiting and coat
weights. Colors are dark olives, ochers and browns with bright touches of berry or rust. Patterns
are small herringbones, and glen and gun club checks. The touch is natural, and there is stretch.
At Nikke, Japan, there are meltons, gabardines, twills and double cloths that reverse from
check to twill or gauze to twill. A new chemical finish that gives fabrics a paper touch is
especially popular with wool denim.
Avelana S.N., France, has a modified polyester fiber called carbonium that can be dyed and
spun like wool and has a wool touch. Fabrics woven with carbonium can be wrinkle-free, and water-
and stain-resistant. Other fabrics include worsted wool flannel, bubble-textured wool stretch,
Donegal tweeds and wool-blend stretch glen checks and herringbones. Roudiere, Avelana's menswear
counterpart, has a double-faced fabric that reverses from worsted to wool; tweeds with subtle
stretch; and small, clean designs.
At Gruppo GF S.r.l., Italy, woolen tweeds are thick, soft and fluffy. Italy-based Picchi
S.p.A. has woolen tweed bouclés; brushed Donegals; and bonded double cloths that reverse from plaid
to bright, black to colorful stripes, and herringbones to diagonal weaves.
BTD Tekstil, Turkey, is showing casual double cloths that reverse from piqué or check to
twill; power stretch twills and crepes; and wool-blend bouclés that resemble Chanel styles, some
containing Lurex®.
Velcorex since 1828, France, continues to reinterpret corduroy. For Fall 2013, it's
ultralight, mini-rib or cordless, and jacquard-patterned. There is corduroy that looks like denim
and has been dyed using a new sustainable technique developed by Clariant. Philea, France, has new
jacquards with engineered patterns, tweeds, crepes, a lot of stretch and glitter.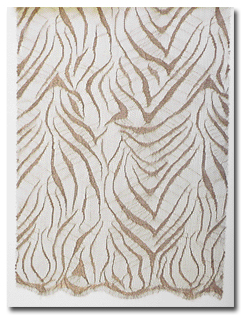 Laces shown by Solstiss at Première Vision Preview included this copper metallic
lace.
Henitex International, France, has double cloths that reverse from fleece to small
black-and-white designs, or stripes to chevrons. There are open textured knits, variegated stripes,
ombréd jacquards, and a lot of large prints.
For outerwear, two Italian firms, Frizza S.p.A. and Olmetex S.p.A., are presenting
lightweight, bonded fabrics that are waterproof, stretchy and breathable. At Frizza, there are
sheer over shine over fleece, a fabric that looks like elephant skin bonded to wool, 3-D prints and
new transparencies. Olmetex is showing waterproof bonded fabrics that have a lot of stretch;
neoprene, Teflon® or waxed surfaces; heather wool flannels; and polyester furs.
For dress-up, there is opulence. Carlo Pozzi & C., Italy, has color-reverse stretch
satin, sheer/opaque wool/nylon with crinkle and glitter, and colorful jacquards. Solstiss S.A.,
France, has sheer, abstract-patterned laces, heavy corded laces and copper metallics. Denis et
Fils, France, is showing silk jacquards and lamé.
Digital prints not mass-produced are hot sellers at Sprintex S.a.s., France; KBC, Germany;
Miroglio Textile S.r.l., Italy; and Confetti Fabrics, Turkey. There is complete ground coverage,
with countless colors, and no repeat designs. Sprintex has oversized, dramatic graphics; KBC is
showing kaleidoscopic and photographic florals; and Miroglio has large, bold abstracts. Skins and
paisleys continue everywhere, and are newly done.

Texworld USA


At Texworld USA, Austria-based fiber producer Lenzing AG is a major player. Its section
included nearly 50 worldwide customers, including 10 from the United States.
U.S. textile production using Lenzing's cellulosic fibers has increased 65 percent, with a
lot of Modal® and Tencel® going into sheeting and top-of-bed products. Beantown Bedding, Hingham,
Mass., is showing compostable and biodegradable bed sheets made using Tencel. Beantown is selling
to schools and universities. Camps and hotels are looking at its products.
Paramount Textile Mills (P) Ltd., India, showing at Home Textiles Sourcing, sells bedding
fabrics, including sheets and pillowcases woven with Modal and Tencel. Other exhibitors are selling
fabrics for curtains, upholstery, rugs, bedding, and kitchen.
Buhler Quality Yarns Corp., Jefferson, Ga., is selling yarns to sheet and towel producers.
For apparel, MicroModal® heather yarns are popular.
Tuscarora Yarns Inc., Mount Pleasant, N.C., reports its new nub yarns are selling well,
especially black with natural nubs.
Texollini Inc., Long Beach, Calif., has jersey with Outlast® phase change technology,
fabrics knitted with spider silk, burn-outs and new knitted fabrics containing cashmere and alpaca.
FesslerUSA, Orwigsburg, Pa., is working with both Lenzing and The Woolmark Company,
Australia. There are three new wool fabrics, including 17.5-micron 3.5-ounce Merino jersey.
Textil Santandrina S.A., Spain, showed at Texworld and Kingpins. High-end Tencel/Lycra®
denim sells to Gap Inc., Lands' End and Coldwater Creek. Colored denim and jacquards are popular.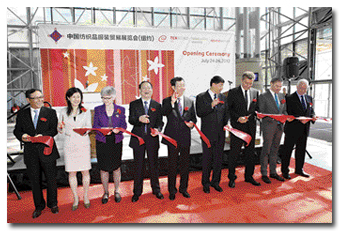 Texworld USA officials and sponsors marked the opening of the show with a ribbon-cutting
ceremony.


Miroglio also shows at Première Vision. At Texworld, it focused on fabrics styled in Italy
and made in China.
International Apparel Sourcing Show exhibitor Panjiva, New York City, connects buyers with
suppliers in the global supply chain. Another exhibitor, Sterlingwear of Boston Inc., started
making peacoats in 1968 and today makes women's, men's and children's apparel, as well as peacoats
for the U.S. Navy.

Kingpins And The Continuum


Kingpins and The Continuum are two growing shows with international exhibitors. Several
companies showed at both events.
At The Continuum, ColorZen LLC, New York City, introduced eco-friendly cotton dyeing
technology that eliminates water pollution and decreases water consumption by 90 percent and energy
usage by 75 percent (See "ColorZen Launches Water-, Energy-, Chemical- And Time-Saving Cotton
Dyeing Technology," Dyeing Printing & Finishing News, this issue).
Bayer CropScience Inc.'s FiberMax® cotton, a Kingpins sponsor, is produced sustainably in
Texas for world consumption. It is the largest variety of exported cotton in the world and offers
superior spinability, reduced breakage, excellent strength and a wonderful hand.
At Cary, N.C.-based Cotton Incorporated's stand, buyers reacted enthusiastically to the
company's collaboration and innovation efforts. Of special interest were 3-D effects, washdown
treatments and photo-realistic printed looks.
Invista, Wichita, Kan., also a Kingpins sponsor, reports special interest in color-flecked,
very stretchy and laser-printed denims. Eco-friendly is high on the list, and TOUGH MAX™ Lycra
products are cited for their comfort and performance.
Tavex Corp., Spain, said Levi's is buying denim with 8-percent stretch for men and
35-percent stretch for women. Coated denim and lighter weights are selling.
American Denimatrix fabrics are made in Littlefield, Texas, and garments, in Guatemala. New
are tie-dyed jeans, leather-look coated garments, shiny laser prints, batiks, and bleach effects.
Cone Denim, Greensboro, N.C., uses EarthSpun® yarns from Patrick Yarn Mills Inc., Kings
Mountain, N.C., for a colored denim collection. These yarns, used as weft, come from recycled
brown, green and blue plastic containers, and no dye is needed. One garment made with Tencel and
dyed with iron oxide has a crisp hand. Other denims contain recycled cotton.
September/October 2012