In January and July, New York City fabric shows are offering new items for apparel. Fiber companies
are among the exhibitors showing innovations — and where to find them. At Texworld USA, held July
24-26 at the Javits Convention Center, Lenzing will focus on MicroModal®, with increased production
in the United States and Asia; and on MicroModal Edelweiss
(See "
Edelweiss:
Eco Improvement For Modal® Fiber,"
Textile World
, March/April 2012). Invista and FiberMax® cotton are two sponsors of the Kingpins Show
and its satellite show, The Continuum, held July 24-25 at Center 548; and Cotton Incorporated is a
Kingpins exhibitor.

Lenzing Fibers At Texworld USA


Lenzing AG, Austria, has expanded its reach. At Texworld USA, the company will have 41
exhibitors, including 10 from the United States. "We see an increased demand for Made in America,"
said Tricia Carey, merchandising manager, Lenzing. "Time, smaller orders and quality are some of
the contributing factors. And, we are working through the supply chain, from yarns to knitted
fabrics and finally to garments."
Buhler Quality Yarns Corp., Jefferson, Ga., spinners of high-quality yarns, will feature
extra-long-staple cotton, MicroModal Edelweiss, and MicroTencel®. Rainbow technology will be on
display, with fabrics from Tricots Liesse, Montreal, showing different color depths that can be
achieved using this yarn. MicroModal and MicroModal/Supima® cotton slub yarns also will be
featured.
At Tuscarora Yarns Inc., Mount Pleasant, N.C., there will be both ring-spun and vortex yarns
of Modal/polyester. Vintage Modal triblends; and Modal/cotton heathers, mock twists and nubs are
among the choices.
Texollini Inc., Long Beach, Calif., has a wide range of fabrics knitted with Modal,
MicroModal, ProModal®, Tencel® and MicroTencel. The range goes from sheer tissue weights and
textures knitted on Texollini's Superfino® equipment to heavy fabrics for activewear. And look for
new phase-change technology and Fire Stomp® featuring Lenzing FR®.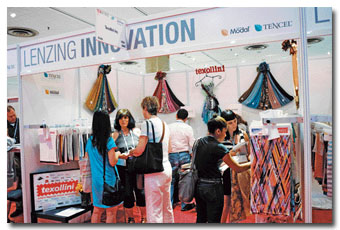 Texollini Inc. is one of 41 companies, including 10 from the United States, that will be
exhibiting as part of Lenzing Innovation at Texworld USA.
Design Knit Inc., Los Angeles, knits to order, from sheer to heavyweight fabrics. The company
can do lightweight sweater knits, novelty and basic fabrics made with cashmere, silk, wool, rayon,
cotton, linen, MicroModal, ProModal, Tencel or any other fiber. New fabrics are offered every
season.
At Mansfield Textiles Inc., Vernon, Calif., 60 new knitting machines are helping the company
renew its dedication to developing new textiles. Laguna Fabrics, Los Angeles, uses blends with
MicroTencel to create crepes, nep jerseys, streaky slubs and jacquards. At Los Angeles-based
Ecotex, it is about color and print.
FesslerUSA, Orwigsburg, Pa., produces knitted fabrics and garments. One new fabric is a
flame-resistant interlock containing Lenzing FR that is soft next to the skin and weighs in at 6.4
ounces
(See "
Quality
Fabric Of The Month: Comfortable FR Underneath It All,"
TW, May/June 2012). Others are jerseys, interlocks and stripes in blends of
MicroModal with Supima cotton and polyester. A 3.6-ounce cotton/MicroModal jersey has a very heavy
slub. A 3.1-ounce jersey slub with a bold stripe is knitted using a blend of Supima cotton,
MicroModal and polyester; and a 4.3-ounce heathered stripe also contains Supima cotton, MicroModal
and polyester.



Denim Trends At Kingpins


At Kingpins, Cotton Incorporated, Cary, N.C., will show results of its recent trend analysis
with Spain-based dyeing and finishing machinery manufacturer Jeanologia. Here, new methods have
been developed that are environmentally and cost friendly. Some involve laser-cut edging, ozone
washing to eliminate harsh bleaching, digitally printed denim to get the indigo hue without
stonewashing, and printing with realistic prints. Some of the prints include animals, dandelions,
exaggerated pinstripes and marbleized effects.
Cotton Incorporated also will show TransDRY® denim from Levi's®, produced in Asia and sold
locally. The TransDry treatment pulls moisture through the fabric to help keep the body cool and
dry. And, there will be denim developments from Cotton Incorporated's extensive fabric library
along with very explicit directions on how to weave or knit each fabric.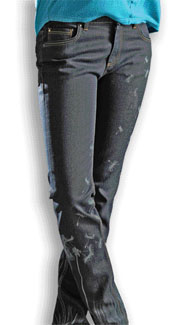 Photoscan is one of 10 directional denim inspirations combining fashion and sustainable
innovation developed by Cotton Incorporated and Jeanologia.

Bayer CropScience Inc.'s FiberMax brand, one of the sponsors of Kingpins, will show
customers fabrics and garments that have been made with its fibers. FiberMax is extra-long-staple
cotton grown in Texas.
Sustainability will be a topic at one of The Continuum seminars. "We will try to explain the
word 'Sustainability,'" said Robert Antoshak, managing director of Kingpins organizer, Olah Inc. J.
Berrye Worsham, president, Cotton Incorporated, will be a seminar participant.
Wichita, Kan.-based Invista, also a Kingpins sponsor, has developed three themes around
denim. The first, Ecology, was developed in cooperation with Jeanologia. Here, innovative laser
printing and waterless washes are used to finish fabrics. Each is rated on a score from one to 100.
"One is the best score," said Jean Hegedus, global marketing director — Bottoms. "Most of ours came
to about 16.
"We launched this project at Première Vision Denim," Hegedus continued. "A fabric from
[China-based] Seazon Denim that was printed with a cable stitch pattern was well-received, along
with fabrics from Prosperity Textiles and Central Textiles [both based in Hong Kong].
"Our second theme is called Ethnic," Hegedus said. "It includes a lot of bright colors and
prints."
She pointed out jeans made in a fabric from C.D.I. (Color Denim International Ltd.), Hong
Kong, using yarn-dyed yarns rather than being garment dyed, "so you see a lot of white," she said.
Another fabric, from Tavex, Spain, contains LYCRA® dualFX®, which, Hegedus explained,
comprises two stretch fibers, Lycra for stretch and Lycra T400® for recovery.
Emerging is the third theme Invista will present. "Here, we did a lot of research in the
menswear market," Hegedes explained. "We discovered that there is a lot of crossover between
sportswear and rugged activewear. Men want fabrics that are strong and abrasion-resistant," she
said. TOUGH MAX™ Lycra provided the answer: It has toughness, resists abrasion and doesn't add
weight. It contains Lycra T400. Some of the fabrics she pointed out are from Kaltex®, Mexico;
A.D.M. Denim, Pakistan; and India-based Bhaskar Industries Ltd. and Arvind Ltd.
July/August 2012