Student fashion competitions held annually at prestigious fashion institutions not only offer cash
prizes to winners, but also provide knowledge about products, where to find them and how to use
them. Many are sponsored by international industry organizations and work through all levels of the
supply chain.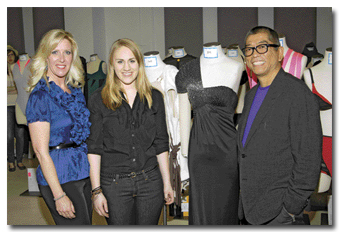 Left to right: Kim Hall, marketing manager, RadiciSpandex; Sarah Ineson, Grand Prize and
Eveningwear winner of RadiciSpandex's "Stretch to the Future" design competition at the Fashion
School of Kent State University; and designer Tadashi Shoji, this year's honoree designer judge,
present Ineson's winning garment.

Feel The Yarn


Now in its second edition, "Feel the Yarn," a promotional event featuring yarn made in
Tuscany, recently held a training session in Prato, Italy, for 21 students from seven fashion
colleges around the world. The initiative is promoted by Toscana Promozione, the Agency for the
Economic Promotion of Tuscany; and ICE, the Italian Institute for Foreign Trade; in collaboration
with Consorzio Promozione Filati and Pitti Immagine.
During training, students were introduced to fibers, colors and yarns at a workshop
organized by Ornella Bignami, coordinator of the project. They met with spinners to learn about the
design and manufacturing phases of yarn for knitwear. Each selected yarns to use to create three
outfits that they submitted for the competition, themed "From Shadow to Light." Judges considered
each student's creative use of color and contrasting materials such as thick and thin, smooth and
coarse, and fluid and compact yarns.
Schools selected include Parsons The New School for Design, New York City; Senac São Paulo,
Brazil; Polimoda, Italy; Central Saint Martins College of Art and Design, and Royal College of Art,
United Kingdom; Bunka Fashion College, Japan; and BIFT Beijing Institute of Fashion Technology,
China. Garments were displayed and judged at the Pitti Filati yarn fair in Florence, Italy.
Selection of the winning entry was chosen based 40-percent on response from show visitors and
60-percent on evaluations by an international panel of judges.
Mills involved in the project include Ecafil Best, Filati BE.MI.VA., Filati Biagioli
Modesto, Filpucci, GI.TI.BI. Filati, Ilaria Manifatture Lane, Industria Italiana Filati, Lanificio
dell'Olivio, Linsieme Filati, Manifattura Igea, New Mill/Fashion Mill, Pecci Filati and Pinori
Filati.
The winning garment, announced on the last day of the show, was designed by Parsons graduate
student Soojin Kang. Her one-piece dress was created using lustrous, highly twisted cotton yarns
from Lanificio dell'Olivio and was made from one piece of fabric that Kang knitted at Parsons. She
used plastic horse hair tubing to give shape and drape.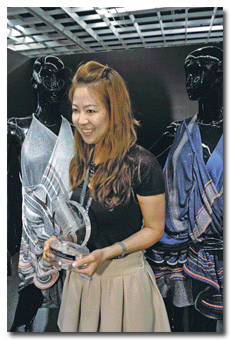 Soojin Kang used lustrous cotton yarns from Lanificio dell'Olivio to knit the fabric used in
her winning garment at "Feel the Yarn."

Kent State University


In New York City, RadiciSpandex Corp., Gastonia, N.C., a subsidiary of RadiciGroup, Italy,
awarded prizes to juniors from the Fashion School at Kent State University, Kent, Ohio.
Participants in RadiciSpandex's 11th annual "Stretch to the Future" design competition
created swimwear, activewear, lingerie and eveningwear using fabrics containing RadElast® spandex.
The lingerie award was sponsored by The Underfashion Club Inc., a not-for-profit organization that
provides the intimate apparel industry with a forum to exchange information, discuss needs and
focus on the importance of the industry as a whole.
Kim Hall, RadiciSpandex marketing manager, noted that stretch fabrics containing spandex
take a special expertise to style and sew. With the trend toward casual, comfortable attire,
stretch is in greater demand than ever. Hall said RadiciSpandex is working with design students to
give them that special ability to work with stretch. Fabrics for the competition were donated by
Ames Textiles, Cyberknit Fabrics, Darlington Fabrics, Eagle Fabrics, Guilford Performance Textiles,
Markbilt Technical Fabrics, McMurray Fabrics, Polartec, Prescott Finishing, Rentex, Royal
Lace, Sextet Fabrics, Swisstex, TDB Tecidos and Tweave LLC.
After winners are selected by the judging panel, an overall Grand Prize winner is chosen
from among the four winning garments. This year's winners were selected from a field of 53
students. Sarah Ineson was the Grand Prize and Eveningwear winner for her one-shouldered gown
created in a black stretch fabric from Darlington Fabrics. The gown curves the body and is studded
with crystal sparkles. Amanda Heslinga won the Activewear prize with her two-piece design featuring
a black bandeau top embellished with pink bands and matching pants, in fabrics from Darlington and
Guilford Performance Textiles. Lingerie honors went to Alexandria Petrus for a bra-and-panty set in
a variety of fabrics from Ames Textiles, Darlington, Hornwood and McMurray Fabrics. The
Swimwear prize went to Madelyn Winfield of Zelienaple, Pa. Winfield designed and made a one-piece
suit and cover-up using fabrics donated by Darlington, Sextet Fabrics and Polartec.
Tadashi Shoji, a noted eveningwear designer based in Los Angeles, was this year's honoree
designer judge. The Tadashi label is carried in more than 4,000 major department and specialty
stores worldwide, including Neiman Marcus, Nordstrom, Saks Fifth Avenue, Bloomingdale's and Macy's.
Also on the judging panel was 2005 Grand Prize winner Kristy Chen, now an assistant designer for
the contemporary label Doo.Ri. Other judges came from the fashion design, retail, textile and
publishing fields.

Pratt Institute


Cotton Incorporated, Cary, N.C., named three winners from the graduating class of Pratt
Institute, New York City, for their designs using cotton.
This year, 34 junior fashion design students participated in the semester-long sportswear
design competition sponsored by the Importer Support Program of The Cotton Board and managed by
Cotton Incorporated. The three winning designs were on display as part of the annual Pratt Fashion
Show.
Juan Pozo was first-place winner. The American college prep look inspired his outfit that
combined cotton twill, denim, chambray, sateen and shirting fabrics. Second place went to Matthew
Bruch, whose ombré blue swing coat worn with a voile man's shirt had the option of a blue waffle
weave skirt or wide-leg pants in black twill. Third-place winner Theresa Deckner used bold colors
and an unexpected combination of prints. Her reversible jacket, ikat blouse and bustier could be
worn with high-waisted jeans or a full skirt.
Hamish Bowles, European editor at large for Vogue magazine, was this year's recipient of
Pratt's Fashion Icon Award. In announcing the award, Pratt Institute President Thomas F. Schutte
said, "Hamish is a true fashion icon and certainly has been an inspiration to Pratt's Department of
Fashion Design and its students." Diane von Furstenberg, founder of global luxury lifestyle brand
DVF and 2006 recipient of Pratt's Fashion Icon Award, presented the award to
Bowles.
The 2011 Pratt Fashion Show featured the best work of 18 graduating seniors. Rebeccah
Pailes-Friedman, acting chair, Department of Fashion Design, described their work as "extremely
fresh and innovative." Collections included sportswear, menswear, costumes, evening and
bridal.
MaRu Jung's "Bohemian Travelers" sportswear collection featured a lot of layering and
unusual combinations of fabrics. Fringed shorts were shown under a long-sleeved tie-dyed knit top
and an appliquéd short-sleeved open jacket. The "Poetic Time" sportswear collection of Megan Jones,
who has worked for Donna Karan, had a dressier look. Puckered fabrics in soft and creamy tan shades
were combined with pleated sheers and topped with chunky knits casually thrown around shoulders.
Olivia Y. Choi, who interned with Diane von Furstenberg, appliquéd thick, ruffled strips to fabrics
she used for dresses and jackets. There was a casual feel to Elisha Rho's evening collection. An
intricately draped satin top was shown with narrow black pants and a melton wool jacket.
July/August 2011