A

long with new colors, textures, patterns, finishes and technologies, global sourcing and
the economy were topics of discussion at the recent Première Vision Preview in New York City, where
preregistration was up 30 percent.
"With buyers looking for smaller quantities and more frequent and faster deliveries,
manufacturing is moving closer to home," said Philippe Pasquet, CEO, Première Vision S.A.
Exhibitors reinforced these ideas. Ron Sheridan, agent for Turkish printer Confetti Tekstil,
said a lot of apparel is coming out of Egypt, Israel and Jordan — duty-free countries near Turkey
whose companies are equipped to work with small manufacturers. "Apparel companies are balking less
at the higher prices of digital printing because they can get smaller quantities and faster
deliveries," he said, noting that Confetti provides minimums as low as 100 yards.
Direction by Indigo and Printsource, surface design shows that ran concurrently with Première
Vision Preview, were crowded. Massimo Iacoboni, CEO and producer, Printsource, said American
designers are looking for new inspiration. "We are part of their machine for creativity. They come
here to see what will be next."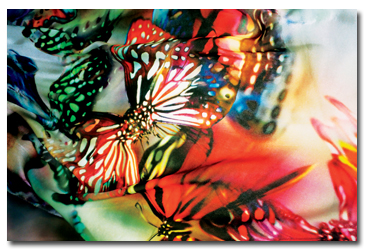 At Première Vision Preview, KBC showed intricate, colorful digital prints on silk chiffon,
charmeuse and cotton voile.

Casual And Active At Première Vision Preview


Spring/Summer 2012 will be bright and romantic, with ultralight, high-performance fabrics
that feel good. New finishing techniques provide dry, slick or crisp touches, generally with a
supple hand. Prints and jacquards tend to be ultra-large; blouse and shirting styles are small in
scale.
For active- and outerwear, ultralightweight fabrics with performance are in demand.
Italy-based Frizza S.p.A.'s new FXL division showed trendy, high-tech fabrics. Transparent
23-grams-per-square-meter (g/m2) nylons are lustrous, drape well, and are wind- and waterproof.
Soft cottons have a washed effect. Lightweight bonded fabrics reverse color and stretch in all
directions. Wax finishes are easy-care.
Olmetex, S.p.A., Italy, introduced seven new fabrics. The most popular is an 80-g/m2
silk/cotton blend that has a crisp hand. There are sheer linen/nylon reversible fabrics, yarn-dyed
cottons that have a touch of metal for subtle sheen, shiny/dull jacquards and lightweight
micro-nylons that have a supple hand.

C.O.T.O., Japan, has a range that goes from ultralight and open lacy knits to dry-hand woven
canvas. Fabrics are knitted and woven of paper blended with cotton. Abca paper yarns are
chemical-free, biodegradable, smooth and ultralight; and have a cool, dry touch.
BTD Tekstil, Turkey, has new satin-touch, dry-hand finishes on pant- and jacketweight
fabrics. There are twills and poplins, sharkskins, hopsacks, denim looks and subtle textures woven
in linen/viscose blends.
Shirting fabrics at AB Créations by Fabien Doligez, France, include ultralight cottons with a
washed finish, lustrous 100-percent cupro shirtings and linen/Lycra® blends. Along with fine
stripes, there are shiny/dull woven linen/cotton jacquards.
Knits at Deveaux, France, go from day to evening. Best sellers are woven with acetate for a
satin surface and patterned to coordinate with crinkled textures, lustered crepes and crochet
knits.

Luxe


Reynaud Rexo, France, describes its line as fancy, sophisticated and elegant. There is luster
and sheen for day. Some jacquards are touched with Lurex®; others are subtly textured or have
enormous patterns. Flowers can be bold and bright or subtle and tonal.
Jacquard specialist Carlo Pozzi, Italy, showed an innovative collection of 100-percent silk
and blends with cotton or linen for day and evening. Looks include snake patterns, long-stem
abstract flowers, panel designs with faded effects and silver roses.
Denis et Fils, France, showed silk/viscose/polyester jacquards. Some are woven with
dazzling metal and hand-painted. Other fabrics are warp-printed for a soft, romantic look.
Color and metal are selling at lace specialist Solstiss, France. There are ribbon
re-embroidered laces and functional stretch laces that are going into lingerie and swimwear.

Prints


Prints are popular, especially florals. They are enormous, bold and colorful, tropical,
romantic, elongated, abstract and ethnic. Paisleys and skins continue.
At KBC, Germany, digital prints on silk chiffon, charmeuse and cotton voile are intricate and
colorful. There are sweeping linear designs with blurred edges, marbled patterns, melting irregular
stripes, snakeskins, abstract geometrics and bold flowers.
Sprintex S.a.s., France, has digital prints on silk, linen, cotton or polyester chiffon,
crepon, voile, jersey and satins. Many coordinate with matching stripes or dots. Pretty, romantic
and tropical flowers turn up with birds or animal skins. Most are giant in scale. Some are bright
and blotched, and others are tonal and in patch patterns.
At Miroglio Textile S.r.l., Italy, digital prints are big and bright. Flowers run the gamut
from tropical or melting to abstract. They are combined with stripes, mixed with lace and in pale
to bright borders. Abstracts are dimensional and colorful, and paisleys turn up in engineered scarf
designs.
Confetti showed prints on rayon/ spandex jersey and silk or polyester voile. There are
dimensional abstract designs, blurred tie-dye effects and brightly colored tropical flowers.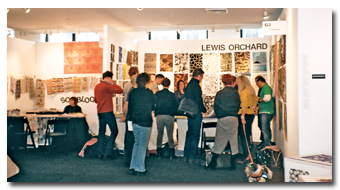 Lewis Orchard exhibited its fabric collection at PrintSource.

Direction By Indigo And Printsource


Some studios showed at both Direction and Printsource. Bernini Studio Designs, Italy;
Creations Robert Vernet, France; and Gather No Moss, London, all cited Direction for fashion and
Printsource for interior design, with some overlapping.
Bernini showed animal/flower mixes on printed lace grounds, romantic flowers, and ethnic
patchwork combinations of paisleys with geometrics. Traditional flowers, patchwork flowers and
Missoni-styled stripes were pointed out at Robert Vernet, where corals and pinks are color
favorites. Gather No Moss prints are hand-rendered and often of vintage quality. For swimwear,
there are African tribal patterns; logos and labels were shown for T-shirts. Flowers at Whiston
& Wright, United Kingdom (U.K.), range from botanical designs to Asian. Geometrics are clean
and graphic.
At Direction, Tom Cody, New York City and London, showed 1970s-inspired foulard geometrics,
Missoni-styled zig-zag stripes and ethnic ikats. Florals are pretty and romantic, watery, scratchy,
and Asia-inspired. Indistinct animals and geometrics have a no-print look. Milkprint, New York
City, showed feminine and graphic paisleys and geometrics, abstract Asian florals, floral/stripe
mixes and small retro conversationals.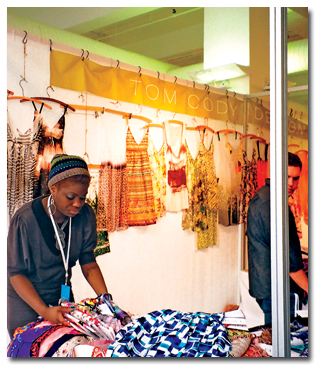 Tom Cody's exhibit at Direction included fabrics made up into apparel.
Best sellers at Fortier Price Textile Design Archive, Paris, are romantic florals. Fresh
pastel plaids, black and white monotone abstracts, sophisticated conversationals, ethnic paisleys
and small foulard-styled geometrics were also pointed out. Paris-based Antoinette et Freddy showed
bright tropical flowers and geometrics for swimwear.
Asian flowers are soft and muted at Baxter Fawcett, London. Another idea is 1970s-inspired
geometrics. Patterns show animal-skin textural designs, graphic flowers, paisleys mixed with ditsy
patterns and tropicals. The Collection, London, showed nautical conversationals, palm tree
tropicals, Asian florals, fractured stripes and abstract faded skin prints.
At PrintSource, Artwork Design, U.K., showed updated traditional prints for draperies,
upholstery and bedding. Linear paisleys, large-scale tropicals, leaves and soft florals are some
ideas. BG 2770 Design, Portland, Maine, was looking to license its computer-generated designs for
shower curtains, bedsheets and spreads. Elongated abstract linear patterns were shown in a wide
range of colors.
Large, happy and active is how Peagreen, London, describes its collection. Stylized animals,
motor cars and sunburst flowers are brightly colored. Avi Iny, Israel, designs for activewear,
sleepwear and lingerie. Ethnic Russian, Hawaiian tropical and small all-over geometric designs were
pointed out.
At Creativo Surface Design Studio, New York City, prints are ornate. There are melting Aztec
stripes and patchworks, blurred and blotchy flowers and ethnic paisleys. New York City-based
European Textile Collections showed abstract prints inspired by nature, no-print prints such as a
corkboard look, leopard and zebra skins, floral/lace combos, paisleys, and bold black-and-whites.
January/February 2011