A

t SpinExpo, organized by Hong Kong-based Well Link Consultants Ltd., visitors were
encouraged to photograph displays. As Karine Van Tassel, SpinExpo director, said: "Creativity can
exist in any economy. We are here to serve the industry. With smaller staffs, companies are careful
on how they spend time. At this show, we are bringing major global fiber, yarn and machinery
suppliers to buyers and presenting wonderful, fresh ideas that show ways to use them."
Direction and Printsource focused on new prints and surface designs for Fall/Winter 2011.
SpinExpo Creative Director Sophie Steller said fabrics are having a greater impact on
fashion than silhouettes. Texture, novelty and yarn mixes are in demand. Chunkier yarns are
selling, and the newest patterns are subtle. She mentioned sheen, diffused effects and hairy
surfaces. Colors are rich, warm and saturated; tonality continues, and there is iridescence through
the use of metallic yarns.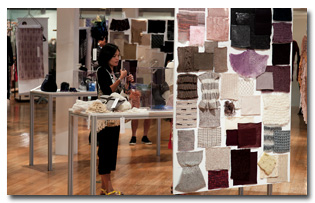 SpinExpo's trend forum displayed a wide range of fabric concepts that showed off its
exhibitors' yarns.

Fibers And Machinery


Angelina® metallic fibers producer Meadowbrook Inventions, Bernardsville, N.J., showed its
soft-hand, brilliant and iridescent fibers made from recycled polyester and post-industrial waste.
Aluminum Angelina fibers comprising plain or pigmented recycled aluminum are dyeable, protect
against ultraviolet rays and electromagnetic waves, and have antistatic properties. Copper fibers
and copper-coated polyester fibers are said to have therapeutic, anti-inflammatory properties;
regulate temperature and static; and be antimicrobial. Another new product is security fibers to
guarantee a product's authenticity.
Australian Wool Innovation (AWI) showed fabrics and garments divided into two collections to
demonstrate the versatility of Australian merino wool. For the U.S. market, knits comprised the
largest portion of what was shown. Fabrics in the Touch group have a silky-soft feel. Some are
knitted of 100-percent mercerized merino; others, in blends with silk. Most fabrics are
machine-washable, ultralight and soft.
Garments in AWI's Casual collection have a vintage look and a lot of texture. There are
garment-dyed sweaters and felted fabrics that look as if they are knitted using crimped yarns. AWI
has developed a new process of treating yarns to give a variety of surface and color effects. There
are rustic looks, muted heathers, denim types and boiled wool touches in this collection. A lot of
fabrics have natural stretch and are easy-care.
Two textile machinery companies, Santoni S.p.A., Italy, and H. Stoll GmbH & Co. KG,
Germany, showed the versatility of their equipment. New Santoni machines include a compact seamless
warp-knitting machine. This whole-garment technology does it all on one machine, from patterned
fabrics to all of the sewing. A new single-jersey machine produces seamless garments knitted with
mesh, eyelet and lace patterns and combining yarns and fiber blends. Another machine moves from rib
to single jersey and can produce a garment in three minutes.
Stoll highlighted the capabilities of its machinery and support center. New electronic flat
multi-gauge machines offer improved efficiency and speed. A collection of knitted garments
illustrated how Stoll's new technology can knit different gauges, patterns and textures using
different yarns, and integrate collars and buttonholes. Stoll's trend collection and pattern
library give ideas to designers and teach them how to put it all together. Along with apparel,
there are fabrics for the home and industrial products.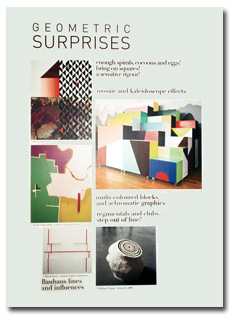 Direction by Indigo displays illustrated concepts for surface design and prints.

Yarns


Yarn Mavens Inc., New York City, now in its fourth generation, represents a variety of
top-quality global spinners. The company showed super-fine baby alpaca/silk blends at one-third the
price of cashmere; novelty yarns with a touch of sparkle spun in natural/man-made blends, and
textured, fluffy and chunky yarns; all from Lanficio Dell'Olivo, Italy. From FiliVivi S.r.l.,
Italy, there are soft lambswool/merino blends. Merino/silk tweed yarns, chenille, cashmere and
torqueing yarns from a Chinese mill were of interest.
Himesa Hilos y Mechas S.A. de C.V., Spain, showed high-bulk Amicor acrylic antibacterial and
antifungal yarns. Blankets are a major end-use. At Filatures du Parc, France, classic and fancy
heather and chine yarns from recycled garments were available. Extra-long-staple cotton alone or in
blends with other natural fibers at Filartex S.p.A., Italy, was selling for weaving and circular
knits. Indigo-dyed cotton was of interest. At Miroglio Textile, Italy, a tweed yarn with wool
neps, fluffy yarns and high-performance yarns in wool and blends were pointed out.
Non-shedding longhair angora, cashmere, lambswool and blends are a specialty at British
spinner Z. Hinchliffe & Sons Ltd., where there are 120 colors in stock. At Huntington Yarn Mill
Inc., Philadelphia, which has its own skein dyehouse, soft metallic, space-dyed and novelty twisted
yarns were of interest.
Superfine merino and blends with silk, cotton or cashmere are a specialty at worsted
spinning mill Biella Yarn by Südwolle, Germany. Best sellers were coarse or ultrafine.
It was innovation plus tradition at Sato Seni Co. Ltd., Japan. Now in its fourth generation,
this company is noted for high-twist, high-performance, organic ultralight yarns of kid mohair,
washable wool, silk and blends. There are plied, dyed, printed, looped and wrapped yarns. One new
yarn features wool wrapped around paper. It has the lightness of paper and the softness of wool.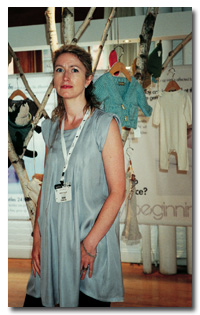 Sophie Steller, creative director, SpinExpo, said fabrics are having a greater impact on
fashion than silhouettes.

Surface Design


Soft blurred designs, dissolving edges, splatters, blotches, abstract swirls, fragmented
scenics, mixed-media geometrics and tonal shadings are some of the new ways with prints. Reinvented
black-and-white combos, flowers, paisleys and skins all turned up at Direction by Indigo and
Printource.
At Direction, the Stoll Fashion & Technology Center, New York City, and Pointcarré,
France, were exhibitors. The focus at Stoll was on prototype knitwear samples, and services
provided for designers and manufacturers at its showroom. Pointcarré demonstrated its
computer-aided design/computer-aided manufacturing software and included woven and knitted fabric
designs for apparel and the home.
At Tom Cody Design, New York City and London, vintage paisley borders, washy and brushstroke
florals, textured foliage and vines on ombré grounds, linear and graphic monotones, and angular
geometrics were popular print motifs, along with burn-outs. Burn-outs were sellouts at Baxter
Fawcett, London. Textural grounds, '70s florals, blurred tonals, Bohemian arty florals, and dots
and animal skins were shown on ultra-sheer fabrics.
Dimensional patterns at Whiston & Wright, U.K., were blurred. Furnishings-inspired
paisleys, lacy looks and black-and-whites were popular. Circleline, U.K., showed splatters and
sprays that looked as if they were moving, scratchy surfaces, bold tonals, photorealistic images
and large-scale patterns with almost no repeat.
Abstract landscapes with leafless trees, splattered galaxies, blurred giant tartans and
skins, tonal designs, and black-and-whites turned up at Quinnconfrey, Ireland. Longina Phillips
Design Ltd., Australia, showed faded and blurred architectural designs and hand-drawn shaded and
tonal florals.
At Printsource, a lot of studios focused on the home. Atelier Mineeda Co., Japan, showed
big, blurred, watery florals; tonal flowers on embossed grounds; and giant, tonal paisleys. At
Ejame Studio, New York City, there are sketchy black and white circles, tie-dyes and tonal
patterns. Bernini Studio Designs, Italy, has patchwork skins, misted checks and irregular
dimensional zigzags.
Childrenswear was another strong area at Printsource. Noelle Palm, New York City, showed
coordinated collections of hand-painted flowers and birds. Some have an abstract look, and others
suggest Matisse. There are cute animals, conversationals and coordinating plaids, stripes and
flowers at Elka Studio, France.
November/December 2010