Dow Fiber Solutions

Forecasting 2011 color and fabric directions, Bengt Jacobsson, a consultant to Midland,
Mich.-based Dow Fiber Solutions, recently showed new concepts developed using Dow XLA™ comfort
stretch fiber. In general, he sees a return to organic – on the back burner for several seasons
because of its high price tag in a struggling economy; technological advances with smart fiber
blends and new finishing techniques; and emphasis on performance with fashion. "Bi-stretch is
expanding," Jacobsson said. "A year ago, we had one mill involved. This year, there are 10."
For this new season, Jacobsson shows four directions that take us to sea. Soft, natural
colors that reflect Nordic light in spring are in his Baltic Breeze group. He points out warm buff
and pebble, blued grays, lavender and two yellowed greens. Casualwear fabrics are woven with
cotton, linen or wool blended with XLA. They are soft and washed, but not vintage. Patterns tend to
be small and discrete. Shirting fabrics shown include small checks in cotton/XLA from India-based
Arvind Ltd. There are linen bottomweights from Parcotex Co. Ltd., Hong Kong, and herringbones and
twills from Textil Santanderina, Spain.
In the Atlantic Shores story, classic sportswear colors are washed and sun-bleached. Flag
colors and faded neutrals are shown. Fabrics are woven in cotton and cotton/nylon blends with XLA.
Shirtings are nautical and preppy. There are chambrays, seersuckers, oxfords and piqués. Patterns
include regatta stripes, gingham checks and small dobbies. China-based mills Jiangsu Lianfa, Luthai
Textile Co. Ltd. and Youngor Sunrise are weaving them. Piqué, denim, clean twill and gabardine
bottomweights are woven by Lufeng and Sunshine, both based in China, and India-based Vardhman.
Flower and sorbet colors are in the Mediterranean Cruise range. Light and bright strawberry
shades, soft apricot, lime ice, glacier, surf and regatta blue have a chilled edge to them.
Cotton/XLA satin stripes, openwork patterns and gingham shirtings by Esquel Group, Hong Kong, have
a late-1950s retro look. Bottomweights have subtle texture, sheen or a peachskin finish. There are
lustered twills, honeycombs and basket weaves.
Pacific Sunset colors are vibrant. Intense golden yellow, neon pink, two red-purple shades,
plum and sapphire blue are in this range. Fabrics have high shine, transparency, and a lot of
stretch for close-fitting shapes. Lightweight polyurethane-coated fabrics in cotton/XLA from Bondex
China Co. Ltd. are supple. Wool/polyester/XLA suiting weights from India-based Raymond Ltd. are
cool to the touch.
A special focus is denim. Weights range from 7 to 12 ounces. Fabrics are supple; all have
comfort stretch.
According to Jacobsson, technology has caught up with fashion to provide fabrics that combine
good looks, comfort and performance.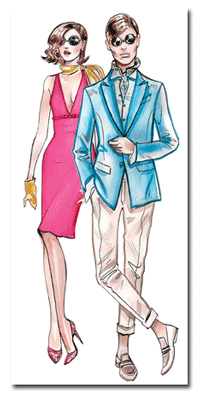 Dow Fiber Solutions' Mediterranean Cruise story features chilled strawberry, apricot, lime
ice, glacier, and surf and regatta blue shades.

Moda In

At a recent event sponsored by the Italian Trade Commission (ITC) in New York City, Angelo
Uslenghi, trend forecaster for the Moda In fabric show, previewed Spring/Summer 2011 directions
that will be shown in Milan at Milano Unica Feb. 16-18, 2010. Commenting on the current economic
situation, Uslenghi said recovery from the recession requires a pragmatic approach. He suggests
focusing on what is practical and realistic.
Uslenghi proposes four themes. For the Better shows casual, comfortable high-performance
travelwear. For Fun is spontaneous, with emphasis on sports. Fabrics in the Full Bloom
range are fresh and have a rustic/refined mix. Energy is the focus of his Full Sun range, with a
tropical and desert-like influence.
Colors in the For the Better theme are neutrals combined with soft, pale pastels plus urban
darks. Gray, navy, light camel and olive are joined by white, pale heather, soft rose, pistachio
tint, aqua, lemon and pink. Many fabrics have an Ivy League look. Linen and cotton are fibers
of choice. Faded denim and chambray, drill, panama and piqué are some of the suggestions.
Peachskin-finished silk, fluid slubbed jersey, super-light voile and organza are others. Crinkled
surfaces include elephant-skin wrinkles and pinstriped seersucker.
Colors Uslenghi pointed out in the For Fun range include nude and a shade he calls "sinful
red." Others in this group are bright geranium pink, sunny yellow, grassy green, lacquer orange,
flag and cobalt blues, matte black, and lustrous silver. Fabrics tend to be silky and lustrous;
many are woven with cupro or are chintz-finished. There are swimwear qualities, stretch terry,
ombred chantilly lace, fishnet, georgette and charmeuse. A lot of fabrics have application
treatments such as raised lamé traceries, mesh inserts or satin ribbon appliqués. There are random
stripes, color blocking and nautical prints.
Full Bloom shades are intense, bright and luminous. Navy, moss, aubergine and deep berry
combine with lively shades of bud green, forsythia, azalea pink, cherry and delphinium. Fabrics
have a country rustic aura. There are worn denim, seersucker, madras and gingham. Parachute cloth
has bubble embossing. There are micropleated surfaces, double organza with petal inlays and tie-dye
effects. More refined fabrics take on an oriental look with oversized or microscaled patterns.
Gold-threaded voile, block-printed paisley, small flower-garden prints or large screen-printed
hibiscus are shown.
Full Sun colors are vibrant and fiery contrasted with energetic desert tones plus black and
tan. There are two hot orange shades, orange-cast red and red-brown. Ultra-violet, burnished gold,
sienna and teal are the contrast shades. Cheesecloth, panama and basket weaves have a dry touch and
are woven with linen or jute. There are voile embroidered with cork, sanded poplin, sateen and
loose jersey with printed jallabah stripes. Dotted jacquards, grooved burn-outs, sequin appliqués
and camouflage patches with a reptile look are some of the suggested patterns.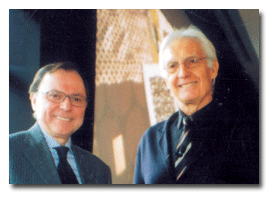 ITC Director Dr. Aniello Musella (left) welcomes Moda In Trend Forecaster Angelo Uslenghi
during Moda In's Spring/ Summer 2011 preview sponsored by ITC.


---

Pratt Exhibits Sustainable Fashion

"Ethics + Aesthetics = Sustainable Fashion" is the title of an exhibition on view until
February 20 at New York City-based Pratt Institute's Manhattan Gallery. Organized around the themes
"Reduce, Revalue, Rethink," the show has been developed to deepen understanding of sustainability
within the fashion system.
"Reduce" looks into how designers use minimalist design plus innovative materials and
pattern-making to create garment versatility and longevity. Included in this category is a jumpsuit
and dress from SANS, designed by Alessandro DeVito and Lika Volklova in silk/bamboo and
silk/organic cotton fabrics; Caroline Priebe of Uluru's reversible dress with pockets and only two
seams; men's khaki organic cotton work pants that have a worn, slightly washed look, by Rogan
Gregory and Scott Mackinlay Hahn of Loomstate; and Eviana Hartman of Bodkin's women's collection
that includes dresses, tops, shorts and parkas in fabrics of undyed Tencel®, organic cotton and
post-consumer recycled cotton.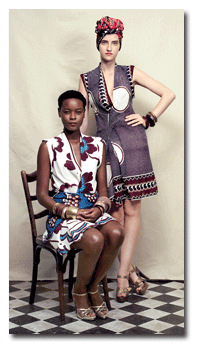 Fashions from SUNO are made in the garment district using Kenyan Kangas cloth.
"Revalue" looks at ways garments can become less disposable. Alabama Chanin, a 2009 Council
of Fashion Designers of America/Vogue Fashion Fund finalist, combines new, organic and recycled
materials in her denim dress and appliqué swing coat. A patchwork dress by Susan Cianciolo is made
with hand-screened, hand-dyed vintage cotton fabric. Tailored dresses and jackets from SUNO by Max
Osterweis are made in New York City's garment district using Kangas cloth from Kenya.
"Rethink" challenges the seasonality of fashion and dependence on fast change. Kelly Cobb's
100-Mile Suit is made by regional crafters using products sourced less than 100 miles from her
home. The firm Slow and Steady Wins the Race uses cotton canvas and muslin for a collection of
shoes, bags and deconstructed men's shirts.
January/February 2010