Wichita, Kan.-based Invista recently introduced Lycra® 2.0 tape for stretch apparel. Offering full
stretch and recovery, it is produced in film form and slit into tapes of varying widths. Through
the

application of heat, it bonds to hems, seams and bands, offering flat edges and no bulky
seams.
Initial focus is in intimate apparel. Invista launched Lycra 2.0 tape via a global student
competition. Design students from four internationally known design schools submitted 82 innovative
garments. Brandon Grimm of New York City's Fashion Institute of Technology designed the winning
garment, a merry widow and knicker set that uses the tape for function and decoration.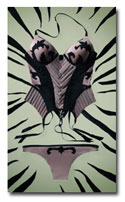 Merry widow and knicker set by Brandon Grimm

Artwork courtesy of Doner
Reaction from the intimate apparel industry has been phenomenal, said Ninabeth Sowell,
Invista's global marketing director, Intimate and Swim. Invista is working with major apparel
producers and brands as well as fabric companies in North and South America, Europe, and Asia.
In intimate apparel, the product is being used for waistbands, legs, bra straps and hems.
One firm is using it for drawstrings. It is available in a natural shade and was created to be
concealed, through a heat-bonding process, between fabric layers.
Currently being applied to nylon- or polyester-content fabrics, it has not been tested yet
with cottons or other fibers, but Sowell suspects it will work well with almost all fabrics.
The application of Lycra 2.0 tape to most garments requires no stitching. Although it costs
slightly more than other stretch products, there is a trade-off in reduced sewing costs.
"There is a lot of interest in Lycra 2.0 tape coming from other markets aside from
intimates," Sowell added, mentioning activewear and swimwear as well as products for the home. "In
fact, interest has exceeded our expectations.
"It is gratifying to see our customers using imagination and creativity in creation of
garments," she said. "Along with the obvious function and comfort factors, in many instances Lycra
2.0 tape is being used as part of the decoration. I do think that in difficult economic times,
innovation becomes more important."
January/February 2009