L

ocation, logistics and labor are some of the reasons North American textile and apparel
manufacturers cite for opening production facilities in Honduras. Other incentives include the fact
that there are no duties on products from Central America-Dominican Republic Free Trade Agreement
(CAFTA-DR) partners entering or exiting the country and no taxes on profits. Union involvement is
low, and there is political stability.
Some of the North American firms manufacturing in Honduras include Parkdale Inc., Premier
Narrow Fabrics, VF Corp., Hanesbrands Inc., Wrangler, Fruit of the Loom Inc., Gildan Activewear,
Jockey International Inc. and Delta Woodside Industries Inc. Most are located in one of 23
industrial parks in or around San Pedro Sula, the second-largest city in Honduras, about two hours'
drive from Puerto Cortes, the largest deep water port in Central America. Industrial parks are
privately owned and generally provide services that range from utilities to clinics, banking and
employment data banks.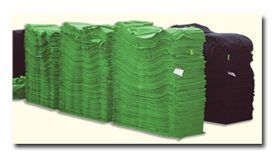 Stacks of fabric are ready to process into garments at Gildan Activewear's Honduras
facility.
From Puerto Cortes, on the Caribbean coast of Honduras, to Port Everglades, Fla.; Miami;
Houston; New Orleans; and certain other US ports, the trip by sea is 48 hours. At the moment, there
are five berths to handle cargo. Expansion, expected to be completed in 2009, will provide the
handling of 1,200 metric tons of cargo per hour, or 1,000 containers per day. Also under
construction is a dry canal to run from Puerto Cortes to the Pacific coast of Honduras. Merchandise
made in Guatemala, Costa Rica and other Central American countries, destined for foreign shores, is
trucked to Puerto Cortes for shipment abroad. Gamma-ray scanning is done on all containers prior to
loading to ensure safety.

Industrial Parks

Green Valley, which spans more than 500 acres, is the largest industrial park in Honduras. It
is privately owned by Grupo Karim's, and is home to global manufacturers. It has its own onsite
power generation, a wastewater treatment plant and customs officials to check and clear containers
prior to their journey to Puerto Cortes. Tenants include Parkdale, Simtex Yarns Inc., Pride
Solvents & Chemical Co., Premier Narrow Fabrics, Ceiba Textiles and Anvil Knitwear Inc.

A major focus at Buena Vista, another privately owned industrial park, is lingerie. Buena Vista
owns the Lovable name in Honduras. Elcatex, a spinning and knitting facility owned by Buena Vista,
is a supplier to Hanesbrands, JC Penney and Jockey. Russell Athletic Corp., Bali, VF Corp.'s Red
Kap Industries (RKI) division and Fruit of the Loom are at Buena Vista.
Premier Narrow Fabrics has been at Green Valley for three years. Owned by Worldtex Inc., it
is a result of a merger of Georgia Narrow Fabrics LLC and Elastic Fabrics of America Inc. At Green
Valley, Premier produces 3.5 million yards of knitted fabrics per week and 1.6 million yards of
wovens. Thirty percent of its fabrics are exported to the United States, and 70 percent are used
domestically. Local customers include Fruit of the Loom and Jockey.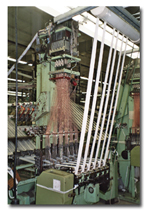 Premier Narrow Fabrics produces 1.6 million yards of woven fabric weekly on 120 Jakob
Müller machines.
Some of Premier's yarns come from Parkdale and Simtex. Other suppliers are Milliken &
Company, Unifi Inc. and Omitex S.a.r.l. The mill operates 24 hours a day, seven days a week.
Weaving is done on Jakob Müller machines. At the moment, there are 120 machines in operation, with
30 more to be installed. Knitting is done on 80 Comez machines, with 30 more soon to begin
operation. Premier also maintains its own onsite beam- and exhaust-dyeing facilities.
Gildan Activewear has been producing activewear, socks and underwear at its current Honduran
location for six years. The company has a textile mill in the Dominican Republic and additional
sewing facilities in Haiti and Nicaragua. In Honduras, it employs 8,000 workers and has invested
$185 million in Latin America.
Automated Lonati machines knit 70,000 cotton athletic socks per day. Walmart is one of
Gildan's customers. Bleaching and dyeing are done on the premises. A water treatment plant
maintains water fresh enough for fish to swim in. In addition to socks, Gildan knits T-shirts,
polos and sweats on Vanguard machines. Expansion that is underway will increase production by 40
percent by the end of 2009.
RKI has cutting and sewing facilities at Buena Vista, where it produces industrial uniforms
and imagewear ranging from flame-retardant police uniforms to lab coats, chef's aprons and major
league baseball uniforms. Lead time from planning to delivery is 21 days. Ninety-eight percent of
RKI's fabrics come from US mills, including Milliken and Mount Vernon Mills Inc. Seven Gerber
cutting machines can cut one piece or 6,000 pieces. Scraps are recycled.
Sales are up for Wrangler jeans. Eighty percent of its products are 12- to 13-ounce cotton
denim. A lot of the fabrics come from Cone Denim LLC's plant in Nicaragua. Cutting and sewing are
done in Central America and Mexico. Wrangler employs 1,500 in Honduras. Eighteen trailers a week
carry product to Puerto Cortes for shipment to Port Everglades and Houston. Wrangler maintains four
distribution centers in the United States.

Education

One problem noted by several firms is finding mid-level technical support managers. At
Gildan's initiation, Instituto Politecnico Centroamericano (IPC) was founded in 2004 to train local
personnel for jobs in the light manufacturing and apparel industries. According to Colin McLernon,
executive director, IPC, the school functions for two reasons: one is to provide a well-trained
labor force; the other is an industry-wide sense of social responsibility.
Funding at IPC comes from global resources. Cotton Incorporated, Cargill Dow Polymers LLC,
Weave Corp., Clariant Ltd., Lectra, Hanesbrands, Fruit of the Loom and Gildan are some of the
supporters. The latest knitting, weaving and sewing machinery, donated to IPC, includes knitting
machines from Vanguard, Lectra cutting machinery and body scanners, Rimoldi sewing machines,
needles from Schmetz of Germany, Santoni seamless knitting machines, Lonati sock machines, and
circular knitters for denim from Pai Lung.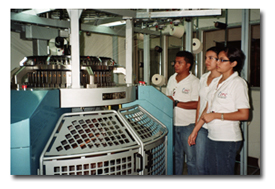 There are more than 300 students at the Instituto Politecnico Centroamericano in
Honduras.
Other equipment includes screen printers, and there is a spacious and fully equipped color
laboratory donated by Clariant. IPC is building a water management center, and a complete dyehouse
is in the planning stages.
Many of the instructors were trained in Canada; others are taught locally by visiting experts
from around the world. Along with learning to operate and maintain machinery, students are taught
marketing, merchandising, costing, pattern-making, English and ethics.
Currently there are 320 full-time students. Expansion plans include more labs, classrooms and
dormitories. A $1 million fundraising campaign is underway.
Daniel Facussé, president of the Honduran Manufacturers Association, said 133,000 people are
employed in textile and apparel manufacturing jobs in Honduras, and most are working for US
companies. "We are the backyard of the USA," he said. "We are not competition, we are partners, and
CAFTA is an investment agreement more than a trade agreement."



September/October 2008