Cotton Incorporated, Cary, N.C., has unveiled its new TransDRY™ moisture-management technology for
performance apparel.
According to the company, cotton fabrics made with TransDry – named for its
moisture-transferring, quick-drying properties – retain cotton's familiar comfort and softness
while keeping the wearer cooler. TransDry technology is engineered to move moisture in one
direction, away from the skin to evaporate from the outside of the fabric.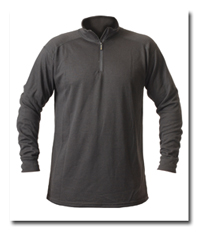 Men's garment from Longworth Industries' PolarMax

Naturals line containing TransDRY™ technology
"Fabrics engineered to have one-way transfer performance beat any synthetic product we've
tested in head-to-head comparisons – it's not even close," said David Earley, director of supply
chain marketing, Cotton Incorporated. "We think this is an incredible breakthrough for cotton in
the world of performance apparel that will help us compete head-to-head with synthetics."
Spectrum Yarns Inc., Kings Mountain, N.C., and Buhler Quality Yarns Corp., Jefferson, Ga.,
initially will be the Western Hemisphere providers of cotton yarn with TransDry. They will work
with several knitting mills and garment manufacturers to produce performance fabrics and yarns.
Longworth Industries Inc. – a Candor, N.C.-based high-performance and base-layer apparel
manufacturer – will launch the first TransDry products in the market under the PolarMax Naturals
brand.
September/October 2008