Tolland, Conn.-based Gerber Technology, a business unit of Gerber Scientific Inc., has opened an
8,000-square-foot Advanced Technology Center (ATC) in Vietnam. The center showcases the company's
systems for the sewn products and flexible materials industries, and offers product training and
demonstrations.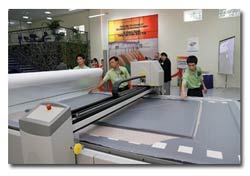 Gerber's new ATC in Vietnam
The company held an inaugural celebration that was attended by more than 150 guests including
Bui Xuan Khu, Vietnam's permanent vice minister of industry and trade.
"In recent years, Vietnam has emerged as an attractive market, providing opportunities for
businesses, service providers and manufacturers around the world," said James Arthurs, president
Asia-Pacific, Gerber Scientific. "In addition to the Hanoi office and the new Advanced Technology
Center in Ho Chi Minh City, a service location will open in Danang in the near future."
May/June 2008