Tolland, Conn.-based Gerber
Technology — a business unit of South Windsor, Conn.-based Gerber Scientific Inc. — recently
celebrated its 25th year of doing business in Mexico, and donated software to the New York
City-based Fashion Institute of Technology (FIT), which purchased a GERBERcutter and GERBERspreader
for its new sewing and cutting lab.
Gerber Technology — an integrated software and hardware automation systems provider — first
sold its products in Mexico in 1981. The establishment of its direct subsidiary, Gerber Technology
S.A. de C.V., in 1988 has led to regional sales to date of more than $85 million to 750 customers,
operating more than 2,000 systems and workstations. The company, which kicked off its celebration
during the recent Expo Costura in Mexico City, also has provided technology and support to major
universities and schools in the country.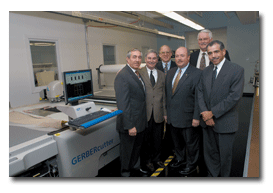 Mario Federici (left), professor and chairperson, FIT, poses with members of the Gerber
Technology team.


Gerber Technology has partnered with
FIT for more than 25 years. Its latest donation of 19 copies of its AccuMark pattern design,
grading and marker-making software, as well as a Gerber plotter and digitizer, comes on the heels
of several other software contributions to the school over the past three years. The value of
Gerber products installed in the new lab total more than $2.5 million, representing one of the most
comprehensive installations in the world, according to Gerber Technology.

May/June 2006