France-based Devanlay — global
licensee and part owner of the Lacoste apparel brand — recently set up manufacturing operations in
El Salvador. The company attributed the country's excellent business environment, easy access to
the United States, support provided by the government and productivity of its workers as
contributing factors to the decision.
Devanlay, which also has operations in China and Peru, will establish Trans America Textil
El Salvador S.A. de C.V. in the Miramar Free Zone, and will work with local subcontractors. The
Argus Group will provide cut-and-sew processing, while Industrias Duraflex will manufacture and dye
cotton fabrics.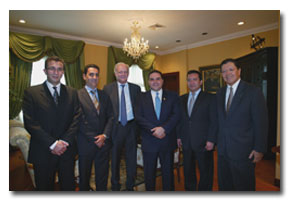 El Salvador and Devanlay representatives celebrate Devanlays decision to establish a
subsidiary in El Salvador. From left to right: Badis Kouidrat, managing director, Devanlay Peru;
Bruno Luppens, board member, Devanlay; Guy Latourrette, president of the Board of Directors,
Devanlay; Elias Antonio Saca, president, El Salvador; Roberto Bonila, president, Miramar Free Zone;
and Ricardo Avila, vice president and managing director, Miramar Free Zone.

Trans America first will produce men's
polo shirts and expects to export nearly 200,000 units to the United States in 2005. The company
hopes to expand with the production of striped polo shirts for men, ladies' polo shirts and
dresses, and children's sportswear, among other items.
November/December 2005