Germany-based Mayer and Cie. GmbH and Co. KG recently marked its 100th anniversary. Founded in 1905
as United Mechanical Workshop Mayer and Cie., the company has seen many production milestones
including the development of the first circular loopwheel machine in 1906 and the first circular
knitting machines in 1939 of which to date nearly 60,000 have been delivered worldwide. Other
developments include the company's launch of the single-jersey era in 1979, the introduction of the
Relanit line in 1987, and the unveiling at ITMA 2003 of the first rib machine capable of continuing
to knit following thread breakage.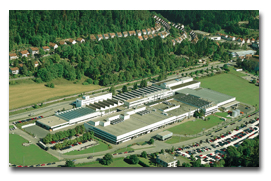 Mayer and Cie.'s headquarters



September 2005