.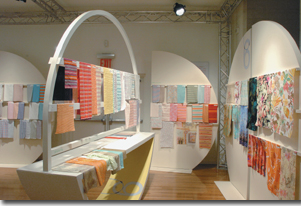 European Preview set up a special display to provide attendees with an overview of fabric
trends presented at the show.

F
abrics from Europe, Turkey and Asia, along with surface design from international
studios, attracted record numbers of buyers to a series of shows held recently in New York
City.
All of the shows, which previewed fabrics for Spring/Summer 2006, were impacted by the
euro/dollar exchange rate and textile imports from low-wage countries. Although the falling dollar
drove up prices of European fabrics, the 137 exhibitors at European Preview reported excellent
reactions to their new lines from the more than 3,000 visitors who attended the show.
The range of fabrics shown by 49 companies at the Turkish Fashion Fabric Exhibition (TFFE),
organized by the Istanbul Textile and Apparel Exporters Association (ITKIB), included classic
suitings, denims, knits, prints and shirtings. Buyers came from firms such as Calvin Klein, Gap,
Paul Stuart, Ralph Lauren and Tommy Hilfiger. Innovation Asia, organized by Lenzing AG, Austria,
showcased 23 mills from China, Hong Kong, Japan, Korea, Taiwan and India. Many of the exhibitors
are vertical, selling yarn, fabric and apparel.
Two shows that focus on surface design, Direction and Printsource, have expanded their scope.
This year, there were about 150 studios from Europe, Asia, Israel, and North and South America at
each show.

European Preview

Now in its 10th season, European Preview has a waiting list of exhibitors. The mix of
participating companies and their focuses are changing. Absent this time were many that sell
expensive fabrics aimed at couture markets, such as Bianchini, Bucol, Mantero, Ratti and
Solstiss.
Frans Damide, president and CEO, Solstiss/Bucol America, New York City, said that when the
dollar and euro were on a par, firms in designer and bridge markets would shop his lines for that
something extra. "We know how to reach our regular customers. It was the surprise visits by those
we don't work with on a regular basis that made it a good show for us. Now they cannot afford us,"
he said.
This sentiment was echoed by others at the show. Picking up on that something extra, exhibitors
showed fewer basic fabrics. Quality, novelty and performance fabrics give more individuality.
At Milior S.p.A., Italy, the emphasis was on new finishes. The company showed compact cottons
and linen/nylon blends with enzyme finishes to give them an ultra-soft hand, overdyed printed
canvas, diamond finishes, washed fabrics and yarn-dyed twills that can be overdyed or garment-dyed.
Paper yarns in thick, shiny/dull weaves are bulky and lightweight. There is a lot of stretch and
special weave effect. According to Milior, jacquards and prints will be added.
Ulster Weavers Apparel Ltd., Ireland, showed new finishing treatments, blends and textures.
There are metallic and chintz surfaces that keep their luster through multiple washings, crinkles,
seersuckers and stretch linens. Linen is sometimes blended with Supima® cotton, Tactel® nylon or
viscose. Some linens are subtly printed with gold and silver. There also are yarn-dyed shirtings in
linen/Lycra® blends, and summer tweeds designed for golfwear.

Donna Karen used lace from Solstiss in this evening dress.
Fred Rottman, who heads the New York City office of Italy-based Picchi Mills S.p.A., said
Picchi's line is more refined than in seasons past. There are linens and linen/cotton blends with
pearlized coatings, and blends that have been polyurethane-printed. Matte/sheen jacquards that have
dimensional patterns are available in a wide range of weights, and are woven in acetate/viscose/
cotton blends. Tweeds and jacquards at France-based Tournier and Fils are woven with fancy yarns in
multifiber blends of cotton/viscose/ silk/linen, often with nylon or Lurex® added for a subtle
touch of shine. Pearly pastel shades and tonal colors were pointed out. Another France-based firm,
Isoule Textil, mentioned interest in whitened colors, black and white, and touches of sparkle.
Stretch linens, silk tweeds and shantung are some of its early offerings. Tintore-Turull S.A.,
Spain, showed yarn-dyed plaids of 100-percent linen that are overdyed with silver and washed to
give them subtle luster and a slightly faded appearance. Cotton piques have been treated in a
similar fashion. There also are dyed and piece-washed rustic linens, jacquards and piques.
Lanficio Lamberto, Italy, displayed sheers, stretch and jacquards in linen and blends.
There are crinkled stretch fabrics with metallic stripes, dvndigo dyes that have a refined denim
look, pleated sheers with ribbon flower appliquand opaque/sheer linen checks. At Wilhelm Becker,
Germany, customers are looking for novelty and fabrics with hidden functions. Armani buys jacquards
here. There are large-scale jacquard-weave herringbones, natural stretch crepes that don't wrinkle,
summery cotton tweeds, and stripes woven with a cotton warp and stretch nylon weft. Nanotechnology
imparts soil-release finishes. Bamboo yarns are popular. Fabrics with a dry hand are selling well
in Europe, according to the company.

Fabrics With Memory

Fabrics with a high percentage of metal are called memory fabrics because they keep their
wrinkles when they are crushed, and can be hand-smoothed. Steel turns up frequently. Metal has made
a strong comeback at Schoeller Textil AG, Switzerland, which introduced it to its line several
years ago. One of the newest fabrics is a lustrous, iridescent taffeta woven in a blend of 75
percent metal/20 percent nylon/5 percent elastane. Schoeller reports color-reverse, lightweight,
soft-stretch fabrics finished with 3XDRY® technology also are selling well. They are wind- and
water-repellent and breathable, and provide moisture control. Linea Tessile Italiana S.p.A., Italy,
has linen/steel blends in 180-grams-per-square-meter (gr/m2) jacquard weaves that have a soft
touch. Bright shades of yellow, orange and tomato red sometimes are combined with brown or black.
There are sheer satin stripes printed with spots and splashes of metal, printed and embroidered
polyester/ viscose crushed satin, and light silk shantung. Prints are large in scale and have an
Oriental or Indian look. Dvinens in weights ranging from 190 to 300 g/m2 were pointed out.
Reynaud Rexo, France, specializes in cocktail and eveningwear fabrics. It is showing shiny
taffetas and organzas woven of 70-percent polyester and 30-percent metal. Some have ombre grounds.
Philea Textil, France, is showing metal covered with cotton. Many fabrics in this line are woven
with novelty or printed yarns. Shiny stretch shantung, lustered taffeta, pigment-dyed crinkle
crepes washed to give a vintage look, stretch satiny washed twills and multicolored chenille
stripes are some of the firms best sellers.

Sportswear

For sportswear and outerwear, Olmetex S.p.A., Italy, has polyurethane-coated lightweight
iridescent taffeta woven in a blend of metal/micropolyester. Many fabrics in this line are
color-reverse, coated and water-repellent. Some have enzyme finishes; others have a rubber touch.
Polyester microfiber/silk blends have been splattered or crystal-printed in circle patterns. There
also are soft linens with a denim look and bonded Mackintosh-type fabrics.
The line at Frantissor Creations, France, is traditional mixed with sophistication. Neutrals,
muted brights and pastels are shades of note. Cotton/nylon twills are jacquard-patterned and
embroidered for a rich look. Spain-based denim specialist Tejidos-Royo has developed dyeing
techniques for special effects. Yellow-core-yarn denim is overdyed with indigo. When it is
sandblasted, the yellow comes through to give a vintage look. Denim woven with multicolored yarn
and indigo-dyed has a mottled look when the fabric is abraded. There are comfort-stretch denim with
1-percent Lycra and pigment-dyed slubbed denim. Flocking is a specialty of Wonder S.r.l., Italy. It
is done on a variety of fabrics from denim with a distressed look to iridescent cotton and linen.
Some of the fabrics are soft and sueded. There are large- and small-scale coordinating
patterns.

Knits

Innovation and performance are key in the knit sector. Switzerland-based Greuter-Jersey AG had a
good reaction to fabrics knitted with its Clima yarns. Spun with Meryl® Nexten/cotton/Micromodal®,
these yarns have moisture-transport, insulation and fast-dry properties. Another yarn, Clima Plus,
is bacteriostatic. Dryarn® jersey contains micro-polypropylene. It is soft, water-repellent and
odor-free. Another yarn contains microcapsules of aloe vera that remain effective through 10
washing cycles. At Marioboselli Jersey S.p.A., Italy, there is a group of fabrics knitted of
94-percent linen/6-percent Lycra. They are lightweight and slubbed, and have a dry hand. Another
group includes fluid, soft and sheer fabrics that contain Modal®/nylon or viscose/Lycra blends.
Jacquards of 100-percent linen are styled for T-shirts and beach dresses. Swimwear knits are
dazzling gold, smooth and slippery.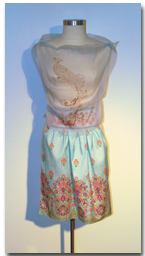 Tom Cody Design combined prints and embellishments at Printsource for bohemian and gypsy
looks.
France-based knitter Billon Freres has a group of tight stretch knits created for yoga and
performance apparel. Knit of Meryl Microfiber with 13-percent Lycra, they have brightly colored,
dimensional patterns. Other fabrics include printed opaque/sheer stripes, shiny/dull jacquards,
puckered and lacy knits and iridescent mesh. There are bright stripes with touches of Lurex, new
paisleys and yarn-dyed jacquards with global ethnic influences.

Silks

Collections in the silk sector are dazzling, woven with metallic yarns, appliques with sequins,
luster-coated and brightly printed. "It's color, color and color," said Susanne Tamavongs,
export/sales manager, Weisbrod-Zuerrer AG, Switzerland. Warp-printed jacquards in garden-bright
shades and global ethnic designs are some of the firms early ideas. It will be adding ink-jet
prints on silk and cotton jacquards.
Gratacos S.A., Spain, showed an ultra-sheer memory fabric woven with nylon/polyester/metal.
Iridescent organza woven with 67-percent silk/33-percent Lurex has a glittery cellophane
appearance. There are printed shantungs appliques with beads and sequins, and jacquards that have
shiny coated finishes.
At A.B. Creations by France-based Fabien Doligez, textures, patterns, weights and
treatments coordinate. There are cotton sateens and voiles with groups of prints that work
together, yarn-dyed raschel knits in stripes and zigzags that coordinate with one another and with
stretch seersucker, color-reverse jacquards and groups of global ethnic designs. There also are
sparkling woven or printed fabrics that contain metallic yarns, and coordinating cotton/steel/nylon
stripes and solids that have a casual elegance.

Prints

Splashes of glitter, bursts of color, cool linens, and sheer silks and cottons are favorite
printed fabrics. At Miroglio S.p.A., Italy, there is more silk than in seasons past; a lot of print
designs have a tendency towards high fashion and away from basics. There are printed silk chiffons
with Lurex, as well as lacy meshes and viscose crinkles. Prints range from rich, urban ethnic
designs to newly styled skins and paisleys. Many have touches of gold; most are large in scale or
very small and neat. Pasarela S.L., Spain, specializes in polyester. Sometimes it is blended with
viscose or Lycra. Many of the base fabrics are jacquards and piques. Tie-dyed grounds are
overprinted with flowers or African designs. A group of Victorian-inspired flowers is printed to
look like crewel embroidery.
France-based Komar is printing on linen/viscose and linen/cotton fabrics. Border patterns are
richly colored. There are feminine flowers printed on cotton lawn or stretch bottomweights, and
gypsy-inspired ethnics. Black and white, chalky pastels, and rich bright shades are shown. Texture
and embellishment are in abundance. Spicy colors and whitened pastels containing Lurex are at
France-based Chaine et Trame S.A. Global ethnic patterns on mesh, voile or rayon/spandex knits were
pointed out. There are paisley variations colored in olive/turquoise/orange or plum/
pink/olive.

Turkish Fashion Fabric Exhibition

According to ITKIB, textile and apparel production in Turkey account for 32 percent of total
export earnings. In 2004, it reached $17.6 billion. Turkish fabrics are basic, of high quality and
priced lower than European offerings, but higher than Asian. Bossa, part of the Sabanci Textile
Group, has become the largest integrated textile company in Turkey, with five manufacturing plants
producing outerwear, shirting, denim and sportswear fabrics. Sportswear fabrics for womenswear were
shown in crisp-touch fabrics in pastel colors with dimensional effects. Madeira, orange and green
were prominent colors. All-cotton, no-iron shirting fabrics are one new innovation at Bossa;
another is antibacterial treatments. Designs include dobbies, jacquards and stripes. There are
cotton/ nylon stretch fabrics, cotton/linen textures and crepons. Colors are toning down and less
sharp than they were a year ago. There is a lot happening in the Bossa denim division. All Bossa
denims are ring-spun. Based on market demand, the company is adding capacity with new spinning
frames and new looms. A patchwork denim blanket showed 11 different colors sewn together. It was
stonewashed for 90 minutes to give customers an idea of how different dyes react. According to the
company, Europeans have opted for greener-cast denim; customers in the United States are buying red
casts. Bamboo-content denim is a success story. It offers a soft hand and subtle luster. Stretch is
selling well in menswear, especially comfort stretch with 1- or 2-percent spandex.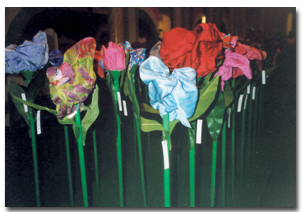 The Turkish Fashion Fabric Exhibition presented fabrics from 49 companies.
At Altinyildiz, linen and linen blends in classic yarn-dyed checks are popular. New finishes
give fabrics a silk touch. Bottomweight twills dyed in metallic colors and washed were pointed out
at Dynamo. Linen/cotton canvas, multicolored striped shirtings and slightly crinkled surfaces are
other fabrics of note.
At Btd, New York City-based agent Francesca DeVito said summer bottom- and suitweight fabrics
are among its current best sellers. She pointed out stretch polyester/ viscose/spandex twills in
solids, classic checks and suiting stripes; and for casualwear, she showed a sateen of 97-percent
cotton and 3-percent spandex.
Linen fabrics have a crisp hand or are enzyme-treated for a velvet touch. "Our fabrics have an
Italian feel at lower prices," she said. At Yunsa, color and texture are emphasized. Crepe weaves,
dobbies, linen/viscose, cotton/viscose and washable wool/polyester/Lycra suiting fabrics are
popular. Knitted fabrics at Sucuka are ultra-soft. There are sheer flocked nets, lacy knits,
metallic prints and crinkles. Nylon with a cotton touch and nylon/Lycra blends are selling to the
lingerie market.
Kokteyl has cotton/bamboo/spandex knits that are going into sportswear. Organic cotton with
moisture-transport properties, silky-touch Tencel/spandex and viscose with silk nubs are other new
items. Popular prints at Confetti Fabrics include African and South Sea Island motifs. Base cloths
include cloques, burn-outs, and matte/sheen stripes and jacquards.

Innovation Asia

Basic yarns, fabrics and garments at good prices attracted buyers to Innovation Asia, a showcase
of products containing Tencel and Modal. Of special interest was a new compact spinning process
called Ecosil developed by Korea-based Samil Spinning Co. Ltd. Fine, smooth yarns that are less
hairy than ring-spun or open-end yarns are produced. The price is the same as that of ring-spun
yarns. Ecosil is being used for knitted and woven fabrics for apparel and the home.
Nam Kwang Textile Co. Ltd., Korea, is using Ecosil yarns for knitted fabrics. Especially popular
are stripes that have been washed for a vintage look.
Mozartex Co. Ltd., China, is selling Tencel/cotton with a soft touch to Dockers for pants. There
are Tencel/polyester/cotton fabrics with water-repellent finishes that last through 30 washings,
embossed fabrics that have the look of jacquards, embroidered shirtings, yarn dyes and pigment
prints.
Willgold Industrial Co. Ltd., Taiwan, reports dobbies, jacquards, yarn-dyed stripes and prints
that have been enzyme-washed for a peach-skin hand are of interest. They are knitted and woven with
Tencel or Modal blended with cotton, linen, nylon or polyester.

Upstairs/Downstairs For Print and Pattern

Direction and Printsource, two shows that specialize in surface design, are held at the same
time and at the same location. Printsource is held in the Hotel Pennsylvania Penthouse Pavilion,
while Direction is held at street level in the Penn Plaza Pavilion. Not only do the shows attract
the same buyers, but some of the same exhibitors are at both shows. Tom Cody Design, which has
locations in New York City and London, and New York City-based Splash Ltd. showed sophisticated
designs for womenswear downstairs; fabrics for juniors and childrenswear were shown upstairs.
Tom Cody's upstairs look was whimsical, with bold stripes and borders in rainbow colors and
carnival-inspired prints in sorbet colors. Downstairs, there were gypsy bohemian looks in earthy
shades and sheer romantic patterns for tops. Prints and embellishments often are combined. All were
shown on fabrics shaped to suggest a finished garment. Cody's customers run the gamut, from fabric
converters to garment manufacturers and retailers. His best seller is a newly styled paisley. The
emphasis at Splash was on global ethnics, with prints shown on batik and ikat grounds. They are
selling to all markets, including boys, swimwear and sleepwear. Tonal tropicals and placed designs
were pointed out.
Brazil-based Santa Mistura, representing 24 Brazilian designers, was a new exhibitor at
Direction. Print styles for apparel and the home vary from ethnic to abstract to romantic at this
design firm. All are created using Pantone colors.
Ethnic print nationalities run the gamut, from African tribal, South Sea Island tropical and
Japanese ikat to European gypsy, Aztec, Incan and Native American. The newest prints are globally
inspired, combining motifs of many countries. The Colorfield Design Studio and Marilyn Kern Textile
Designs Inc., both based in New York City, showed global ethnic designs. Paisleys at Colorfield
have a gypsy look, while linear and geometric designs have a Bauhaus look, and flowers are small
and detailed or combined with geometrics. At Marilyn Kern, flowers are botanical or small in
scale.
---

Scottish Cashmere: Maintaining Quality

The Scottish Cashmere Club recently embarked on a brand campaign, Truth in Cashmere, to alert
the textile, fashion and retail industries that there are differences among cashmere products.
"Cashmere isn't just cashmere," said Graeme Sands, consulting project manager and spokesman for the
club. "A product with the Cashmere Made in Scotland hang tag is manufactured in Scotland to the
highest level of workmanship." Membership in the club is limited to Scotland-based yarn spinners,
weavers and knitters that conform to the strictest standards of fiber, yarn and manufacturing
quality. Yarns must be 100-percent cashmere spun in Europe. Fibers must be Chinese or Mongolian in
origin, and must be a minimum of 34 millimeters in length and have a maximum thickness of 16.5
microns. Products are tested, starting with the fiber and continuing through every stage to the
finished product, whether yarn, apparel, accessories or home furnishings. There are multiple tests
to ensure that Cashmere Made in Scotland fully lives up to its reputation as the highest-quality
cashmere in the world. Yarn-spinner members of the club are Todd and Duncan and Z. Hinchliffe and
Sons Ltd. Weavers include Begg Scotland, Johnstons and Lochcarron of Scotland. Others involved with
knitwear and accessories are Ballantyne Cashmere, Hawick Cashmere Co., John Laing of Hawick Ltd.,
Murray Allan Cashmere, Peter Scott and Co. Ltd., Scottand Charters (Havick) Ltd. and William Lockie
and Co. Ltd.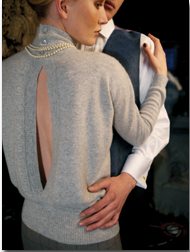 Johnstons, a member of the Scottish Cashmere Club, produces cashmere knitwear.
Members have invested in the latest state-of-the-art technologies. Forget the stodgy reputation
frequently associated with Scottish woolens. Colors, weaves, patterns and textures going into
Scottish cashmere products are versatile and fashionable. Members are creating new concepts each
season and working with customers through the supply chain to deliver quality products that have a
luxurious look; soft, sensual touch; and a high level of performance.
"Washing Scottish cashmere improves its bloom," Sands said. "Properly handled, there is less
pilling and greater durability. We want the trade and consumer alike to be aware of the difference.
Cashmere with our Cashmere Made in Scotland hang tag lives up to its reputation for integrity in
fashion and quality."
All branded product must be sold as first-line merchandise; discounts should never be
applied.
Cashmere quality control also is an issue in the United States. Commenting on quality control at
the retail level in the United States, Karl Spilhaus, president, Cashmere and Camel Hair
Manufacturers Institute (CCMI), Boston, mentioned that one of the functions of CCMI is to test
products purchased at retail to verify fiber content and performance that is listed on hang tags
and labels. "You'd be surprised at how many major and prestigious retailers have mislabeled
merchandise, and how many times we have sued them," he said.
---
March 2005