F

abric libraries, trend forecasts and product development are some of the ways fiber
companies assist customers in designing and selling their wares. Midland, Mich.-based Dow Fiber
Solutions' DOW XLA™ combines fashion trends and techno service in a book of fabric swatches. All of
the fabrics have been woven by leading European mills and have been specially finished or treated
to show how finishing does not alter the performance of fabrics containing XLA.
There are cotton shirtings with antibacterial and ultraviolet-resistant finishes;
enzyme-washed denims of Tencel®/cotton; laser-perforated twills; pleated wools; membrane coatings;
bonded plain weaves; laminated treatments; crushed surfaces; and flocked, embossed and puckered
fabrics. Most of the fabrics shown in the swatch book contain 2- or 3-percent XLA; a crushed
shirting has 7 percent. Accompanying photos and text point up the comfort, performance and fashion
attributes of these fabrics.
At the moment, Lenzing AG, Austria, plans to continue Tencel Ltd.'s fabric library in New
York City. It will feature Lyocell®-content fabrics displayed by fabric type and organized
separately by resource. It is expected that fabrics containing Modal® and Micro Modal® will be
added. The fabric library offers a wide selection of denim from international sources, as well as
sheers and novelty knits.
Germany-based Celanese AG's Fabric Library is changed seasonally as new fabrics arrive from
global sources. All contain Celanese acetate. In addition to fashion fabrics, there is a section
for linings. According to Ellen Sweeney, manager, global public affairs/advertising, approximately
600 designers and piece-goods buyers review the Celanese Fabric Library each season. Currently, the
most-asked-for fabrics are faille, bengaline, satin and jacquards woven in blends of
acetate/cotton, as well as acetate/spandex and acetate/nylon novelty knits.
Celanese gives color and trend presentations on a daily basis. Fall/Winter 2005-06 is
currently underway. In addition to New York City, the show goes on the road to Los Angeles, Mexico,
Korea and China. James Siewert, manager, creative services, points out rich, deep shades of
magenta, plum and orchid in his presentation. He shows these with dark neutrals of steel gray-,
camel- and bronze-cast colors. Jewel-tone brights are used as accents. Elegant combinations of
shaded pastels with deep brown or winter navy are another look. Bright and primary colors turn up
in flecked tweeds and dimensional weaves.
Fabrics Siewert shows include crepes and crepons for a variety of silhouettes. Dimensional
weaves with slubs and nubs are woven with irregular yarn mixes. Matte satin and fluid silky fabrics
are topweights that go into tailored, dressy and casual apparel. Knit surfaces can be matte or
lustered. Fluid and weightless fabrics are stressed.
At INVISTA™ Apparel, Wilmington, Del., Iris LeBron, fashion director, intimate apparel,
swimwear and activewear, gives color, fabric and garment trend presentations to the intimate
apparel industry. For apparel producers, globally sourced market fabrics containing Lycra® spandex,
Tactel® and Supplex® nylons are shown. Soft neutrals, pink and lilac shades, floral prints on sheer
fabrics, checks, geometric patterns and over-scaled paisleys are some of the suggestions in a group
that has a lively feeling. Seamless mesh, honeycomb sheers and patterned ribs are some of the
fabrics shown. Pinks, burgundies and corals are accented by navy, sky blue and olive in another
range. Lace, satin and delicate sheers are some of the highlighted fabrics. There are gutsy satins,
power-nets, laces, embroideries and appliqués in a third range. Colors here are nostalgic shades of
antique gold, copper and bronze mixed with raspberry, muted teal and celery.

INVISTA's Yarn And Knit Forecasts

Flat knit and yarn innovations presented recently at Invista's New York City office
spanned Fall/Winter 2005-06 and Spring/Summer 2006. "The Invista knitwear innovation
portfolio includes a wide range of products that offer both fashion and function," said Jean
Hegedus, global knitwear marketing manager. The collections were prepared by Sheila-Mary
Carruthers, global knitwear consultant, in conjunction with the technical team at the England-based
Invista Fabric Development Centre.
More than 100 new flat knit concepts, made on commercial machinery using commercial yarns,
were developed for knitters, brands and retailers. Among the fabrics shown are double-faced cloths
that offer a different aesthetic or performance quality. One fabric is knitted with
Teflon®-treated wool yarns from Schoeller GmbH & Co. KG, Austria, on one side for protection.
It reverses to a brushed surface knitted of wool/mohair/Lycra from AA Global,
Taiwan. Carruthers demonstrated the water-repellent properties of the fabric.
Other fabrics shown include Fair Isle knits that have loft without weight, fleeces, tucked
textures, stripes and lacy knits. Most of the fabrics are easy-care and high-performance, and
have a new fashion look. There are fabrics knitted with composite yarns and blends of natural
and man-made fibers. Most contain Lycra.
Yarn innovations for Spring/Summer 2006 are aimed at all manufacturing end-uses – wovens,
circular knits and flat knits. Samples and technical specifications are available. Many
contain Cordura® in a refined form. "It's not just for backpacks," said Carruthers, who showed a
marled yarn also containing Lycra. Other yarns include linen/Lycra; space-dyed cashmere/Lycra;
bouclés; and slubs, nubs and other novelties in a variety of fibers including Tactel, Supplex,
Cordura and Lycra; and sometimes blended with wool, silk, bamboo or glittery Angelina.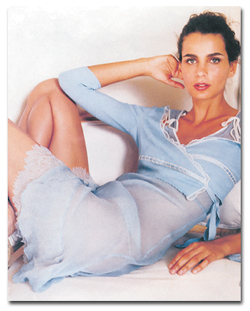 For Fall/Winter 2005-06, Nilit Ltd. presented several trends, including laces and
embroideries for fabrics targeted to women, for its line of Sensil™ nylon fibers.

Nilit's Trend Forecasts

Israel-based Nilit Ltd. focuses its trend forecast for the family of Sensil™ nylon
fibers on intimate apparel, activewear and legwear for men and women. Ilana Joselowitz, design
consultant, presented colors, fabrics and silhouettes for Fall/Winter 2005-06. Seamless garments
highlighted her presentation. "Seamless has unlimited potential. The comfort, fit and variety of
effects that can be achieved are not possible with cut-and-sew," she said.
Joselowitz divided her presentation into five groups. A traditional group with a vintage
look features cozy, soft homewear with discreet surfaces. Bodywear for men, knitted in Sensil
Arafelle plated with covered spandex, has a mélange effect and cottony touch. Matte/shine
contrasts, embroideries, eyelets, laces and ribs are some of the ideas for fabrics targeted to
women. Colors are soft shades of peach, aqua, cream and pearl.
A second group is inspired by mythology. Velours, satins, burn-outs, jacquards and rich
colors are among the highlights. Sensuous, romantic bodywear combines satin, smocking and mesh in a
single seamless garment. There are chain mail effects, ruffled embellishments and patina surfaces.
Nature is the spirit of a third story, with shades of green, brown, berry and violet.
Puckered textures, leaf and bark patterns are shown with engineered panels knitted in seamless
corsetry.
A bright, young group with a 1950s retro influence features multi-colored layered garments
that are dyed in one process using Sensil Colorwise and Sensil Pastelle. Bright stripes, bold dots
and tonal effects are shown in camisoles, panties and socks. High-performance activewear is
designed for comfort and fit. Multifunctional seamless garments are knitted in techno yarns that
stretch, breathe, transport moisture and control bacteria.

Natural Fibers

At Cotton Incorporated, Cary, N.C., color for Fall/Winter 2005-06 is grouped into six
trends, with six shades in each. There are five directions for fabric weaves, patterns and
textures. Forward fashion is purchased from trendy boutiques from around the world. Visitors to the
company's presentations are allowed to cut swatches from the garments. In some instances,
construction details are available. All of the colors are identified with Pantone numbers.
A group of bright, clear colors "appears to be glowing with sunlight," said Kathryn
Novakovic, director, fashion marketing. Orange, gem-like blues, chartreuse, polished bronze and
mahogany are some of the shades shown. Grayed, weathered tones are in a group called Storm Watch.
Smoky browns, tans, grays and blues are shown. Novakovic suggests using these for men's
bottomweights and weatherproofed fabrics. Deep red, purple, gray, and a brown shade called Luggage
are lightened and brightened by aqua and a tinted peach shade in another group.
For athleticwear, Cotton Incorporated shows bright yellow, green and turquoise with deep
olive-brown, tan and cream. These colors are also suggested to accent cotton sweaters and winter
outerwear. Reds, pinks and lavenders range from soft to fiery. They are shown with a pale mossy
green and root brown. Traditional colors in the final group have a high-energy feeling. Velvet,
flannel and tartans are some of the fabric selections.
Fabrics shown at Cotton Incorporated are knitted or woven of 100-percent cotton or blends
with wool, spandex, acrylics, other man-mades, soy or bamboo. "Look for dimensional patterning in
quilting and matelassés, surprising combinations such as florals and plaids," Novakovic said. There
are techno fabrics that repel insects, and a lot of decorative details. There also are double-sided
knits that reverse from terry to stripes; fleeces; dobbies; crinkled and puckered effects;
jacquards; basket weaves; striped shirtings; chenilles; and, of course, canvas, twills, corduroy
and denim.
Some of the novelty denim fabrics at Cotton Incorporated are chevron-patterned; marbled;
flocked; printed; rainbow-striped; splattered; woven with spandex; coated; and bleached,
stone-washed or garment-washed.
Forward fashion direction at Masters of Linen, Paris, is researched and presented by Ornella
Bignami of Elementi Moda, Milan. In North America, information is available at Masters of Linen,
New York City. Bignami sets two moods for Fall/Winter 2005-06. One is urban and luxurious, with a
subtle convergence of masculine and feminine looks. Colors are neutral, light or barely darkened in
palettes of cloudy blues, greenish grays, golden beiges and blushed browns. Casual fabrics are in
blends of linen with wool or alpaca. There are blurred, grainy, slightly rough surfaces;
tone-on-tone tweeds; and twisted, imperfect knits. For a more sophisticated look, Bignami suggests
compact textures; double-sided fabrics; lightweight weaves such as gauze or muslin; brushed
surfaces; fine-gauge knits; and dainty textured designs knitted or woven in linen blended with
wool, silk or microfibers.


Bignami's second theme for linen is carefree and young. Colors are bright and softened. She
shows multicolored micro- and macro-tweeds, blistered jacquards, shaggy mohair/linen blends,
crackled surfaces, lace and embroidery, aged velvet, fine-gauge loose knits and iridescent effects.
All of the fabrics are knitted or woven in blends of linen with wool, mohair, silk microfibers or
Lycra.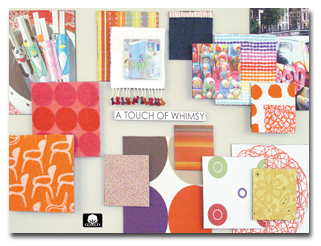 Cotton Incorporated's trend directions for the home for 2006 include brighter colors,
prints and patterns.

For The Home

Dana Poor, trend forecaster for the home, Cotton Incorporated, recently presented six color
palettes and four fabric directions for the home for 2006.
"As we move into Home 2006, the colors will continue to be bolder and more saturated," Poor
said. "There is a movement from solid vivid colors towards brighter and more vivid prints and
patterns." All of the colors are matched to Pantone shades.
In a group of colors called Wine Country, there are lush purples, grape leaf and vine
greens, chardonnay gold and a shade called Flagstone. Cool blues, lavenders, sandy shades, peach,
mud and pure white are in a range called Simply Stated. Spice of Life colors are rich and lively,
with Chili Pepper and Sangria reds, Nutmeg brown, a teal called Incense, Vanilla and Smokehouse
gray.
Laid-back shades in a group called Luxe are described as "exotic without being pretentious."
There are silvery blues and greens, tangerine, carrot, and an earthy brown called Arabica. The
Overexposed range features intense brights that are "flamboyant and sensual." Passion pink,
Limelight, orange, and turquoise are some of the colors offered. Earth and water shades in the
Reflections range are soft, dusty, warm browns. Rosewater pink and silvery Shadow, with deep navy
and a vivid turquoise called Poolside are also offered.
Fabrics in a group called Swept Away take their inspiration from apparel such as cable knits
and white-on-white burn-outs. Waffle weaves, terrycloth and dobbies are also in this group.
Handcrafted looks, slubbed textures, botanical prints, chenilles and ikats are in the Rudimentary
Elements range. Top of the Line includes damasks, jacquards, embossing and shine. There are
circular patterns, squiggles, flocking and bold color combinations in the last group.



September 2004