W

ith Expofil joining the Paris Pôle Mode group, there was one-stop shopping in Paris for
buyers looking for yarns, fabrics and surface design. There was initial concern about moving the
Expofil show from December and June to February and September to coincide with the dates of
Première Vision. However, with more retailers and companies that make finished products buying both
fabrics and yarns, holding the shows in adjacent areas at the same time allows design groups to
better coordinate their lines.
The idea was a success. After the February 2004 show, organizing companies Expofil S.A. and
Première Vision Le Salon S.A. announced they would merge and operate under the umbrella
organization Première Vision Le Salon S.A. (to be known as PVE S.A.). Expofil's parent company, the
French Association for the Promotion of Textile Yarns, also will be incorporated into PVE, while
the Association Première Vision – parent of Première Vision – will become the leading stockholder.
The Board of Directors of PVE includes representatives of weavers and spinners. Daniel
Faure, president, Première Vision, will continue as president and director general, PVE. Expofil's
Philippe Pasquet will be in charge of development. Within the framework of the decision to move
closer operationally, each show maintains its identity and specificity. They both continue to be
managed by their respective organizational teams.
Première Vision was founded in 1973. At the February show, there were 736 exhibitors
including weavers and knitters of quality apparel fabrics. Expofil, founded in 1979 to showcase
yarns and textile fibers, attracted 141 exhibitors to its latest edition, including spinners of
flat-bed knitting yarns, and circular knitting and weaving yarns.
In addition to Expofil and Première Vision, Paris Pôle Mode includes Indigo, a show of
surface design, and Mod'Amont for accessories. At the most recent events, the focus was on
Spring/Summer 2005. At Expofil, exhibitors of yarns for weaving and circular knitting also showed
Fall/Winter 2005-06 collections. Color and trend information for Fall/Winter 2005-06 was available
at Expofil and at Indigo.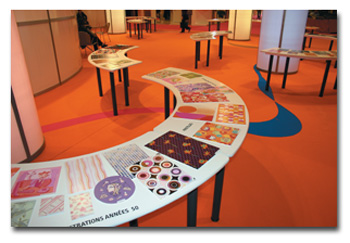 At Indigo, most exhibitors showed designs for three seasons. Fall 2005 colors were shown in
four groups.



New Expofil Timing

A Success For Exhibitors


At Christory S.A. of France, Fabrice Motte, commercial director, applauded the timing of the
show. "We're seeing a lot of new visitors who ordinarily don't come to Expofil," he said. One of
the major problems he cited is the current exchange rate between the euro and the US dollar. "For
our US customers, this makes our yarns 30-percent higher in cost."
Christory offered top-dyed merino wool yarns for weaving, flat-bed and circular knitting,
and socks. Heathers and moulinés were of special interest. Ultra-fine merino wool/silk yarns and
mélange yarns of 100-percent merino wool offered for weaving are stock-supported. Some of the
merino yarns are total-easy-care.
Martin Stuart, United Kingdom-based marketing coordinator, Unifi, said the new timing of the
show was good. Unifi Inc. is working with retailers, brands and garment manufacturers – many of
them come to Première Vision on a regular basis, but don't always make a second trip to Expofil.
"At home, we work in partnership with our customers to develop fabrics," Stuart said. Marks &
Spencer

is one customer he mentioned. Merano™, a wool-like yarn blended with Reflexx™ and woven into
a soft stretch fabric, was pointed out. Reflexx has a warm hand and 20-percent stretch, and is
economically priced. Along with new fabrics, conceptual garments on display attracted interest.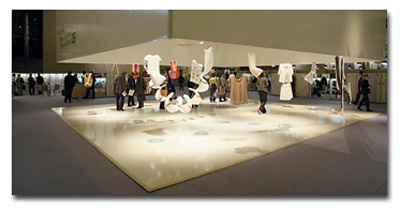 The most recent Expofil focused on yarns for Fall/Winter 2005-06.

Specialty Yarns


Switzerland-based Hermann Bühler AG introduced SwissCotton Silver®, a blend of 90- to
95-percent cotton and X-Static®, a nylon fiber coated with pure silver. The X-Static silver fiber
delivers antimicrobial, anti-odor, antistatic and therapeutic properties. Its conductive properties
help to regulate temperature. Because it is inherent in the yarn and not a surface treatment, there
is no reduction in these properties through numerous washings. Socks, underwear and athleticwear
are some of the focus areas for apparel. In home textiles, SwissCotton Silver's ability to ward off
dust mites is a plus for allergy sufferers.
In addition to apparel, SwissCotton Silver has healthcare applications including wound-care
and therapeutic clothing used in the treatment of neurodermatitis and athlete's foot.
Paul A. Schnepf, managing director, sales, Hermann Bühler, said quality and specialty yarns
are selling well, while commodity yarns are less successful. Fine-count organic cotton is going
into men's shirts. Most of the company's organic and long-staple cotton is grown in Arizona,
California and New Mexico.
Germany-based Zimmer AG introduced SeaCell® Active, a lyocell fiber that incorporates
seaweed and silver. It has all of the attributes of Zimmer's SeaCell fiber, plus antimicrobial and
antifungal properties.
Spoerry & Co. AG, Nef & Co. AG's Switzerland-based spinning mill, introduced Spoerry
Sensual ultra-fine elastic cotton yarns made with fine American Pima or Egyptian cotton and 15- or
22-decitex Lycra®. The company uses Rieter's Com4 spinning process to insert a core of Lycra into a
bundle of compacted cotton fibers. The fibers then are carefully twisted around the core, producing
a yarn of unique fineness that has a low level of hair and is easy to weave.
Another Spoerry product that is also based on the Com4 process is Nobletwin®, in which two
rovings are joined, compacted and twisted to form a yarn that is similar to a two-ply yarn.
Nobletwin is even, soft and a little hairy.
At Austria-based Schoeller GmbH & Co. KG, yarns that have functional applications are
selling better than fashion yarns. Cotton/acrylic yarns that offer ultraviolet protection,
Teflon®-treated yarns that repel water and oil, and sanitized antibacterial yarns were pointed out.
S-Shield®, a blend of 92-percent merino wool and 8-percent steel, is antistatic and offers
radiation protection.
Kurabo Industries Ltd., Japan, showed Spinair, a composite yarn made of cotton with
polyvinyl alcohol (PVA) in the core. When the PVA is dissolved, the cotton yarn has a hollow core.
The yarn is warm, soft, light and bulky, has excellent water absorbency and fast-drying properties.
Currently, it is selling primarily to the sweater market.
Kurabo's Flexfree yarn, aimed at athleticwear markets, is spun from polytrimethylene
terephthalate. It is a stretch yarn described as "fitting the body." Another Kurabo yarn, spun of
extra-long Supima® cotton, is tightly twisted to give it a linen touch.
Sinterama S.p.A., Italy, introduced Ghost, a phosphorescent polyester yarn 10 times brighter
and longer-lasting than conventional phosphorescent yarns. Target markets are curtains, ribbons and
cinema exit signs.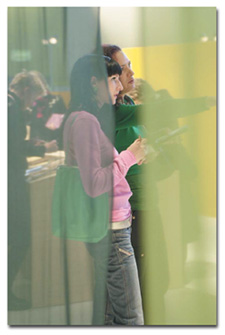 Visitors to Expofil saw yarn collections from 141 exhibitors.

Lenpur™ Is Selling


Italy-based Filati Maclodio S.p.A. reported sales of its Lenpur™ cellulosic yarns are up.
Socks, underwear, shirts, sheets and mattress tickings are major application areas. New yarns and
products are in development.
Shrewsbury, N.J.-based Wellman Inc.'s ComFortrel® is another fiber Filati Maclodio is
working with. Outlast® technology from Boulder, Colo.-based Outlast Technologies Inc. is in the
works for knitting and weaving yarns.
France-based Robert Blondel is selling yarns spun with Lenpur for flat and circular
knitting, and for socks. Yarns of 100-percent Lenpur have an exceptionally soft hand. Other yarns
blend Lenpur with silk. One twisted yarn has one end each of Lenpur, maize and soy. Thermolite®,
Coolmax®, cotton and modal are other fibers offered.
Franzoni Filati S.p.A., Italy, is the largest spinner of compact cotton yarns, which are
sold under the brand name Futura®. Recently, the company introduced Futura Maximizer yarns, which
provide better dimensional stability to fabrics than conventional yarns, are low-pill and have less
hairiness. In addition to cotton, yarns containing Coolmax and Thermolite are available.

Novelty Yarns


R. Belda Llorens S.A., Spain, said colored and finer yarns spun on the cotton system are
selling to its American customers. A dyed yarn called TriMicro, a blend of microdenier
polyester/acrylic/viscose, was pointed out.
Also based in Spain, Hilatura Miel S.L.-Himiesa sells fancy worsted yarns for knitwear,
hosiery, weaving, upholstery and carpets. One of its most successful yarns for Summer is called
Tahiti. The polyester/viscose spun yarn is chunky, twisted and multicolored. A fancy twisted
two-color yarn with irregular slubs in a blend of cotton/acrylic/nylon, and a fancy two-colored
looped yarn in a blend of viscose/acrylic/nylon also are available.
A-Dress, France, has a wide range of fine novelty yarns spun with precious fibers. For
Spring, pure silk and silk blended with linen, cotton, cashmere or soy are available in a range of
yarns including ultra-fine and lustrous looped, nubbed, chunky with a warm touch, chenille and
slubbed. Some of these yarns are going into seamless garments.
Bright colors are selling for Spring at Zultse Wolspinnerij, Belgium. Yellow, turquoise and
pink are the favorites. This firm sells yarns for weaving and knitting. For Fall, thick
acrylic/wool/polyester bouclés and twisted cotton/acrylic yarns were pointed out.
France-based Emile Tardy sells yarns for circular knitting and weaving. For Fall, he
reported there will be a continuation of fine, lightweight fabrics with discrete glitter or sheen.
Crepe yarns in viscose, polyester or blends are among his best sampling items.
Gail W. Strickler, owner and president of Saxon Textile Corp., New York City, commented on
the quality at Expofil. She was happy to see so much American cotton. "There is a crossover between
yarns for apparel and the home," she said, "and the colors are so wearable."
Sylvie Tastemain, Expofil's fashion director, said Fall 2005 fabrics will be luxurious, soft
and fluid. She mentioned rustic tweeds, honeycombs, etamines, chiffons, patterned velvets, laces
and touches of metallic glitter. She showed soft neutral colors with emphasis on browns, jade,
amethyst, petrol blue and faded shades of rosewood. She suggests "insolent" colors for wool in
shades such as paprika, cardinal red and cobalt blue.

Indigo


At Indigo, Fall 2005 colors were shown in four ranges. There are 10 shades in the Clear
group. Between white and black, there are smoky gray, turquoise, acid green, canary yellow, violet,
fuchsia and tomato red. Eight colors in a group called Shifting start with warm, pale beige and end
with black. In the middle are shades of squirrel gray, dark brown, paprika, curry, clove and bright
peacock blue. Tones of autumn are in the Chance range. Colors here include gold, silver, bronze,
amber, willow and gray. The six shades in a category called Blurred are pale and neutral. Soft pink
and orchid are followed by putty, mauve, vanilla and cinnamon.
Many exhibitors at Indigo were selling patterns for three seasons. Italy-based Avantgard
S.r.l. said flowers always sell in the United States. Flat flowers, tropicals, photographic
Hawaiians, enlarged Pucci styles and animal skins are some of its designs.
The Seed, a first-time, Germany-based exhibitor at Indigo, is headed by Thomas Hann, who
refers to the company as a "global creative co-op." Its network of designers provides service on a
high level, he said. "A lot of work is done over the Internet for fast response." Along with
designs and colors, the company handles color separation. Current best sellers are rounded shapes
that have a feeling of movement. There are sunbursts, flying saucers, splattered geometrics,
optical designs and abstract flowers.
The looks at Tom Cody Design Inc., a New York City-based studio, are fresh, feminine and
romantic. There are butterflies, brightly colored flowers, scenics that have a destination,
soft-edged graphic flowers and conversationals. Popular in the junior market are Hawaiians and
nauticals. Pirates and buccaneers were pointed out.
Karen Moller sells antique swatches along with original designs. Current favorites include
large-scale retro florals, summer tweeds and checks, figuratives, folklorics, and Art Nouveau- and
Art Deco-inspired patterns.
The next meeting of the Paris Pôle Mode group, showing fabrics, yarns and surface designs
for Fall/Winter 2005-06, will take place in Paris Sept. 21-24, 2004.
June 2004