W

ith temperatures in the single digits and snow on the way in New York City, buyers
shopping the fabric shows for their Spring/Summer 2005 apparel collections were warmed by the sunny
colors, bright conversational prints, diaphanous fabrics, sateens with subtle luster and romantic
embroideries. The six shows, which took place over a 10-day period, presented new colors, designs,
techniques and marketing tools – all crafted to bring a fresh look to a new season.
Direction and Printsource New York were the first to herald Spring 2005 with showcases for
surface design. Both shows have expanded in the last several years. According to Lisa Mainardi,
Direction producer, the number of exhibitors has increased by 25 percent and attendance has tripled
in the past year and a half. At the most recent Direction show, 110 booths representing 120
companies presented prints, embroideries, beading and other application treatments, designs for
knitted fabrics, yarns, color resources, CAD equipment and trend services. Pantone Inc., Scotdic
Colours Ltd., Yarn Mavens Inc., Pointcarre USA and Meadowbrook Inventions Inc. were new exhibitors
at the show.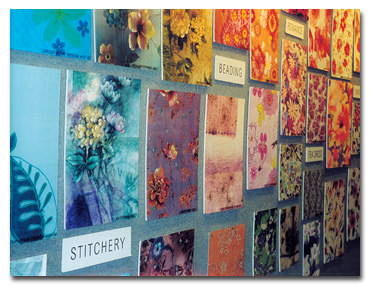 Direction surface design trend display
At Printsource New York, Massimo Iacoboni, show director, said there is a waiting list for
new exhibitors, and attendance has been steadily going up. "Along with major print converters,
apparel manufacturers and retailers who come to our show, we are seeing more people from the home
furnishings trade, and hosiery and accessories companies," he said.
Five days later, the city hosted European PreView, the Turkish Fashion Fabric Exhibition
(TFFE), and Innovation Asia, as well as the Italian Trade Commission, which showed trends developed
for the Moda In show in Milan. Although the focus of all the shows was on Spring/Summer 2005, a lot
of mills had their Fall 2004 collections on hand for late selling.
Attendance figures for European PreView, Direction and Printsource New York came in at more
than 2,500 at each event. Daniel Faure, chairman, European PreView, said the market is changing
rapidly. "Our database in France is constantly updating," he said. "In order to be of service to
our exhibitors, we must bring the right level of buyers to this show."
Of the 123 exhibitors at European PreView, 43 came from Italy, and an equal number from
France. Others are based in Portugal, Spain, Austria, Germany, Switzerland, Belgium, England,
Scotland and Ireland.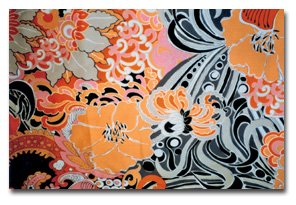 A large floral print from Seterie Argenti S.p.A.

Color Is In Demand


Buyers at all of the shows were enthusiastic about what they saw. At European PreView, Jerry
Dellova, design director for Barry Bricken, Owings Mills, Md., was shopping for fabrics from
the Spain-based mill Pasarela S.L. "I am so glad to see so much color, and in woven fabrics,"
Dellova said. "Our customers are clamoring for color. I used to be the king of beige, stone and
putty. After the reaction we had to a hot pink jacket, I am shopping for more color."
Pasarela showed vibrant colors, bright prints and textured tweed suitings. The line is woven
using polyester and blends with viscose, cotton and Lycra®. One of its best sellers is stretch
cotton sateen. Conversational prints and bold geometrics are popular as well.
Camille Block, designer for Q-T Foundations Co. Inc., Norwood, N.J., a company that makes
private-label intimate apparel, said: "Our customers love color. And I am seeing more prints than
ever before that look right for the missy and full-figured woman." She liked stretch satin
conversational prints and jacquards at La Industrial Sedera S.A., Spain.
Among the fabrics mentioned by Angelo Uslenghi in his Spring/Summer 2005 forecast developed
for Moda In are satins, sateens, crepes, piqués, seersuckers, crepons, voiles, georgettes,
honeycombs, hopsacks, slubbed linens, jacquards and mesh.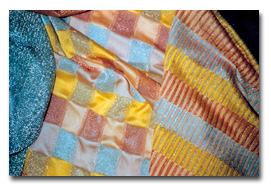 Fabrics featuring Lurex® from Marioboselli Jersey S.p.A.

Linens


With stretch and care-free finishing treatments, linen is increasingly popular. At European
PreView, Northern Ireland-based Ulster Weavers showed traditional Irish linen that was updated in
style and technology. Twills with lustered finishes contain Lycra, rugged basket weaves are dyed in
jungle colors, and linen bouquets are reminiscent of Chanel.
Scotland-based weaver Robert Noble showed linen blended with silk and cotton. Sheer, open
gauze weaves have been adapted from its curtain line. Tweeds in classic patterns have a dry hand.

Isoule Textile, France, has multi-colored yarn-dyed tweeds with lustered yarns running
through them, for a look that is young Chanel.
Italy-based Solbiati has two-ply crepes, chintz linen that is soft and drapable, thick open
weaves, rustic hopsacking and tie-dye effects.
Bright, fresh colors in romantic pastel shades or sunny brights from Libeco-Lagae, Belgium,
turned up in a variety of space-dyed stripes. They are woven with ultra-fine yarns; the fabrics
have a crisp touch and slightly crinkled surface. Other fabrics are woven in a blend of
linen/stainless steel. The metal gives luster and memory to the fabrics. There are Panama weaves
with tone-on-tone shadings, crepe weaves and blends with Lycra.
At TFFE, Bossa was selling linen/cotton blends to the menswear market. There was high
interest in summer tweeds for jackets and trousers in blends of linen/viscose/polyester. Other
fabrics in this line include dobbies woven with fancy yarns and classic stripes.
BTD, also at TFFE, had linen/viscose blends with a soft touch. Kenneth Master of New York
City-based Club Monaco, said, "Here I can find novelty at our price points." He was looking at
textured stripes woven with fine yarns, cotton/Lycra sateens and casual fabrics with silicone
finishes that give them a cool touch.
G-Vision International, an exhibitor at Innovation Asia – facilitated by England-based Tencel
Ltd. – had linen blends with metallic stripes. The Korea-based knitter has a variety of fabrics
ranging from silky matte jersey to jacquards, mesh and crochet looks. Also at the show, Japan-based
Toyoshima had Tencel®/linen blends that have a lot of stretch, and are machine-washable and
-dryable.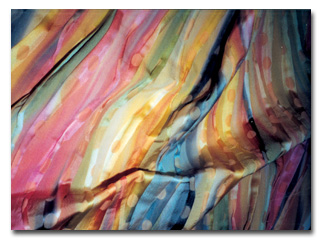 A pastel rainbow-striped sheer silk fabric from Weisbrod Zürrer AG

Knits


Crepe-stitch knits are making a comeback. At Italy-based Marioboselli Jersey S.p.A., a
European PreView exhibitor, they are knitted in silk/viscose and have a soft hand. After all of the
shine, buyers are starting to look for soft, matte crepes. Jacquards with splashes of Lurex® and
silk/copper stripes and squares also were popular. And, with buyers looking for more individuality,
Marioboselli is selling fabrics prepared for printing, and also will print a customer's exclusive
designs.
Open crochet patterns in nylon and nylon/Lycra blends, engineered stripes with coordinating
jacquard patterns and yarn dyes were the early best sellers at France-based Billon Frères, another
European PreView exhibitor.
Tencel knits at Innovation Asia tended to have a soft hand and natural stretch. Fountain Set
(Holdings) Ltd., Hong Kong, Dainong Corp., Korea, and Willgold Industrial Co. Ltd., Taiwan, showed
them in blends with cotton, nylon or polyester.
At TFFE, Gulle Tekstil San A.S. sold knitted fabrics to intimate apparel and activewear
markets in blends of cotton or viscose with Lycra. A lot contain metallic yarns as well.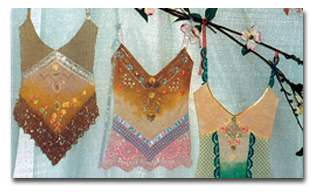 Tom Cody Design exhibited romantic designs at Printsource New York.



Prints


If buyer reactions at these shows are a criterion, Spring 2005 will see a lot of printed
fabrics. Studios showing at Direction and Printsource New York all reported that scenic
conversationals are the number-one seller. At The Colorfield Design Studio, retro scribbles,
tropicals and small-scale geometrics also were popular. Colors and combinations of bright with
neutral, coral and green shades were cited. The company also offered ethnic figuratives, romantic
florals, softer graphic and geometric designs and retro patterns reminiscent of the 1920s.
Tropicals, geometrics and skin patterns were top sellers at Marilyn Kern Textile Designs
Inc., New York City. Amanda Kelly Design Studio, England, described its flower prints as "1930s tea
dress florals." Textured looks and conversationals also sold well. Bold, high-energy stripes,
large-scale geometrics, cowgirl conversationals and watercolor flowers were popular themes at
Westcott Design Ltd., London.
Tom Cody Design, New York City, reported romantic and sexy designs sold well. A lot of Cody's
prints have a feeling of movement, and many are going on tie-dyed backgrounds. At Splash Ltd., New
York City, retro patterns are updated using vivid colors. There are butterflies in this line as
well, and a lot of hand-crafted looks.
Last August, Direction started selling print designs from its website,
www.directionmarketplace.com. "It is completely
safe and private," said Mainardi. Vendors can control who looks at their lines, and there is no way
a pattern can be copied or downloaded without the consent of the seller.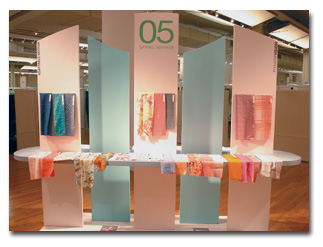 European Preview attracted more than 2,500 visitors.



Prints At European PreView


A lot of the same ideas turned up at European PreView. Italy-based Segalini Manifatture
S.p.A., Italy, showed African ethnic and jungle designs in earthy colors, graphic florals in warm
bright shades, small sweet flowers in baby pastels, and stripes and checks that have a feeling of
movement. Silk crepon, chiffon, georgette and satin are some of the base print cloths. Others are
cotton canvas and drill.
Ronald Sheridan, agent for France-based Chaine et Trame S.A., said the focus of the company's
line is young and trendy. Conversational and figurative prints are going on both top- and
bottomweight fabrics. Stretch cotton sateen, stretch poplin, rayon/spandex jersey and polyester
mesh are some of the most popular fabrics. Tropicals and sparkle prints are other popular designs.
Black-and-white turns up with touches of red.
Italy-based Miroglio S.p.A. called its collection Pre-Spring. Piqué, mesh and cotton stretch
are some of the base cloths. There are flocked butterflies, mosaic designs, flat florals and
engineered patterns. One floral print is worked with stripes so a shirt can be made with stripes on
the sleeves and flowers on the front and back.
At TFFE, conversational prints shown by Confetti Textile took on the form of faces, shoes or
bags with a 1950s quality to them. There are dots of different sizes and placements, graffiti, and
designs reminiscent of Pucci. Saydam Tekstil showed prints on satin and taffeta for eveningwear;
the casual line turned up on linen, cotton and blends. Some designs are printed on linen/Lenpur®.
Shantung, sheers and metallic glitter are in this line.

Silk Sector


Tina Wilson, designer for Donna Karan Intimates, was looking for soft, cozy robe fabrics with
a good hand. She found microfiber stretch terry and embroideries at Atelier Scarabee, France. She
also mentioned prints at Italy-based Clerici Tessuto & C. S.p.A. Brightly colored jungle
prints, large engineered floral prints with striped borders, silk/cotton soft satins and matelassés
are some of the highlights of this line.
Switzerland-based Weisbrod-Zürrer AG said Summer 2005 will be a silk season. The company's
early line includes fringed jacquards with a retro look, and pastel rainbow-striped sheers in a
blend of silk/cotton/linen available with random tucking. Black-and-white tweeds have a dimensional
look to them.
At France-based Bianchini Férier, there are flocks and printed georgette of silk/viscose.
Big, flat florals or butterflies are printed on faille. Shiny lacquer prints on crisp, transparent
fabrics also are available for Spring.
Leslie Potter, design director, Susan Bristol Inc., Boston, looked at prints at Seterie
Argenti S.p.A., Italy. She liked overprinting and flocking on textured fabrics, large florals and
new geometrics. Argenti showed cotton voile and sateen, stretch jacquards, jacquards with
coordinating patterns, washable viscose georgette and silk chiffon.
Mantero Seta S.p.A., Italy, showed five groups. Fabrics in the Summer Frost category include
florals and geometrics in fluorescent colors with gray. Some have a shiny, frosted finish. Essence
of Nature colors include dark and acid greens and blues. Prints are large, blurred abstracts and
jungle looks. There are feminine florals in shades of yellow and melon in a group called Blush
Garden. Cirque du Soleil colors are strong. There are mixed dot patterns, multicolored zig-zags and
combinations of rectangles. Batiks and paisleys in shades of pink turn up in Nativa, a group
reminiscent of India.
March 2004