The FL 20/16 is a new lace machine for the production of lingerie fabrics from Karl Mayer
Textilmaschinenfabrik GmbH, Germany. It can operate at a speed of 700 revolutions per minute, a
speed that has not previously been reached, according to Karl Mayer.
The machine can be used to produce shimmering crinkle effects on delicate undergarment
fabrics; checks in rigid geometric lines on stretch grounds; large-repeat, floral designs on
powernet fabrics; and clipped effects that give patterns a clearly defined, free-standing 3-D look.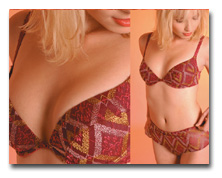 The FL 20/16 lace machine from Karl Mayer can impart a variety of effects to lingerie
fabrics.

The FL 20/16 features innovative servo motor-driven pattern and ground guide bars. The
pattern guide bars, known as string bars, comprise a thin wire with newly developed yarn carriers.
It also features an electronic fabric take-down mechanism and an electronic batching facility.The
machine is capable of processing powernet fabrics with four ground guide bars, while its 16 string
bars simultaneously work a number of different patterns.

February 2004