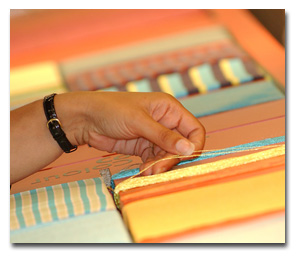 At the recent Fil Event, exhibitors showed weaving yarns for Spring/Summer 2005. The show
will be replaced by Expofil in February 2004.New fibers, new finishing treatments and
embellishments were the focus at recent textile trade shows in Europe. In Italy at Moda In and
Shirt Avenue, and in Paris at Premiere Vision and its satellite shows Fil Event and Indigo, the
emphasis was on creativity. Fabrics made from soy beans, finishes developed to repel grease and
liquids, laser-cut double cloths, metallic adornments, embroideries and appliquattracted buyers
attention. Even classic checks and tartans had added finishing touches.At Moda In, a total of 426
companies exhibited their latest collections. Trend consultant Angelo Uslenghi prepared Fall/Winter
2004-05 fashion and color statements in three themes Firm, Mild and Bold. Uslenghi said wool plays
the leading role, but it is treated in unconventional ways. In the Firm group, colors were tonal
and neutral or slightly grayed. Mild colors were soft and warm. A lot of the fabrics had a velvet
touch. In the Bold category, there were large-scale patterns, frequently colored in black and white
with a splash of bright.At Shirt Avenue, where the focus was entirely on quality shirting fabrics,
visitors were serious buyers. Many of the 35 exhibitors showed classic, fashion and sportswear
ranges. Stripes and clean finishes were favored in classic ranges, jacquards and soft finishes with
a vintage quality turned up for fashion. Sportswear shirtings tended to be dyed in dark colors;
woven with twisted yarns; and embroidered, printed or otherwise embellished. Many exhibitors at
Shirt Avenue noted that sales are up for womenswear, where stretch is popular. Sportswear is
overtaking traditional. New Fiber DevelopmentsAt Moda In, INVISTA Inc., Wilmington, Del., promoted
three areas Teflon®, Linen plus Lycra® and leather with Lycra. The company used the Premiere Vision
venue to introduce Advanced Teflon fabric protector with Dual Action Repel and Release system. This
new product repels liquids and prevents fibers from holding stains and soil, so they wash away
easily during laundering.At Premiere Vision, Dow Fiber Solutions, Midland, Mich., held its first
birthday party for DOW XLA lastol stretch fiber. With a successful launch in the better shirting
market, product is available at retail in Europe, and in US stores beginning this month. New focus
areas are casual sportswear, denim and uniforms. Dow also is working on blending XLA with wool, and
looking at the swimwear market because the fiber stands up well to chlorine, salt and sun.Dow XLA
was shown blended with cotton at Shirt Avenue, Moda In and Premiere Vision. Cotonificio Albini
S.p.A., Arco Texteis S.A., Emanuel Lang Textiles, Tejidos Royo, Decouvelaere S.A. and F.M. Herle
are some of the companies using this fiber.At Fil Event, Unifi Inc., Greensboro, focused on
performance yarns for added comfort. Fabrics that dont bag, wash and dry in 12 minutes, help to
maintain a comfortable body temperature and have moisture management properties were on display. A
techno fleece containing Reflexx in the yarns core for stretch and Augusta on the surface has a
natural look and feel.Zimmer AG, Frankfurt, was a first-time Fil Event exhibitor. It showed Sea
Cell®, a new fiber made from dried seaweed blended with lyocell in the spinning process. Sea Cell
absorbs moisture, inhibits bacteria, prevents odors and reduces fungus growth. Targeted areas are
shoe linings, socks, underwear and bedding.Several exhibitors showed new fabrics containing soy and
bamboo. The best sampling fabrics at Premiere Vision were a group called second skin from Ratti
S.p.A., Italy, that are knitted and woven with soy bean fiber. The fiber imparts a silky touch and
warm hand, prints and dyes well, and is less expensive than silk. Ratti has an extensive line
including a knitted jersey of 100-percent soy, satin, chiffon and twill in blends with silk.At Moda
In, Italy-based G. ChierichettiandF. S.p.A. showed a line it refers to as biological. Fabrics in
the line contain soy and bamboo fiber. The bamboo comes from Asia and dyes like cotton, while soy
has the absorbency of viscose and performance of polyester.Premiere VisionSwitzerland-based
Schoeller Textil AG has further developed its NanoSphere® technology a self-cleaning textile
finish. At Premiere Vision, the company demonstrated how the technology works ketchup poured on
NanoSphere-treated fabric rolls off in seconds. Any substance that does cling, including ink or
grease, can be rinsed off with water. Metal-effect was another Schoeller technology on display.
Copper, steel, aluminum, silver and gold can be applied using a new vacuum metalizing process. Some
of the fabrics are ultra-light and also have been treated with the NanoSphere finish. Italy-based
Clerprem S.A. showed cottons and cotton/wool blends coated with Teflon or resins to give them water
repellency without affecting their natural touch. Other fabrics shown are pigment-dyed and take on
a faded or vintage look after the first washing. Fabrics included fleeces that have been coated to
give them a wrinkled paper effect, and double cloths bonded using a water-soluble bond to eliminate
cutting and sewing a separate lining. At Italy-based Limonta S.p.A., there were bonded fabrics and
water-repellent finishes that cant be seen or felt. Limonta has wool/nylon twills with a finish
referred to as British MacIntosh. There were luxurious sueded fabrics woven with microfibers, a
silk/nylon fabric called Glove that has a doeskin touch, ultra-light taffetas and heavy-stretch
double cloths. In the sportswear sector, sampling doubled over the previous year at CordandVelveton
GmbH. The Germany-based company explained corduroy is a staple for menswear and childrenswear. This
season, it is a fashion item in womenswear. Weft-stretch cotton/Lycra corduroy, baby cords and
small ribs, mnge corduroy, mill-washed qualities and tonal high/low rib corduroys are among the
most popular. All have an ultra-soft finish.Tencel®/cotton soft-sueded twills are popular at
Tejidos Royo, Spain. Denim is going lighter and softer. UCO, a denim producer with mills in
Rockingham, N.C., and Belgium, showed slubbed denim, new washing treatments and herringbones that
are woven using a streaked warp and then piece-dyed.Novelty In The Wool SectorClassics are back in
fashion, but with a twist: Pin stripes are woven with metallic yarns; traditional Harris tweeds are
sparked with color; tartans are redesigned; and new combinations of yarns and patterns give a
contemporary look and touch.Scottish weavers Lochcarron of Scotland, CalzeatandCo. and Johnstons of
Elgin have updated their Fall collections without giving up quality or tradition. At Lochcarron,
estate tweeds are woven in wool/cotton blends and are shrink-finished for a crinkled surface.
Calzeat combines tartans with jacquard designs for a patchwork effect, and gives pinstripes argyle
borders.Johnstons of Elgin is selling traditional estate tweeds to Italian designers. John
Gillespie, director of design, noted that more of its line is selling to womenswear than in the
past. There are boucl#44; bold checks and a lot of color in this line. France-based AJM has a lot
of novelty. There are colorful rustic tweeds woven with hairy yarns and basket weaves woven with
metallic yarns. Most of the fabrics are woven with wool and mohair plus viscose, acetate, nylon,
acrylic or polyester.Fancy tweeds at France-based Isoule Textile have multicolored loops, are
touched with glitter and are woven with thick chenille yarns. DeCathalo S.A., France, has added
knits to coordinate with its wovens. Wool/angora melton coatings and jerseys are dyed to match.
Thomas Brochier, head of DeCathalos North American sales, said that with the importance of color
this season, the company is using angora because of its affinity to color.Loro Piana S.p.A., Italy,
is blending traditional cashmere with a coarser variety that comes from the top of the goat. It
resembles Shetland wool and is going into sporty tweeds. There are classic weaves in cashmere/silk
and all-weather fabrics that are backed by an invisible membrane.Rustic tweeds at Picchi S.p.A.,
Italy, are classic in pattern, but newly colored. There are washable jacket-weight fabrics in
viscose/polyester blends that have a wool touch. Linea Tessile Italiana S.p.A., also of Italy,
blends wool with linen, mohair, viscose, nylon and polyester for Fall. There are hairy and crinkled
jacquards with a touch of sparkle, open lacy fabrics woven with chenille yarns, brushed stretch
matelassand brushed wide-wale cords.Spanish exhibitor Pablo Farras Faus is selling classic wool
suitings with stretch and metallic stripes. There are Chanel-styled tweeds woven with chenille
yarns and jacquards in blends of wool, polyester and Lycra.Wool In The Silk SectorItaly-based
Mantero Seta S.p.A. introduced a line of novelty wools to coordinate with its silks. There are
thick boucl#44; rustic weaves with paillettes, and nubby textures with thin metallic threads
running through them. Double cloths combined silk chiffon jacquards with wool. Prints are bold and
bright, or soft and muted on silk velvet, satin, chiffon or crepe. Europ-Marchini, Italy, showed
double cloths with wool boucleversing to silk/acetate or swirling striped silk matelasseversing to
wool. Wool/silk/nylon woven jacquards are thick and lofty. Wool at Switzerland-based
Weisbrod-Zurrer AG is layered with one side cut out for a ragged patchwork effect; cut and washed
to give an aged look; or embellished with spangles, beads, embroidery or fur pompoms. Silks are
pleated and printed with metal. Gold embroidered leaves are sewn to chiffon.At Switzerland-based
Jacob Schlaepfer, silk chiffon is covered with sequins or striped with ribbon appliqu Gold squares
are glued to lace, and sheer double cloths shimmer with a metallic underlayer. French silk jacquard
weaver Bucol is printing on piece-dyed chiffon and mousseline to give it a tarnished appearance.
Vintage-looking jacquards woven with cotton/silk/wool are muted and have an antique off-the-sofa
feeling. Bucol has a new 100-percent silk chiffon that is available for immediate delivery.At
Bianchini Fer, France, there are enormous handpainted prints on chiffon and taffeta. Large paisleys
are popular. Light, supple jacquards look as if this firm has spun the yarn with gold. Solstiss
S.A., France, showed Chantilly lace with camouflage prints for a destructured, edgy look. Other
abstract prints emphasize the lace patterns. For a romantic and elegant feeling, this company has
reproduced old laces in 100-percent silk. KnitsFleeces, velvets, suedes, soft wool-touch fabrics
and metallics are popular in the knit sector. Billon Frs, France, showed suedes, velours and
corduroys dyed in warm shades of tobacco, brick and blue. There are a lot of metallics and prints
in this line. Silk, wool and mohair are fibers of choice at Italy-based Jackytex. There are
boucl#44; laces, crepes, jacquards and a lot of velvets. A new, younger and less expensive line
called Wag was introduced. It is sportier, with double cloths and fleeces in viscose/wool and
cotton/nylon blends.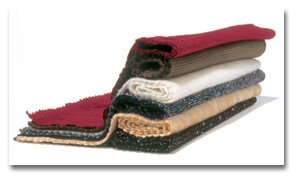 At Premiere Vision, Jackytex introduced Wag, a new, less expensive fabric line.Plain and
printed velvet, piece-dyed wool jersey, jacquards, burn-outs and colorful Pop Art geometric prints
are among the favorites at Italy-based Marioboselli Jersey S.p.A. Another Italian firm, Mabu
Jersey, showed a line of washable interlocks knitted with Lenpur, a new cellulosic fiber. A group
of fancy ribs and basics in a blend of Tactel®/Lycra sampled well for active sports. Fleeces and
faux furs at Nello Gori S.p.A., Italy, are printed, embossed and bonded. Some are touched with
metallic yarns or dyes. News Fit To PrintNew colors, patterns, techniques and base cloths in the
printed fabrics sector attracted buyers. At Italy-based Miroglio S.p.A., optics, Art Deco and
William Morris-styled Art Nouveau designs, large-scale geometrics, swirling comets, vintage florals
and reptile skins that look as if they were printed on pleated fabrics are some of the new looks.
They are printed on a variety of base cloths, such as sheer viscose georgette, crinkled silk
georgette and viscose knits. France-based Chaine et Trame S.A. is printing on heavy twill, poplin
and corduroy fabrics, along with georgette, satin, jersey, mesh and jacquards. There is a lot of
coordination here and a lot of glitter. Geometric circles are combined with squares and rectangles.
London-based Liberty Plc has four base cloths Tana Lawn, Tana Jersey, Liberty Twill and Varuna
wool. Along with nostalgic florals from its archives, there are botanical designs, Art Nouveau
long-stemmed beauties, Art Deco shapes, paisley combinations and tapestry florals. Surface Design
At IndigoAlthough the design studios at Indigo showed surface designs for Spring/Summer 2005,
buyers were still shopping for Fall. New York City-based Tom Cody Design Inc. reported interest in
conversational prints with a 1920s feeling, realistic animal skins, clean graphics and Art Deco
florals. At The Style Council, New York City, varsity T-shirt sport themes, rock-and-roll and
circus motifs were of interest. Karen Moller, based in Italy and France, sold small, neat
geometrics and flowers; flower and dot combinations on black grounds; and brightly colored designs
with a Latino influence.Changes At Fil EventExhibitors at the latest Fil Event showed weaving yarns
for Spring/Summer 2005. St. Lieven, France, has sheer and fine-count linen yarns, shrinkable yarns
for seersucker and crinkle effects, linen/steel memory yarns for shape retention, and a
thermal-sensitive yarn called Fahrenheit. Ultra-sheer yarns turned up at Emile Tardy, France, and
Marioboselli. Microstructures were shown by Miroglio, Ghezzi S.p.A. and Pozzi Electra, all based in
Italy. Christory S.a.s., France, and Novaceta Group, Italy, had a lot of luster and shine, and
there were rustic yarns with an artisan quality at Christory; Jacob S.A., France; Marioboselli;
Pozzi Electra; and ANTEX, Spain.Sylvie Tastemain presented Fil Event colors for Spring/Summer 2005.
Her range included luminous, whitened neutral shades; darks with warm browns, cobalt blue and
forest green; vivid strong brights; and a group of whitened brights.Starting in February 2004, Fil
Event will be replaced by Expofil. The show will run alongside Premiere Vision from the 25th to the
28th. The focus will be on flat knitting yarns for Spring/Summer 2005, and weaving and circular
knitting yarns for Fall/Winter 2005-06.
December 2003