Fiber Focus
Part 1 of a two-part feature focusing on the apparel fiber industry including new fibers and
fabrics, style forecasts, and color trends. Look for Part 2 in the August issue of Textile
World.Throughout the supply chain, companies are creating novelty products that do more, aiming
them at niche markets, and getting them to the consumer faster. Today, the focus is on specialty
products designed for specific end-uses and on creative ways to market these products. New
marketing strategies to boost sales are targeted to direct and indirect customers.New Fiber
Variants At NylstarNylstar, Italy, has 11 production facilities around the world, and is Europes
largest nylon producer. Its US headquarters are located in Greensboro, N.C. A few years ago, its
new $50 million facility came on-line in Martinsville, Va. Equipped with the most advanced
technology, including robots, the new plant has an annual capacity to produce 30 to 50 million
pounds of nylon. Meryl®, its branded nylon, has about 10 percent of the North American market
share.This month, Nylstar is introducing Meryl Mattesse, a collection of super microdenier nylons.
Dina Dunn, vice president, marketing, describes Mattesse as ultra-fine, soft and sumptuous with a
dull matte appearance for a natural look. Target markets for this new fiber are intimate apparel,
activewear and ready-to-wear. It is beginning to sell in Europe for ready-to-wear, said Dunn. In
this country, we see it starting in intimates and activewear.MillikenandCompany, Spartanburg, is
developing a line of light topweight and fine bottomweight woven fabrics using Mattesse. Knits will
be available from Ge-Ray Fabrics Inc. Texollini Inc. and Alexander Fabrics also are working with
the fiber. Many of the new fabrics are blended with spandex.Meryl Skinlife, a bacteriostatic fiber,
was recently launched in the United States. A Caribbean Basin Initiative- and North American Free
Trade Agreement-compliant version of the fiber will be introduced in late July. The major
difference between Skinlife and other antibacterials is that Skinlife inhibits growth of bacteria
in fabrics, while allowing the skin to maintain a normal bacteria balance.Dunn said Skinlife is
infused into the yarns polymer matrix, so it is permanent and wont wash out. Unlike surface
post-treatments, there is no danger of migration of chemicals from the fabric to the skin or a
reduction in performance over time, she said.The target markets for Meryl Skinlife are circular
knits and seamless garments. And it is ideal for the military in the field, Dunn added. When you
cant wash your socks for days, with no bacteria growth there is no odor. Sleeping bags are another
area she mentioned. Ge-Ray Fabrics, Summit Knitting Mills Inc. and MillikenandCompany are
developing fabrics featuring Skinlife. Nilit's New Hosiery FiberIsrael-based Nilit Ltd.,
manufacturer of nylon 6,6 Sensil®, recently introduced Sensil EverSheer, a yarn specially
engineered for covering and protecting spandex. Designed for the sheer hosiery market, it is used
to create pantyhose that hug the leg and provide a smooth, elegant look and touch.Molly Kremidas,
merchandising manager, Nilit America Corp., Greensboro, said, During production, the interaction of
Sensil EverSheer and spandex greatly reduces picks and snags, significantly decreasing waste and
increasing productivity. For the woman wearing hosiery products made with this new nylon fiber,
this translates into highly desired durability, uniformity, sheerness and a luxurious feel on the
leg. For the manufacturer, it means less waste during the production process and a substantial
increase in profitability.Another recent product introduction is Sensil Cupelle, a textured yarn
that can achieve multicolor effects in one dye bath. It is actually a combination of two newly
designed polymers, Sensil Colorwise and Sensil Pastelle. Each of the two nylon 6,6 yarns has been
modified in a way that causes it to receive color differently, said Kremidas. Sensil Colorwise yarn
accepts regular acidic colorants and rejects the special cationic colorant. Sensil Pastelle acts
exactly the opposite way. When these are knitted together in any design, the result is a
combination of two distinct and contrasting colors. A variety of patterns can be achieved, be they
stripes, inscriptions, segments, jacquards or tonal effects. Adding another yarn to knitted fabrics
allows for more than two colors in the same dyeing process, reaching a greater variety of design.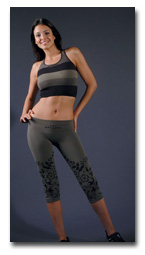 Nilit's Sensil® Cupelle yarn is targeted for seamless apparel and activewear markets, among
others.New Ways To Stretch With RadiciSpandexFollowing its acquisition in March 2001 by vertically
integrated man-made fiber producer Radici Group, Italy, RadiciSpandex Corp., Fall River, Mass., has
dropped its brand names for elastane fibers. Trusting in the global integrity of Radici, customers
have confidence working with an unbranded supplier. RadiciSpandex is focused on being the primary
supplier to Western Hemisphere markets, said William Girrier, vice president, sales and
marketing.We continue to build on the momentum of our most recent product launches, which were
S-72, a polyether-based elastane that provides enhanced power and recovery, and S-45, a
heat-resistant elastane that allows converters to produce deep, rich colors in a polyester/spandex
blend without streaking or spotting.S-72 and S-45 were introduced in 2002. Geared to the activewear
market, S-45 is an ideal product for polyester warp knits and circular knits. Available in a full
range of apparel fashion deniers, it is engineered to retain its elastic properties after dyeing at
temperatures of up to 265°F.RadiciSpandex developed S-72 for the full spectrum of narrow fabrics,
including waistbands, lace and piquabrics, bra straps and fitted bed sheets. It is a high-tenacity
fiber that offers superb dye receptivity and superior whiteness retention. It has a 600-percent
breaking elongation and excellent resistance to acid and caustic solutions. It is available in
full-dull and clear lusters.Other popular spandex fibers are S-17B and S-85, both for high-tech
athleticwear and stretch woven fabrics. S-17B was developed especially for swimwear. It is
chlorine-resistant; and offers protection from environmental and chemical sources, protection
against yellowing, and protection from breakdown caused by suntan oil and perspiration
exposure.Recently, RadiciSpandex sponsored the fifth edition of the High School of Fashion
lndustries (HSFI) Stretch to the Future design scholarship competition. Menswear designer John
Varvatos led the judging panel of fashion industry professionals that included fashion and textile
journalists, fabric company executives and HSFI faculty members. Seven scholarship prizes totaling
$4,000 were awarded.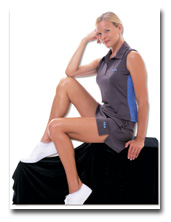 Dropping the brand-names of its spandex products, RadiciSpandex continues to develop spandex
yarns for a variety of products and end-uses.A New Business, Fiber For Dow ChemicalLate last year,
The Dow Chemical Co., Midland, Mich., announced the creation of Dow Fiber Solutions, a new business
within its global Polyolefins and Elastomers portfolio. Its inaugural product was DOW XLA, a
comfort stretch fiber
(See Quality Fabric Of The Month, TW, December 2002). The Federal Trade Commission has
awarded this fiber a new generic name, lastol.As the newest player in the stretch fiber industry,
everyone is watching us very closely to see what direction we will take, said Juan-Carlos Cuadrado,
global business director for Dow Fiber Solutions. We are not interested in being all things to all
people. We are very focused on the markets where we bring differentiated solutions throughout the
value chain.He pointed to four apparel target markets. When it comes to adding stretch to cotton
shirts and blouses, garment-washed denim, casual shirts, bottomweights and career- wear and
uniforms, there is no other fiber that can offer the processing efficiencies and cotton feel and
easy care that consumers demand like Dow XLA.Danville, Va.-based Dan River Inc. has introduced a
new chambray of cotton/70-denier XLA fiber. It is woven using core-spun yarns by R.L. Stowe Mills
Inc., Belmont, N.C. Dow is working with spinners, mills and knitters in the Americas, Europe and
Asia.High Performance From WellmanWellman Inc., Charlotte, has been developing a variety of new
products. Recent fiber variants, all copolymers of polyester, are Sensura®, Microdenier Sensura,
ComFortrel XP and Spunnaire®. These high-tech fibers provide fabrics with a soft hand, dimensional
stability, moisture transportability, ease of dyeing and colorfastness. Sensura is going into
casual sportswear, performancewear and outerwear. Microdenier Sensura is a 0.97-denier-per-filament
product with a 25-percent higher tenacity than Sensura. It was designed to enable finer yarn counts
and to blend with premium cottons. ComFortrel XP gives fabrics a soft, natural hand; has excellent
shape retention; and resists pilling, wrinkling, stretching and shrinking. Spunnaire is an
optically white fiber.One new application for these high-performance fibers is socks. The softness,
moisture management ability, fast-drying properties, shape retention and abrasion resistance are
cited as reasons for their success in this market. Moretz Sports Inc. introduced a collection for
delivery in Spring 2003. Holofiber, a responsive textile, is a new product from Wellman that works
with the bodys own energy system to increase oxygen levels, build strength and accelerate muscle
recovery in the human body. It was recently examined in a clinical study conducted by Lawrence A.
Lavery, M.D., associate professor in the department of orthopedic surgery and rehabilitation at
Loyola University Medical Center and Hines Veterans Administration Hospital, Chicago. Olympic
medalist Michellie Jones has been wearing Holofiber products for more than a year. She said, As a
professional athlete, you want everything you can possibly find to help get the best performance
possible. Thats one of the things I like about Holofiber the fact that it helps with recovery and
circulation.Textile Research At Cotton IncorporatedAt Cotton Incorporated, Cary, N.C., product
development starts in the field and continues through the supply chain to the final product. Two
very recent achievements involve yarn and fabric finishing. An innovative yarn development from
Cotton Incorporateds Fiber Processing Research Division has been adopted by Dan River. It allows
the production of random slubs using existing equipment without special hardware requirements. For
Dan River, a 7-ounce slub adds another dimension to what was a basic twill weave. In development,
techniques were used that led to a higher spinning efficiency.The textile research and
implementation department at Cotton Incorporated has developed a durable finish for bottomweight
fabrics that reduces abrasion and protects denim color. The new durashield has been adopted by
Wrangler® for its new Riggs Workwear by Wrangler line. Mount Vernon Mills Inc., Greenville, fabric
supplier to Wrangler for this project, implemented the finish at the plant level.The durashield
fabric is a 14.75-ounce 3/1 right-hand twill. Attributes of the finish are: improved lubrication
that helps delocalize fabric stress; a protective coating from oxidation, ultraviolet and
hydrolytic damage; permanent softness; better surface appearance; and improved color
retention.Cotton Incorporateds ongoing fabric development efforts to create new and/or improved
fabrics continue to service the textile and manufacturing industries. Our ongoing research produces
innovations in yarns, design and finishing. This is a perfect example of working with our industry
to constantly improve the quality of cotton fabrics while offering the consumer more fashion
choices, said Mike Tyndall, senior director, Americans mill marketing, global product marketing.FR
From KoSaAt KoSa, Houston, the newest development is Avora®Plus, a flame-retardant (FR) fiber with
increased performance. Suzette McHugh, Avora FR market manager, said AvoraPlus, introduced in late
2002, was originally developed to sell in Europe, where FR standards are more stringent. It is
selling to global contract markets for upholstery and drapery fabrics. Fabrics containing AvoraPlus
have good dimensional stability, are wrinkle- and mildew-resistant, and are suitable for commercial
laundering.
June 2003