Russell Athletic, a division of Russell Corp., Atlanta, has released Stretch-Power, the second of
five technological systems in the Russell Athletic Power performance collection.
Designed for athletes seeking maximum flexibility during workouts, Stretch-Power fabric
provides warmth without the weight and restriction of fleece, is less bulky and has added support,
according to the company.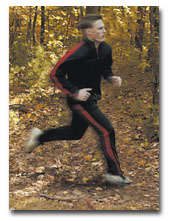 Russell Athletic's Stretch-Power provides warmth and added support.

In other news, Russell Athletic has named River Edge, N.J.-based Kittredge & Associates
as its retail sales coverage provider for Maine, New Hampshire, Vermont, Massachusetts,
Connecticut, New York, New Jersey, eastern Pennsylvania, Delaware, Maryland, the District of
Columbia and Virginia.
Pittsburgh-based Nicholas Associates will represent the retail business in upstate New York,
western Pennsylvania, West Virginia, Kentucky, Ohio, Indiana and Michigan.

February 2003