Meeting Fashion Demands
New technology, processes make knitwear design and production efficient and
user-friendly. With the completion of three recent exhibitions that showcased knitting
machinery and products ATME-I 2001, FAST 2001 and Tecno TMA Textil the worlds textile industry has
been presented with a plethora of new offerings designed to make the production of knitted fabric
faster, more efficient and more consumer-friendly than ever before.Increasingly, knitters are
called upon to make a greater variety of patterns and fabrics to meet the ever-changing demands of
fashion, creating a need for machinery that fosters versatility, efficiency and responsiveness. In
addition, new software and controls add a dimension of flexibility to an industry dependent upon
the fickle whims of the consumer. In this round-up,
Textile Industries looks at some machinery and systems that provide the knitter with
increased capability to meet these consumer demands. Stoll's Pattern Workstation M1In the
knitwear fashion sector, the compilation of intermediate collections has become a determining
factor for success in the fashion world. Every season, demand increases for greater variety and
more unusual patterns. Producing the test fabrics required for sampling has become a time-consuming
and labor-intensive process. The technical production capacity, according to Germany-based H. Stoll
GmbHandCo., has not kept pace with needs. As well, the absence of patterning standards and the
different working methods used by technicians and designers frequently leads to problems of
coordination in the design of patterns.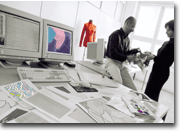 Stoll has developed the pattern workstation M1 to address these issues. The M1 features newly
developed software and the use of two color monitors to enable patterns to be generated using two
different viewing modes either the fabric view or the technical view.In the fabric-viewing mode,
the stitch structure appears as a realistic stitch, while the technical view shows the structure of
the stitches. The fabric view permits not only a convenient design process, but also an immediate
check on the outcome of the pattern. The technician is also able, if required, to refine the
development of the fabric using a thread-line depiction at a second monitor positioned alongside
the first. In both perspectives, patterns can be developed and changed logically and traceably.
Whatever steps are executed in one view will be executed simultaneously on a parallel basis in the
other view. This feature, according to Stoll, reduces and simplifies the number of work steps
required for programming, resulting in less time from concept to production.The dual-display
feature also allows knitted articles to be viewed both from the front and back simultaneously. In
petinet patterns, for example, the fabric view shows the openwork areas optically as they appear in
the original fabric, while the technical view depicts the knitting sequence in the form of a
thread-line view in the needle bed. Each needle in the needle field is indicated as a dot, and the
thread line shows how the thread is processed by the needles in sequence to create stitches, loops
(tuck loops) or float stitches; and also how the stitches or loops are transferred to the opposite
needles.The M1 features a database that encompasses a large number of previously prepared modules.
The required knitting modules can easily be selected using a module explorer integrated into the
software. Modules are available both for stitch structures and for more complex applications such
as structures (e.g. Aran, cable), casting-off techniques, jacquards etc. These modules can be
modified at any time. The M1 offers a large number of ready-to-use basic patterns that use a wide
variety of different knitting techniques including those required for fashion knitting, for which
the topical basic cuts are stored. Click And KnitThe M1 can automatically convert the prepared
pattern into a knitting program. Knitting parameters not prescribed by the user are added by the
program. In case of conflicts in the knitting sequence, the user is given suggestions for possible
solutions. The selected solution is stored and can be accessed automatically in future
production. Knit And Wear

The programming area is not the only one in which Stoll has high-technology offerings. Stoll
exhibited at ATME-I 2001 its CMS 340 TC knit-and-wear machine. This machine produces complete
garments with a maximum working width of 72 inches. The advantage of the machine, according to
Stoll, is that the garments are almost ready to wear when they come off the machine. New In
SeamlessWith an increasing trend toward the production of seamless fabrics, more and more knitting
machinery manufacturers are producing circular knitting machines that take advantage of this market
phenomenon.
TI has reported on the seamless knitting machinery available from Italy-based Santoni (See
New Generations In Seamless And Sliver, ATI, October 2000).Other major manufacturers are actively
involved in this segment as well. Orizio Paolo S.p.A., also based in Italy, recently displayed its
Model BS 15 at Tecno TMA Textil. The BS 15 is a single-knit circular knitting machine designed for
the production of underwear garments, as well as sports and swimming attire.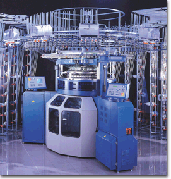 The Orizio machine has eight feeds, with needle-by-needle electronic selection achieved by
means of eight piezo-ceramic, 16-level actuators. Each feed is fitted with a group of six
independent yarn carriers.The needle selection capability, combined with a programmable mobile cam
device, allows the knitting of garments with multi-colored patterns or writings by selecting the
needles and the four color yarn fingers, plus the two fingers that feed the ground yarns.Each feed
is fitted with a suction port and a trapper for the bare elastic, while two trapper groups are
provided for the covered elastic yarns (feeds three and seven).The stitch adjustment, which can be
done needle by needle, is made by independent step-by-step motors at each feed.The machine also
features:small dial with hooks and cutter for the production of double or single edge;device for
production of terry fabrics;suction of the knitted garment and of the cut yarn ends by means of two
centrifugal vacuum suction units;automatic dial-positioning through a step-by-step
motor;centralized lubrication on needles and selectors;more than 24 megabytes of memory for garment
programs;maximum speed of 150 revolutions per minute (rpm) depending on the type or style of
garment to be knitted;3.5 kilowatts (kW) of electric power when the machine is connected to a
centralized suction plant, and 7.5 kW when the machine is fitted with built-in turbines.The
machines controller is based on an Industrial PC with a Pentium CPU, 7.5-inch color LCD, VGA and
standard keyboard. The control and supervision unit communicates with the step-by-step motors CPU
and input/output through a built-in CAN-BUS communications network.The garment to be knitted is
defined through chain files or textile cycle, in text formats and in bitmapped files for the design
format.The sequence of cam, yarn carriers, speed, pattern beginning, motor adjustments and commands
necessary for the definition of the knitted article are defined in Orizios Ortex programming
language. With such language, it is possible to divide the article into interchangeable autonomous
blocks, allowing for easy creation of new articles and the reuse of parts of existing programs.In
addition to 15-inch models, the Orizio BS is also available in diameters of 11, 13, 17 and 19
inches. Monarch Introduces CharlotteAlso new to the seamless market is Glendale, N.Y.-based
Monarch Knitting Machines Charlotte, an eight-feed single-cylinder bodysize knitting machine.
Charlotte is designed for the production of seamless underwear, swimwear, sportswear, outerwear and
medical wear, with the possibility of single or double transferred welt and separation of each
single garment.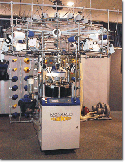 The machine was developed in conjunction with Trustfin of the Czech Republic.Charlotte is the
first bodysize, seamless knitting machine to incorporate individual mono-magnetic needle-by-needle
selection, according to Roger Hylton, COO, southern operations, for Monarch. This needle-by-needle
selection permits Charlotte to be designed as a more compact, ergonomic machine with minimal
maintenance requirements.The individual mono-magnetic needle-by-needle selection means three-way
technique on all eight feeds, or four-way technique on four feeds. Charlotte is suitable for
knitting yarns from 17/1 to 160 decitex in structures including plain tuck, miss-knit, tuck-miss,
plating, splicing and mesh structures using bare or covered elastane. With only two mono-magnets at
each feed, the total number of inputs on the eight-feed machine is 16. In addition, the computer
system offers the advantage of quick style and pattern changes via a memory flash card.Monarchs
sister company, Vanguard Supreme, now offers the Filter Flow 2000 option that can be included with
a number of the companys machines. Filter Flow 2000 is an airflow system that improves machine
operating and maintenance cost by preventing the accumulation of lint and debris in the needle,
sinker and dial sections. As well, the system improves both needle and sinker life and lowers the
machine operating temperatures. Filter Flow 2000, according to Vanguard, ends the need to flush the
knitting machine, eliminating oil spots, oil lines, graphite lines and oily waste
cloth. Pai-Lung Designs New Knitting MachinesPai Lung Machinery Mill Co. Ltd., Taiwan, has
designed its new X series of circular knitting machines using state-of-the-art 3-D design tools.
From the general layout to the detailed design of each component, computer simulation was conducted
to ensure proper operation before the components or parts were put into production.There are many
major enhancements on the X-frame, including precision adjustments that have never been available
from any manufacturer, according to representatives of Monroe, N.C.-based Nova Knitting Machinery,
Pai Lungs U.S. distributor. The X-frame comes standard with electronic take-down, central stitch
adjustment, multilingual LCD touch screen and a RS-485 computer interface.Additional features
include a single-piece support form for the feeding system; a newly designed wheel system for
precision yarn control; immersed lubrication that increases speed and reduces noise and wear; a new
leveling adjustment on the cylinder and dial machines drive system; a new cylinder design and dial
installation that allows direct loading and unloading of the cylinder and dial; easy gap adjustment
directly from the bottom; and precise cam adjustment to a tolerance of less than 0.00125 inches.The
rotating speed of the X series can be increased by 15 to 20 percent over previous Pai Lung
models.Nova/Pai Lung has made several enhancements to its Z26.1 and Z65.1 collar and trim machines,
including pile-up detectors, shock sensors and simplified computer software designed to keep the
machines in production and drastically reduce needle breakage. The Z-Series also has a new,
multilingual computer display.The Z26.1 and Z65.2 are manufactured with four precision stepping
motors per carriage to provide precise cam control for production of perfect collar edges at very
high speeds, according to the company. For quick style changes, the computer and data pack can
store up to 50 patterns. The data pack can also be used to transfer patterns from machine to
machine. Nova also includes its patented Stitch Meter technology, which allows the knitting of a
predetermined yarn length in both directions and on both beds. Mayer Stays DiverseMayerandCie
GmbHandCo., Germany, continues to promote both its circular knitting offerings for yarn and its
Fiberknit technology, which it markets through its U.S. subsidiary, Mayer Industries, Orangeburg,
S.C.MayerandCie offers the MV 4-3.2 circular knitting machine for single jersey knitting and the IG
3.2 for double jersey. Both machines are offered optionally in gauges E38 and E44. Mayer claims it
has used gauge E44 to knit fabric for fine-quality underwear, shirts and blouses that feature
visually appealing effects usually seen in more exclusive outerwear. Diameters are 30 and 34
inches, and both machines are fitted with 3.2 feeders per inch.Mayers FK-18J Fiberknit machine is a
high-production circular sliver-knitting machine for knitting high-quality plush fabric, both plain
and full jacquard, from almost any type or combination of fiber in a prescribed length and denier.
The machine is a development for the plush fabric market and will produce light- to heavyweight
plush fabric in most fiber types and blends. Take-down And Rollup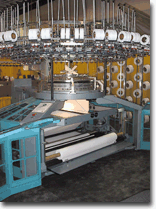 Italy-based Vignoni S.r.l., a Gruppo Lonati sister of Santoni, features an open-base option
for its circular knitting machines with 30-, 32-, 34- and 36-inch cylinder diameters. The open base
is a system for the cutting and opening of the fabric tube on only one side before the fabric is
rolled onto the roller. The width of the fabric roller is twice that of a machine with a standard
base. Take-down is accomplished while the fabric is spread out. The fabric edges are stretched by
two rollers with worm screw profiles. Because the roller does not press the fabric, no creases are
formed, according to Vignoni.Tompkins Brothers Co. Inc., Syracuse, N.Y., has designed a new
high-capacity Traverse Rollup System that enhances the productivity of its small-diameter machines.
The machine produces a continuous roll of fabric more than eight times longer than previously
possible, according to William E. Savage, the companys president. The system is offered as an
option for all new Tompkins Model R Frame Size I machines. An installation kit has been designed to
retrofit existing machines.
August 2001