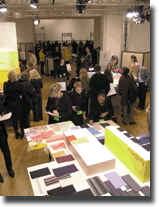 A First Look At Fabrics For 2002
European Preview exhibitors respond to demands of American market. For the second
time, European Preview presented a selection of quality fabrics to American designers and
manufacturers in New York City, prior to the Premiere Vision salon in Paris. Again, the reactions
of buyers and sellers was unanimous; it is an invaluable working tool.According to Daniel Faure,
chairman, Premiere Vision, the quality of exchange and collaboration initiated between Old World
exhibitors and North American buyers has enabled weavers to tailor their work more specifically to
the demands of the American market. There were 148 exhibitors from nine European countries at the
most recent show.As at Premiere Vision, European Preview is organized according to fabric type,
with producers of linens, knits, prints, silks, denims and sportswear fabrics divided into sectors.
For Spring/Summer 2002, there continues to be interest in linen, with a lot of variety in this
area. Some of the new linens are blended with other fibers. Many are washable, crease-resistant and
high-performance. Performance LinensAt the Belgian firm Libeco-Lagae, linen weaving has
increased 30 percent in the last year and is running at full capacity. Sales to the United States
are strong. Along with 100-percent linen, there are blends with silk, Tactel® nylon or modal.
Classic twills and herringbones, and yarn-dyed patterns are popular. A new Madras was pointed out.
There are delaves, aero finishes with a soft hand and wrinkle-resistant resin finishes. New are
pucker stretch yarn dyes and color-reverse bonded gauzes.Italian weaver Solbiati is showing
linen/cupro blends with a slick appearance and soft hand. There is glitter here with a touch of
nylon or metal, and there are high-twist crepe weaves in 100-percent linen or blends with viscose.
Stripes with relief surfaces, twills, sateens and burlap weaves are popular. There are washed
finishes and rubbery, coated fabrics for outerwear.Another Italian company, Linea Tessile Italiana,
sold here through Stacey Horne Textile, is printing on linen crepe gauze, sateen, wild silk/viscose
and linen/nylon blends. There are thick-and-thin woven stripes, metallic stripes and linen fabrics
embroidered with metal or straw. Elastic yarns embroidered on fabrics create puckered
stretch.Hauterives line was 30 percent ready. Early customer reactions will help in styling the
remainder of the line. Noteworthy new fabrics at this French firm include cloques with Lycra®
having the look of knitted fabrics. There are eyelash-striped jacquards, linen/copper reversible
gauzes and a double cloth with a pleated and knotted patterned face. Hauterive is available through
Chantal Fabrics in New York.For summer, many woolen mills switch to linen. Their lines generally
have a classic look. At de Cathalo, there are yarn-dyed stripes and checks, crushed linens and
crepes. Picchi has lightweight yarn dyes with comfort stretch, classic weaves with a touch of a
metallic yarn and Lycra, and blends of linen with Tencel®, viscose or nylon. At Milior, there are
denims and jacquards. Novelty DenimsVertical French denim producer Bonduel, available through
Nuvotex, is showing linen/cotton dyed and pigment-printed denims. Novelty denims in this line range
in weight and hand. There are shimmering stretch denims in cotton/Lurex®/Lycra, color-reverse,
double-faced denims, printed denims and abstract emerized patterns on denim.Milag, also represented
by Nuvotex, is showing quartz-printed stretch denims, as well as flock-patterned and glitter-coated
denims. Other fabrics have been styled for activewear and beachwear. There are quartz-printed
polyester/Lycra knits; acetate/nylon/elastane jacquards; and printed, pleated polyester voiles and
mesh.Gera Gallico, who heads up Billon Freres New York office, showed glitter-printed knitted
denim. There are metallic stripes, jacquards with pigtails and fish net in this line, and a large
selection of prints on nylon/ elastane for swimwear. Gallico said the major portion of the line
will be shown at Premiere Vision.Italian knitter Dondi is using cotton, silk and viscose for
summer. For activewear, there is a new cotton/silk knit with a chintz look. There are logo
jacquards, open-crochet knits and meshes. Stripes Are PopularIn the print sector, tropicals,
retro florals and diagonal stripes are the beginning of Miroglios line. Komar is showing camouflage
prints, wavy stripes, monotones and florals. Popular base cloths include stretch cotton, cotton
satin and viscose matte jersey. Oasis sells this line in New York.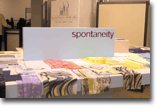 The British firm Liberty has several new print base cloths to complement their ever-popular
Tana lawn. There is cotton/Lycra jersey, a new linen weave and silk. According to Ed Harding of
Barn Hill, agent for Liberty, at $12 per meter, we are competitive in printed silk.Showing the
print line, Harding said, the range murmurs rather than shrieks Liberty. There are mixes of florals
and geometrics in vibrant colors, small conversationals, new paisleys, stripes and a play on
ginghams.Sedera is showing novelty stripes, geometrics and monotone stylized roses. Agent Ken
Kassover of Nuvotex said that crepes and georgettes are the best-selling base cloths. New for
spring is cotton stretch with a moving optic pattern. Double shantung is shown in solid shades and
jacquard patterns.Technea, which is part of the Groupe Chamatex, has been selling in the United
States for two years through European Fabric Resource. Fabric prices range from $3 to $7 per meter.
New for spring are light, blouse-weight fabrics woven with a new texturized polyester from Unifi
called Extensa, which has unique stretch and recover properties. Samples shown were woven in blends
with cotton or viscose and provide 20-percent stretch. Luxury SilksIn the silk sector, the
French company Bianchini Ferier is showing denim-look silk twill. There are no- repeat plaids in
acrylic/nylon/elastane blends that caught the eyes of buyers. Fitzsimmons Fabrics handles this line
in New York.Swiss silk weaver Weisbrod Zuerrer, handled here by Filtex International, is also into
luxe denim. It is shown with a soft hand, a touch of Lurex, and suggested for use with lace. The
line is both feminine and sporty, with a lot of glitter for evening, but not too flashy, said
Khaled Bouharrour, design and product manager.Weisbrod Zuerrer is showing very light and airy
dry-touch gauze, jacquards in feather patterns, tone-on-tone embroideries, stretch plisses, and a
group of fabrics described as elegant rustics. Some are woven of 100-percent silk; others are
blends of linen/nylon. There are a lot of stripes in bright summer colors.French silk weaver Bucol
is also into stripes for summer. Some are large and woven in tonal colors in silk taffeta. Other
summer taffetas have eyelash fringe. There are organzines with metallic clipped jacquard patterns
and bright warp prints.Frans Damide, president, Solstiss/Perrin USA, agent for Bucol, noted that
the revival of their coupe de velour au sabre is so successful that they are bringing back other
Old World techniques. The newest is water-repellent oxidized silk, which was developed by accident
in China two centuries ago.When China was invaded, silk weavers buried fabrics to prevent theft.
When the invaders left and Chinese silk weavers dug up their cloth, it was wet from recent floods.
They laid the silk on the ground to dry in sun- and moonlight. The fabric oxidized, resulting in
black cloth with a crisp, dry hand.Today Bucol is repeating this process on silk twill. The only
finishing process is burial in China, where minerals in the soil produce the desired black color
and fabric touch. Fabrics are sun- and moon-dried. They sell for about $50 per meter.The next
European Preview will take place in New York City in July.
May 2001