Reshaping The Apparel Industry
Digital imaging, electronic color matching are in the spotlight at high-tech show.Bobbin
Americas 2000, held September 13-15 at the Georgia World Congress Center, Atlanta, focused on mass
customization and digital tech-nologies that offer the sewn products industry the opportunity to
reshape its business horizon. In addition, the show presented a host of network solutions, new
product premieres and educational events.A new feature of the exposition, according to Margaret
Crow, Bobbin Americas 2000 director of marketing, was The Digital Zone, with exhibits and
interactive digital production displays. The show also featured a Production Sourcing Expo, a
Fabric Sourcing Expo and a complete seminar program.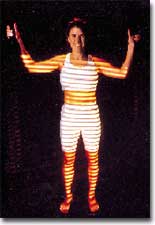 The shows Digital Zone, which was created and co-produced by the Cary, N.C.-based
TextileandClothing Technology Corp. ([TC]2), Bobbin Americas sponsor Miller Freeman, and 15
high-technology exhibitors, offered a look into the future of the sewn products industry.[TC]2, a
not-for-profit organi-zation supporting the apparel industry, announced the formation of ImageTwin
Inc., a joint venture with Truefinds.com Inc., a preferred stock subsidiary of Konover Property
Trust, Cary, N.C. The venture is the first Web-enabled 3-D digital body-scanning and measurement
system. The technology is designed to provide a definitive solution for accurate apparel sizing for
online, catalog and bricks-and-mortar shopping.ImageTwin is the culmination of a nine-year
development effort that resulted in a safe, white-light scanning process that generates extremely
accurate measurements in less than 12 seconds. ImageTwins in-store scanning station instantly
captures more than 200,000 data points of an individuals image, compiling a full 3-D representation
of his or her body. Proprietary software, in turn, automatically extracts dozens of sizing
measurements that can be used to create a perfect custom-fit garment or predict the appropriate
size of existing ready-to-wear clothing.The ImageTwin is part of [TC]2s overall strategy in
developing a more efficient apparel supply chain by increasing forecasting accuracy and reducing
merchandise returns, said Peter N. Butenhoff, president, [TC]2. [TC]2 also presented interactive
exhibits, demonstrating the power of integrated digital technologies in the sewn products supply
chain. There was also an opportunity to take a look at mass customization and virtual try-ons, as
well as digital fabric printing, all of which could become more and more a part of everyday
life.Customized Garments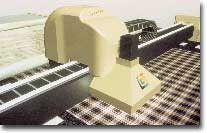 At Gerber Technology, Tolland, Conn., also in The Digital Zone, Deborah Marconi, manager,
public relations, pointed to several products that will help manufacturers create customized
garments quickly.The individuals preferences as to style, color, size and fit are translated into a
unique garment. With such tools, manufacturers receive an order, generate patterns and markers, and
can digitally present the final product in minutes. Also, these tools eliminate the use of paper,
reduce the potential for inaccuracies, decrease turnaround times, and allow manufacturers to
realize greater profitability and repeat business.With Gerbers Made-to-Measure (M-T-M) software, a
garment is custom-made to the buyers preference. Manufacturers receive orders automatically through
mainframe, modem or internet connection, and M-T-M then creates the patterns and automatically
makes a marker. This facilitates the all-important quick turnaround.In addition, Marconi said
Gerbers new, automated plaid/stripe matching system, InVision, delivers thread-to-thread accuracy
and is now available from Gerber Technologies on its GTxL GERBERcutter. The units multitasking
operating system carries out matching and cutting operations simultaneously for optimum
productivity in the cutting room.InVision improves productivity by completely automating the
matching process, thus removing errors. It makes matching and cutting plaid and stripe fabrics as
easy as cutting solid fabrics, eliminating errors when using manual or semi-automated matching
processes.InVision contains an advanced camera and optics system to enable the operator to zoom in
on critical areas for added precision. In addition, its state-of-the-art lighting system and
imaging techniques achieve precise matching even through a plastic overlay. The system also cuts as
it matches.E-Business Solutions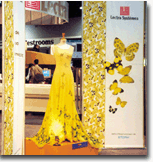 Paris-based Lectra Systs offered its new e-business product that combines CAD/CAM, virtual
reality and the Internet to enable customers to create, manufacture and sell their products in a
fully electronic way, capitalizing on both their existing organization and new technologies.The
LectraOnline portal, launched in October, provides customers with online professional services and
facilitates secure data exchange between principals, subcontractors, textile companies and
retailers.Also on exhibit was the Lectra FitNet, which creates a virtual 3-D double of a person in
20 seconds thanks to its partnership with Tecmath, a German company specializing in computer
simulation of the human body. One can dress the 3-D double with a garment that is the right size
and personalized to suit the persons tastes, cut the garment in less than four minutes, and
manufacture it in under four hours.This procedure, with Lectras new 3-D virtual design
technologies, enables mastery of the way fabric behaves and faithful reproduction of its
draping.The LectraOnline portal will allow Lectra group customers to create garments automatically
in 3-D on the Web using existing models. During 2001, websurfers will be able to try clothes on
their own virtual mannequin, choose the right size or have the clothes altered to suit measurements
and styles.Lectra Systs is also involved in CAD/CAM systems for the upholstery industry, which is
being revolutionized by the new all digital model of design, as well as manufacturing solutions
that guarantee improved cut quality to the millimeter.The company incorporates all the links in the
chain with global, integrated CAD/CAM solutions that cover the whole textile process, from basic
materials to finished product in the upholstery industry.These solutions take in the full cycle,
starting from the virtual design of yarn and fabric and continuing through 3-D, CAD systems and
collection management; digital fabric printing for prototypes; automated fabric and leather
cutting; computerized technical data exchange; right up to virtual merchandising.Maureen Kelly,
marketing manager, Datacolor International, Lawrenceville, N.J., said that though everyone is
talking about communicating color, Datacolor is delivering it. With the companys Colorite program,
one can communicate exact colors electronically. Everything is calibrated, including print, for
true-color output. Kelly said Datacolors software instruments and services are designed to save
time throughout the entire color development process.The Colorite Studios offer an optimal viewing
area for the Colorite program, which is said to be an integral part of a revolutionary new Color
Information Management System (CIMS). CIMS is Datacolors complete computerized environment for
color measuring, matching, quality control and communication.Thus, designers, colorant suppliers,
and production staff can see and communicate color digitally, eliminating the need to mail color
samples between locations and cutting the cost of samples and development time in half. These
advantages allow companies to move rapidly with production, delivering products with savings in
administrative costs.
Editor's Note: Diane and Bob Wanger are freelance writers based in Nashua, N.H.

November 2000