Technology Advances At Expofil
New yarns, techniques and treatments highlight styles of the future. Expofil, held in
Paris every June and December, always opens a window on the new season. The most recent edition of
the fair ran concurrently with ITMA, and featured colors, yarns and development fabrics for
Fall/Winter 2000/01. Attendance at this show broke all records, with 12,874 visitors coming from 99
countries. Latin America, with over 1,000 attendees from 13 countries, accounted for 10 percent of
the international visitors, while North America had 301 visitors at the show.Arnaud Dubly of
Caulliez and president of Expofil, noted that with ITMA happening at the same time, Expofils
attendance increased. New Wave Yarns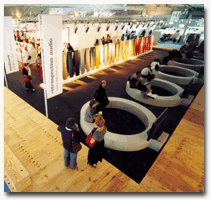 Dubly said that many spinners exhibiting at Expofil cited a demand for techno yarns. Along
with micro-fibers, metallics, stretch and easy care, there was interest in anti-bacterial,
anti-fungal, anti-stress, anti-static and UV-protective yarns. New yarns were shown that are
retro-reflective, dissolve in water or are made from paper.One buyer at the show, Howard Silver,
president of the American firm Jasco Jersey, has developed ultra-soft lightweight knitted fabrics
of 100-percent extra-fine merino wool that can be machine washed at 30°C and tumble dried. After
rigorous testing by Woolmark in the United Kingdom, Jascos knits are certified no to shrink or
pill.Developed from yarns purchased a year ago at Expofil, Jasco is the first to out with
completely machine-wash and tumble-dry knitted fabrics for cut and sew. Not one to rest on his
laurels, Silver was sampling and buying yarns from some of the most innovative spinners.I like to
be on the cutting edge of yarn development, he said. Jasco is a flexible company. We are constantly
looking to create new products.Sylvie Tastemain, Expofil fashion director, confirmed the trend to
superwash yarns. Technical yarns are one success of the season, she said. They are sought after for
the comfort they provide and their easy-care properties. Ultra-fine yarns of wool, or wool blended
with trilobal nylon or with steel for a glittering effect, lightweight bulky yarns and brushed and
felted yarns are other directions to look for. Stonewash To Ultrasonic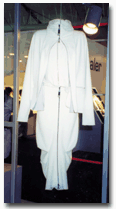 Marithnd Frans Girbaud orchestrated the exhibitions audiovisual production. Frans Girbaud
said: Fabrics have to do more. They must breathe, travel, be comfortable and not destroy the Earth.
Weve come from stone wash to ultrasonic, laser and other new technologies. The Girbauds are working
with Burlington to launch a new non-fade indigo denim.Scott Carr of Lands End, a first time Expofil
visitor, said: The timing of this show is perfect for us. Next season, I want the entire design
team to come to this show. This is where fashion begins. And with mills here like Jasco, I can work
the show with them. Carr mentioned textured yarns, blends, Tencel®, Modal® and newly treated cotton
yarns.Sidney Estreicher, director of Research and Development, Corporate Merchandising, Liz
Claiborne, said that he was seeing more yarns he could relate to: There is a lot more here that is
functional and wearable.Anna Tamas of Jones Apparel also mentioned technology: Fashion is catching
up to technology with laser cuts and new finishing techniques. And art is becoming part of fashion.
There is more individuality and fantasy.Robert Cole and Lynn Sexton of Biella purchase 90 percent
of their yarns at Expofil. All of their knitting is done in Pennsylvania. Biella is sold at
Nordstrom, Saks and Barneys. Cashmere, angora and stretch yarns are what they are buying. A
Natural, High-Tech FiberWoolmark presented a global survey: Responding to Global Change and
Competition. Led by Johann Mittermayr, European market information manager, The Woolmark Company,
the research program was carried out by Kurt Salmon Associates.Some conclusions of the survey are
that apparel will be increasingly segmented. Sportswear will grow the fastest, smart casual will
eat into formal and active leisure into general leisure. To answer these needs, Woolmark is
continuing development and promotion of its Sportswool and Sportswoolpro programs.
(See A Season Of Hybrids, ATI May 1999).Referring to wool as a natural, high-tech fiber,
Mittermayr noted that wool provides natural protection from cold, wind and ultra-violet rays. It is
durable, crease resistant, lightweight, price competitive and easy care. At the Woolmark stand,
Jasco Jerseys machine-wash/tumble-dry fabrics were on display.At Zegna Baruffa, a yarn referred to
as natural elastic wool has 170-percent more stretch than standard wool yarns. The company is
showing two new lines: B-Active high-performance yarns, and B-Exclusive high-end yarns spun with
precious fibers.Mila Zegna Baruffa pointed out Mousse 8000, a boucle, spun with extra-fine merino
and nylon. A new yarn described as like a cloud is a cashmere/silk blend. Other fine yarns blend
kid mohair with new wool or merino and nylon, or extra-fine merino wool with silk or
viscose.Baruffa noted that the market is moving to coarser yarns with a more rustic hand. Another
look is crushed and wrinkled achieved with yarns of 75-percent extra-fine merino blended with
25-percent steel.Schoeller (Richter, N.Y.) sold a soft, fine merino wool yarn that has volume and
natural elasticity. Washable wools range from ultra-fine to classic, bulky or mouline. There are
high-twist, boucle and shiny yarns in wool and wool blends. There are 280 colors in stock,
including moulines.St. Lievin (R&M, Philadelphia; and Richard Marks, Los Angeles) noted that
stretch sells well in North America. One yarn, a blend of acrylic/wool/nylon/elastin, was knitted
into a sweater on a new variable gauge machine, First 184 L21.St. Lievin sells 95 percent to the
flat-knit market and five percent to socks. Kaiser Roth is one customer mentioned. Currently mohair
is popular for womenswear, alpaca for menswear. Some of the heavier yarns are curled or looped to
give fabrics texture. Unique CharacteristicsPaul Bonte, the techno division of St. Lieven, has
created unique effect yarns for weaving, knitting and industrial end-uses. Its Chimere yarn, which
is polyvinyl alcohol (PVA) based, dissolves in hot water. Relief effects and open work can be
achieved using this yarn.Another yarn is retro-reflective. In apparel it is being used for special
effects. Other uses include accessories and industrial items.Amalric showed development fabrics
knitted with its wool/nylon yarns in combination with Chimere from Paul Bonte. The fabrics resemble
crochet. Another yarn, spun with 70-percent lambs wool/30-percent opossum, is as soft as cashmere,
at a much lower price. The opossum comes from New Zealand. Other yarns in this line are classic or
rustic in blends of wool with alpaca, angora, acrylic or nylon.Pozzi Electra has created a new yarn
of 100-percent paper. It is lightweight and can be twisted with nylon. A development fabric shown
is light, crisp and semi-transparent.Other new yarns are made with a fiber called Lenpur®,
distributed by Nexus. It is wood-based, 30 percent more absorbent than viscose and is a natural
thermal regulator.Cotton/cashmere blends at Pozzi are popular for woven shirts. Seventy percent of
the line goes into weaving. Kevlar blended with nylon or cotton and wool/cotton yarns are also
popular.Reindeer hair and alpaca are combined with wool and nylon at Jaime Moix (Silk City, N.Y.).
This line goes into circular knits and weaving. A lot of the apparel yarns are hairy or tweeded.
Some are lightweight and bulky.Polypropylene is blended with wool and hollow-fiber nylon at
Marioboselli for lightness. Black or white polypropylene combined with nylon and polyester can be
dyed in a variety of heather shades. Other techno yarns are spun with carbon, microfibers or
metallics.Caulliez sells to circular knitters and weavers. The company is known for dyed cotton and
jaspe yarns. For hosiery there are ultra-soft ring-spun yarns of micro Modal®/cotton or micro
Modal/micro acrylic. A tri-blend developed for bed linens containing micro-polyester/micro
Modal/cotton has twice the absorbency of cotton.Performance and function are selling at DMC. Modal
Sun, Lenzings UV-protective fiber, is popular with South American buyers. Anti-bacterial yarns are
selling for athletic wear, hosiery, shirts and sheets. Anti-Static YarnsSmall amounts of
aluminum or carbon are mixed with cashmere at Cariaggi (Donald Selkow) to give yarns anti-static
properties. Another yarn of 80-percent cashmere/20-percent steel has a stiff, wrinkled appearance.
Cashmere/nylon blends have subtle luster. Basic cashmere yarns are stocked in 90 colors with no
minimums. Fancy slubbed, tweeded or printed cashmere yarns can be dyed with a minimum order of 20
kilos.A fine yarn at Edgarfil bends and wrinkles. It is spun with 52-percent copper/42-percent
viscose. Another is spun with steel. Other metallic looks in this line are achieved by using nylon.
Soft yarns are brushed, tweedy, bulky and light, spun in blends of kid mohair with alpaca, acrylic
or nylon. Comfort-stretch yarns blend wool with Elite, a polybutylene terephalate (PBT) fiber
produced by Nylstar.Patons Ltd. (Pegasus Textiles, N.Y.) also showed Elite in wool blends.
Development fabrics feature comfort and recovery. The fabrics shown move in all directions. Basics
in this line contain lambs wool, Shetland, cashmere or blends. There are fleeces, jaspes and
glittery yarns in lambs wool/mohair/nylon/lurex. A new yarn combining lambs wool with Lenzings
lycocell is ultra light, fine and drapes well.At Sisa, Elite blended with mohair gives the yarn a
curled appearance. Mohair/Modal blends are sampling well. Other coarse gauge yarns are blends of
acrylic/mohair and acrylic/wool/nylon. Acrylic/mohair yarns are sometimes covered with nylon to
give luster and a mottled appearance.Best seller at Audresset (Matrix) is Cashmino, a
machine-washable blend of cashmere/superfine merino. There are 100-percent cashmere yarns and
blends with silk or cotton.A cashmere/linen introduced for spring was so successful it is
continuing into the fall. The yarn is ultra fine with a natural, soft and dry
touch. Innovative YarnsWith its 150th anniversary and the new millennium happening within the
year, Christory (Roselon, Quakertown, Pa.) showed a lot of glitz. Extra-fine merino/lurex and
viscose/lurex blends turn up in gold and silver.A thick-and-thin yarn in a blend of merino/black
nylon gives a long slubbed effect to fabrics. Curly yarns and twisted yarns in extra-fine
merino/nylon provide texture.Hunters of Brora (Bishop, East Providence, R.I.) has Shetlands with as
many as 22 colors per yarn. The average is six. A lot of the yarns are crimped, giving them a
natural softness. New Zealand merino wool yarns and lambs wool are soft and light. Heathers are
current favorites.Laidlaw and Fairgrieve was promoting the versatility of its yarns for a variety
of end-uses. Traditional sportswear for men featured yarns knitted into compact fabrics with a dry
hand. For children there was chunky Shetland sweaters in naive patterns. Soft, light, fine yarns
were shown for women. There are Shetlands, marled yarns, tweeds, nubs and cotton-rich blends. A
tri-blend of wool/linen/cotton is selling well in the American market.Jean-Francis Billion of
Billion Mayor (Jo AL, N.Y.) said there was increased interest in high-twist acetate/polyester or
rayon/polyester. He was selling some of the same yarns for knitting and weaving. Ultra-fine
textured polyester was shown in sheer, dry-hand crepes.A tri-blend of nylon/polyester/viscose was
woven into a light, lustered jacquard. Satin-backed shantung of 100-percent polyester was popular
for upholstery.At Emile Tardy (Seritex), slippery gold and silver yarns have been created in blends
of acetate and low-temperature-dye polyester.There are tree-bark textured crepe yarns in
triacetate/textured nylon, and satins in blends of viscose or acetate with nylon or polyester.
There are textured yarns, matte or luster, and a lot of stretch. Some of the stretch yarns contain
spandex fiber, other contain spandex, others Elite. Until We Meet AgainThe next Expofil
showing yarns for Spring/Summer 2001 will take place in Paris, December 7-9, 1999.

August 1999