Runway Revolution
Fiber presentations focus on fashion, comfort, versatility and the environment. he
best-dressed fibers to show off on fashion runways combine all of the attributes sophisticated
consumers are looking for when they purchase apparel. Easy-to-wear and easy-to-care-for clothing
that feels as good as it looks highlights the latest collections that were presented recently in
New York.In addition to showing new fashion, there was a lot of news in fabric development.
Multi-fiber blends, new finishes and embellishments created a variety of novel textures, surfaces
and hands. Many of the fabrics have the added attraction of being eco-friendly. Best Of The
Best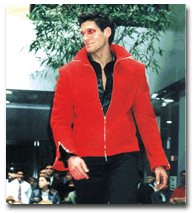 Wellmans Master/Apprentice show, now in its fourth year, took place at The Atrium at Citicorp
Center, New York. Along with the runway show, a sketch exhibit of both student and designer apparel
was on display.This years show is the largest to be shown, with 70 creations designed by 30
American designers and 36 student apprentices.All of the apparel was created from fabrics
containing Wellmans Fortel® EcoSpun® polyester, which is made from 100-percent recycled plastic
bottles.Produced in association with the Council of Fashion Designers of America (CFDA), master
designers and their student apprentices work together for a week. Each creates a fashion for the
show, generally using the same fabrics. Students selected are from the leading design colleges in
the country. This years class attend Academy of Art, San Francisco; the Fashion Institute of
Technology (FIT), New York; Kent State University; Moore College of ArtandDesign; Parsons School of
Design; Philadelphia College of TextilesandScience; Pratt Institute; and Rhode Island School of
Design.Master designers include some of the leading names in American fashion including Barry
Bricken, Salvatore Cesarani, Nautica by David Chu, Oscar by Oscar de la Renta, Pamela Dennis,
Nicholas Graham for Joe Boxer, Tommy Hilfiger, Nicole Miller, Todd Oldham Jeans, Polo Jeans, Elie
Tahari and Vera Wang. On The RunwayMost of the menswear shown was casual and sporty.
Camouflage pants, quilted vests, zip-front fleece jackets and satin shirts were among the
highlights. Womenswear ranged from active and casual sportswear to office attire and evening wear.A
white sarong covering a bikini in shades of blue by apprentice Jennifer Lau from Pratt Institute
was shown with a matching hooded cover-up and bikini by Nautica by David Chu. Both selected fabrics
from Coville and Dyersburg.Tatania Grinberg of Parsons and apprentice to Elie Tahari, created a
long fleece gown decorated with chenille fringe.Diane von Furstenberg and her apprentice worked in
pile fabrics from Malden Mills and Texfi Industries. Master Alfred Fiandaca and his apprentice,
Wazhma Fazil of Pratt, used fabrics from Dyersburg and Texfi.Other fabrics in the show came from
Avondale Mills, Blank Textile Inc., Draper Knitting, MillikenandCo., Miratec Polymer Group Inc.,
Sointex S.L., Springfield LLC, Summit Knitting and Swift Denim/GaleyandLord.The Wellman
Master/Ap-prentice collection will tour the country with appearances at major retail malls,
including Mall of America. In September, the collection will return to New York to be presented at
Seventh on Sixth during the Spring 2000 designer shows.We are incredibly proud that Wellman has
been able to give talented design students the opportunity to work alongside the best designers in
the business, while learning to take environmental responsibility for their material choices, said
Jim Casey, president of Wellman Fibers. By closing the loop on plastics recycling, both Wellman and
our program sponsor, Pepsi-Cola, are taking responsibility for our products and their impact on the
Earth. Accent On AcrylicAt the annual Acrylic Council Fashion Show, Lynn Misiak, executive
director of the Council, said: Acrylic possesses both fashion and performance characteristics.On
the fashion side, acrylic is known for its breath of color, soft hand and drape. Extremely
versatile, acrylic is a chameleon fiber as it can mimic a host of different fibers such as cotton,
wool, cashmere and mohair.Acrylic is also recognized for the performance attributes it brings to
garments superior moisture transport, colorfastness, ease-of-care and resistance to shrinking and
wrinkles.A broad range of fashion was shown for men, women and children including loungewear,
intimates, casual, career, weekend, outerwear and faux fur. The show opened with lounging coats and
robes. Most were in fleece fabrics of 100-percent acrylic. Many were patterned in Nordic, western
or celestial designs. Charlie Good Night was a major resource.In a segment called Casual Career and
Play, there were soft sweater twinsets, skirt and sweater coordinates, coat dresses in charcoal
pinstripes, tweed suits, microdenier acrylic golf shirts, chenille cardigans, tube tops and
jackets.Knitted and woven fabrics shown were 100-percent acrylic or blends with wool, mohair or
rayon. Sweaters for men, women and children ran the gamut. They were solid colored, ribbed, striped
Jacquard patterned and embroidered. There were V-neck styles, turtle necks, crew necks, zip fronts,
bulky sweaters and short-cropped styles.Sigrid Olsen, Cathy Lee, Necessary Objects, Cricket Lane,
Sag Harbor, Studio Ease, Shu + Shu and Kiko were some of the womenswear resources. Menswear was
from Unionbay, Barrel, Melrose Studio and Haley.For boys and girls, fashions were shown from
Heartworks, Mickey for Kids, Ground Control, Hip Heart, Looney Tunes and Pooh.In the outerwear
category there were cable crocheted ponchos from 525 Made in America, boxy pile jackets from Robert
Scott, pea coats from Free Country, reversible barn jackets from Denali and long coats with tree or
city skyline designs from Wood River Clothing Co.There were also faux fur coats and jackets that
ranged from the look of beaver, lamb, zebra and cow to fitch and mink. Celanese At
Bloomingdale'sOlympic figure skating Gold Medalist and Celanese Acetate spokeswoman Kristi
Yamaguchi recently co-hosted a petite fashion show at Bloomingdales New York store.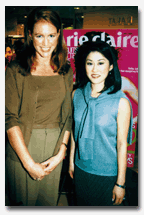 Martha McGuiness (l), Marie Claire magazine, and Celanese Acetate spokeswoman Kristi
Yamaguchi model acetate sweater sets from Celanese Acetate.Runway merchandise featured petite lines
from Anne Klein, Ellen Tracy, Ralph Lauren, Tahari, Tadashi, Carole Little, Mica, Due per Due,
Karen Kane, Liz Claiborne and BCBG.The fashions went from casual sportswear to career apparel and
evening wear. Sports attire included shorts and shirts. For business there were suits and
coordinating separates. Acetate blended with metallic fibers provided glamour and luster for
late-day dressing. A lot of the merchandise shown contained Celanese acetate in blends with other
fibers. Among the newest and most acclaimed fashions were sweater sets in Celanese
acetate/rayon/metallic blends. Subtle luster and texture with a dry hand gave them a look of
luxury.The sweater sets were shown over skirts and pants in velvets, crepes, taffetas and satins
made with acetate. Fabric resources include Tandler, Pressman Gutman, Westwood, Rosebar, Weave I
Knit II, Tricot Liesse and Scher.Celanese is planning to market acetate by working with well-known
designers including Pamela Dennis, Nicole Miller, Carolina Herrera and Betsey Johnson. Master
Of LinenOrnella Bignami, Italian fabric trend consultant, presented Masters of Linen textile
collections for apparel in New York at FIT. Along with market fabrics from major resources, there
was a display of futuristic fabrics created by students from leading European textile colleges.In
presenting trends for the year 2000, Bignami noted that touch is important. Fabrics are tactile,
she said. How a fabric feels is a strong sales point in getting the consumer to want to buy a
garment.Following the European textile trade shows, Bignami spoke with major linen weavers and
knitters to find out what are the best sellers in their lines.There is a new transparency which is
popular right now, she said. It is veiled rather than see-through and is being used for
multi-layering. Fine, high-twist crepes that have a natural elasticity are other good
sellers. Linen TrendsLinen trends were shown in three groups. Temperate is made up of
lightweight fabrics. There are plisse and pleated linens, fine gauze with a fluid hand, crepes,
loose weaves and open work.Surface interest is created by using thick and thin yarns. Raschel
knits, lacy effects and coarse knits fall into this category. Many of the fabrics shown blend linen
with Lycra®. Colors are warm shades of wheat, straw, jute and golden sunshine yellows.A range of
greens dominates the Vegetarian range. Sage, seaweed, bamboo, palm and fennel are brightened with
pink and red. There are a lot of tonal stripes, patterns and mottled effects. There are rubberized
treatments to give fabrics a wet look. Iridescent fabrics and coarse weaves are in this group,
along with classic fabrics and patterns.Deep shades, indigo-dyed linens and stone-like neutrals are
in the Organic group. Some of these fabrics have a washed-out look. There are coarse knits, rustic
linens, canvas and double-faced linens. Some of these reverse from a marled surface to a diagonal
weave. Linen/silk blends and metallics give fabrics a rich look.Easy care was noted with
multi-fiber blends and new easy-care finishing technology. Pauline Delli-Carpini, U.S.
representative for Masters of Linen, mentioned that linen is the worlds oldest fiber.Today Western
European linen weavers and knitters are showing a lot of creativity and producing high-quality
fabrics which perform. Fashion SpaceAlthough now in smaller quarters, the Cotton Incorporated
New York marketing office has actually increased its fabric library and conference areas.We
realized we needed to re-think the use of our office space, said J. Berrye Worsham III, president
and CEO. Our new offices give us greater flexibility at a much lower cost.Noting that its fabric
library contains approximately 10,000 fabric swatches and is used as a presentation area for large
groups of industry executives, Cotton Incorporated had outgrown its old space.With a new
headquarters in Raleigh, N.C., and consolidation of staff to that location, there are fewer
employees in New York. Worsham noted that fashion marketing is a vital aspect of the operation.The
new offices have three meeting areas, with the fabric library being the largest. A new conference
room with state-of-the-art audio-visual equipment nearly doubles the number of people who will be
able to attend fashion trend presentations.

June 1999