Digital PrintingBy Teri Ross Digital Printing Alchemy
Designers invest in CAD and design their own systems in the name of art. While
pundits claim digital printing to be the most significant technological advancement to the textile
printing industry in over 30 years, the adaptation of these new systems has been much slower than
many had anticipated. Though the technology is gaining ground in the areas of sampling and short
run production, the slower speeds, fabric limitations, image resolution and reduced color gamut on
process color printers have excluded its use for production.This is, of course, for companies who
have a business model of mass production. For a growing number of artists, designers, interior
decorators and entrepreneurs, digital printing technology is providing the tool that allows them to
produce customized products that give them a unique competitive advantage in the new world of
customization.Rachael Scandarion, president of Digital Arts Technology Inc., Hallandale, Fla., has
been custom decorating textiles since the late 80s. For a variety of applications from clothing to
interiors and window fashions, Scandarion was hand painting and dyeing her silks, cottons,
leathers, chiffons, canvas, vinyls and meshes to create custom products with no design repeat
requirements.As her business grew, she realized she needed a printer that would allow her to
produce greater quantities of fabric. With requirements including light fastness and wind
protection on a variety of fabrics, the only equipment available were large format printers used
for outdoor signage and displays. Scandarion found a service bureau running the Nur Outboard
continuous ink-jet printer with MEK solvent-based ink.She invested more than $150,000 in research
and development for fabric testing before discovering that the service bureau was marketing the
results of her efforts to other companies. What the service bureau claimed to be waste goods in
setting up new runs, had actually become sample fabric to potential competitors. Investing For
SuccessIn January of this year, Digital Arts Technology purchased its own printing equipment the
ENCAD TX printer. The company is still pre-treating (a.k.a. padding) its own fabrics with chemicals
that are a combination of soda ash, sodium alginate and urea for fiber reactive dyes used on
cottons and adding citric acid to the mix for silks, nylons and wools.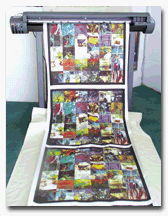 Digitally printed scarves by Bonnie Lhotka The company pads its own fabrics because
there are no pre-treated fabrics available for the markets it serves. In addition, by controlling
this step of the process, the company feels they have a better handle on quality control and can
maintain the proprietary nature of their unique products.Color matching is also a science for which
there was a development curve. Not only do the different inks react differently to different
fabrics, but the colors also change after a fabric is steamed. As a result, the company has
developed an elaborate array of color formulas and charts on printed fabric for both pre-and post
treatment. Aurora Xynthesis, Fallbrook, Calif., is targeting the hospitality market with its use of
digital printing technology. Marketing to architects and interior designers, the company has begun
intermixing digital with conventional arts to produce lighting fixtures, room dividers, stage
settings, interior settings, window coverings, murals, tile, and wall dr they are creating for
hotels, restaurants, casinos and resorts. It is working on natural fibers, silks and polyesters
using the Go ink set from ENCAD, as well as Ilford archival inks on ENCAD ink-jet printers. The
company is backing all of its own fabrics and mixing many of its own inks to achieve a unique
look. Opportunities For TechnologyWe are experimenting all of the time, said Alyson LeBlanc,
the companys creative director. It staggers my mind when I think of the opportunities with this
technology.Custom Cloths, Lafayette, La., a division of Pixus Digital Printing, offers personalized
silk ties and scarves via its website at www.customcloths.com. It offers custom designs in minimum
quantities of 10 with a delivery time of 2-3 weeks.For customers who want to design their own
products, the company sends them an Adobe Illustrator template on which to create their artwork.
Products are created using the ENCAD NovaJet Pro 50 printer, with inks and fabrics from Jacquard of
Healdsburg, Calif., who offers pre-treated fabric mounted on paper liners. The variables in print
technology, fabrics and inks requires skill sets that included a combination of artist, engineer
and chemist.Jacquard is one of a growing number of companies who are seeking to capture a share of
this burgeoning marketplace by supplying a system of pre-treated fabrics, inks and post-processing
steam equipment that will take a lot of the alchemy out of the process.Jacquard has developed a
hardware independent system that supports reactive, disperse and acid dyes on over 100 different
fabrics available for ink-jet printing; including gauze weight silks, metallic silks, cotton,
linen, Lycra®, woven nylon, wool and poly/cotton blends. All of the fabrics they offer have been
ICC profiled for color management and matched with the proper ink to the proper fabric; fiber
reactive inks for cottons and cellulose fibers, acid dyes for silk, nylon and wool and disperse
dyes for any fabric containing polyester. All color profiling is done after printing on the cloth,
with 1300 patches of color per cloth and ink set. The Art Of DigitalAt Digital Atelier, a
printmaking studio with locations near Boston; Boulder, Colo.; and Seattle, fine artists are
combining traditional studio and media techniques with digital imaging to produce original fine art
and unique editions, including jackets, scarves and tablecloths.Designer Bonnie Lhotka is using the
Jacquard ink-jet system on an ENCAD NovaJet Pro 50 with 100-percent silk. Lhotka has raised the
ink-jet head height on the printer, a practice she does not advocate as it voids the warranty. She
also programmed the RIP to do double strikes for richer coverage and calibrated her monitors to the
output on silks using Adobe Gamma software as well as Apples Color Sync.Chuck Davis of Regal
Computer Graphics, Greeley, Colo., has been experimenting with digital textile printing since 1994.
With a Ph.D. in mechanical engineering, Davis has applied his technical expertise to the
development and marketing of new products that exploit the new market opportunities supplied by
digital printing, including apparel sampling, sailboat sails, home decorating and custom
carpet. Making It PayIn a presentation given at IMIs recent Digital Printing of Textiles
Conference in Atlanta, he offered several suggestions on how to make a buck digitally printing
fabrics.In addition to suggesting that short run printing offers the potential for higher margins
along with higher waste, he stressed the importance of knowing your strengths and weaknesses,
investing in strong technical people, the importance of quality, and the value of good record
keeping.When you are producing custom products and need to repeat the process, the only way to
accomplish this is by referencing every detail as to what you did to get your results, Davis
said.As all of these pioneers have discovered, it is not the digital printing technology itself
that is the competitive advantage, but rather the products they are producing. They are not
allowing current limitations in digital printing technology to limit them creativity.As digital
printing alchemists, these individuals and companies define the market through new products and
applications that exploit the technology in a manner that gives them a unique and timely
competitive advantage.

June 1999