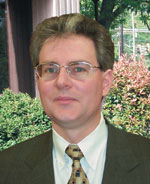 By James M. Borneman, Editor In Chief
Initial reports from Textile World editors who attended ITMA 2019 point to an active show floor with plenty of innovations to explore. Starting with the September/October 2019 issue, TW will begin its coverage of the trade show and future issues will be supplemented with technical sector coverage with reports from a team of professors from Raleigh, N.C.–based NC State University's Wilson College of Textiles who attended the show.
In general, sentiment on the show floor and in the post-show reporting was positive with U.S. manufacturers attendance and their interest in investment surprising to many of the exhibitors.
One of the largest single company investments that was made public at the show — many deals aren't public and therefore it's difficult to accurately report on — was by Greensboro, N.C.-based Unifi Inc., maker of REPREVE®.
Apparently, Unifi has been collaborating with Oerlikon Barmag to develop new spinning technology. According to the machinery manufacturer, the development resulted in Oerlikon's new eAFK Evo texturing machine. Unifi has obtained exclusive rights to its unique design throughout the Americas. Over the last eight months, Unifi has produced a range of recycled polyester and polyamide yarns using a pilot eAFK Evo pilot machine.
According to Oerlikon, the new design "enables the new machine to operate at considerably
higher texturing speeds, delivers consistently high-quality yarn across a broad range of products, and enables new, innovative performance yarns."
In other show news, there are unpublished reports from the floor about weaving machines and spinning equipment sales to prominent Southeastern U.S. textile manufacturers.
On the world stage, TW's Executive Editor Rachael Davis was one of just a small handful of reporters invited to attend a signing ceremony featuring Egypt-based Cotton & Textile Industries Holding Co. held to "kickoff" a program to revitalize and modernize Egypt's textile industry.
"The program includes the modernization of spinning, weaving, knitting, dyeing, finishing, printing and confection, based on a product line definition which brings forth added value to Egyptian cotton, from cotton farming to ready-made goods with world class level in terms of quality and efficiency," according to Cotton & Textile Industries Holding.
"The total value of the program is approximately 1 billion euros, which includes around 780,000 new spindles and 1,250 new looms, dyeing, printing and finishing machinery and state-of-the-art cutting and sewing equipment," reported the company.
"During ITMA, contracts were awarded for the first phase of the modernization program to seven textile machinery suppliers: Benninger — including Thies and Brückner — EFI Reggiani, ITEMA, Karl Mayer, Marzoli, Rieter and Savio."
It is a significant public sector investment that has the support of Egyptian President Abdul Fatah Al-Sisi and Minister of Public Enterprises Dr. Hisham Tawfik.
With the build up to, and execution of, ITMA 2019 now complete, secrets are out, and digesting the innovations of Barcelona takes the stage. TW editors always look forward to the exploration, and sharing those new ideas in the coming issues of TW.
July/August 2019