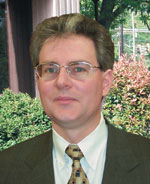 By Jim Borneman, Editor In Chief
As part of its annual "5 in 5" predictions, IBM Research predicts "five innovations that will change our lives within five years." The majority of the predictions focus on — in its words — "creating a simpler, safer and less wasteful food supply chain." But the fifth prediction, stands out as an innovation that could really impact textiles.
According to IBM: "In five years, the disposal of trash and the creation of new plastics will be completely transformed. Everything from milk cartons and cookie containers to grocery bags and clothing will be recyclable, and polyester manufacturing companies will be able to take in refuse and turn it into something useful again."
Current systems for recycling polyester are complicated because mechanical recycling only works for clear, clean containers. And to become useable material, the recycled content needs to be combined with new polyester (PET). Not to mention the challenges of blended products like polyester/cotton fabrics.
The IBM solution relies on the development of Volatile Catalyst (VolCat) technology:
"IBM researchers have discovered a catalytic chemical process that digests certain plastics (called polyesters) into a substance which can be fed directly back into plastic manufacturing machines in order to make new products. VolCat begins by heating PET and ethylene glycol in a reactor with the catalyst. After depolymerization is complete, the catalyst is recovered by distillation from the reactor using the heat of reaction. The solution is filtered, purified, and then cooled, and the solid monomer product is recovered by filtration. The recovered liquid, along with the catalyst, is then reintroduced into the depolymerization reactor in an energy-efficient cycle."
Feeding the VolCat process is much less complicated. Bottles and containers — clear and colored, and dirty or clean — can all be used as feedstock with no preprocessing. VolCat technology separates the contaminants including food residue, glue, dirt, dyes and pigments, from material that is useable for new PET.
Because the feedstock can be mixed, the recycling process for consumers also is simplified. Waste goes in one bin and out to the curb for pick up. And since the dyes and pigments are treated as waste, colored PET now can be processed.
Plastics Today referenced this as "molecular sorting." The brilliance of VolCat technology is that even with all the mixed chemistries and trash in the feedstock, the process isolates the polyester ignoring everything else.
The process handles the sorting on the molecular level replacing sorting and washing on the feedstock side. IBM Researchers behind VolCat technology foresee polyester plants and recycling facilities deploying the technology around the world to reduce petroleum usage, while reducing landfill and ocean contamination — a topic of growing interest.
There is no doubt that there is an appetite for sustainable, green solutions in the man-made fiber industry.
Just look at the success of Unifi's REPREVE® — it's a story worth telling.
January/February 2019