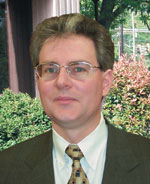 By James M. Borneman, Editor In Chief
Textile World has been very fortunate through the years to employ a great team both visible and invisible to TW's all-important readers. One member of the team, Rachael Davis, joined the editorial team almost 17 years ago — and her Bachelor of Science in Polymer and Textile Chemistry from the Atlanta-based Georgia Institute of Technology was immediately put to good use.
Rachael began as an assistant editor at the then America's Textile International (ATI) magazine. Her knowledge of textiles helped her quickly learn how to assess content and prioritize news about the industry. Over the years, she moved through the ranks of editorial positions from assistant to associate editor and later to managing editor of TW, a position she has held for some time.
Rachael has expanded her role well beyond the scheduling and copy editing responsibilities typically associated with managing editor duties. Today, she provides show coverage, and writes features and most of the departments in the magazine. She also is behind the scenes working on TextileWorld.com and the group's e-newsletters.
It is a great honor to recognize Rachael's service to TW, the value she adds in service to TW readers and share with you her advancement to the position of executive editor.
A wise man once offered the advice, "Do the job and you'll get the job," and that couldn't be more true in her case. The current issue is a case in point — largely planned, edited and, in some cases, written by Rachael.
She will be covering many of the upcoming shows and taking pictures — and as always, will be on the lookout for new technology and industry news to add value to the magazine.
It is not common today to be associated with one company for so long, but the textile industry seems to promote and respect longevity. With experience come relationships — relationships and knowledge that make the industry perform at a very high level. Rachael, over time and with the help of friends and associates, has strengthened the TW offerings and deserves much of the credit for the magazine's content.
This was the first year the textile team performed independently as Textile Industries Media Group LLC without the shelter of longtime owner Billian Publishing Inc. — and what a year it was! As owner and publisher of the company, I'd like to thank all team members, the continued generous support of advertisers and sponsors, longtime readers and members of the industry for making this year a success.
So many friends have offered their help and support to TW. Many vendors treated us as a long-term client rather than a new company and that consideration is much appreciated.
Transitions and change are difficult, but they also provide opportunity, and I thank the staff for seizing those opportunities to make the magazine better for TW readers.
jborneman@TextileWorld.com
January/February 2017