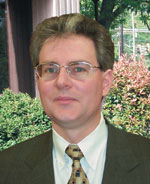 By James M. Borneman, Editor In Chief
You may recall the outgoing chairman of the National Council of Textile Organization's (NCTO's) address this past spring where Milliken's Jeff Price spoke of the organization's efforts to rebrand the textile industry.
NCTO engaged public relations firm Wray Ward to assist in correcting the image of U.S. textiles. The industry has long been framed as non-competitive and antiquated, particularly by those who oppose NCTO's policy agenda and think there is no significant textile industry in the United States.
According to Price, "… it is our responsibility to paint a picture for opinion leaders and consumers that displays the textile industry's true technical and innovative prowess."
The editors of Textile World could not agree more. It always has been frustrating to explain and defend the industry to those who have little concept of how textiles impact their daily lives. Whether automotive, medical, aerospace or traditional home furnishings and apparel products — few understand the depth to which textiles affect their lives.
It is not an intentional slight. The industry was central to the industrialization of the United States, and it does carry a lot of baggage associated with those early days. But as global competition rose, the industry's only defense was to retool technologies and increase its focus on innovation.
TW has celebrated the industry's innovation by recognizing significant achievements through the TW Innovation Award and the TW Innovation Forum, which is an event that sheds light on the latest and greatest developments the industry has to offer.
The U.S. textile industry never has focused on self-promotion. Often, industry members avoid attention and suspect prying eyes. But the silence encourages and assists others to frame the industry as they see fit to suit their own agenda.
Over the coming months TW's magazine, website and e-newsletters will feature stories from NCTO's "American Textiles: We Make Amazing™" campaign. The editors ask that you share these stories with opinion leaders, friends, and the press — anyone who needs to grow their knowledge of the modern U.S. textile industry.
The industry needs to excite young people and plant the seed to encourage careers in high-tech textiles or aligned industries like robotics, automation or nanotechnology. U.S. policymakers need to hear about the investments made in technology and the contributions made to the military and other government services. The media and press might find it interesting to learn that a plant in their own town is "making amazing."
TW editors would like to thank the NCTO and Wray Ward for their assistance in this project and hope the exposure in TW will increase the impact of the campaign with TW's readership reach.
The NCTO has expressed its gratitude for financial contributions from its partners in the project: the American Fiber Manufacturers Association; the National Cotton Council; the Industrial Fabrics Association International; and Glen Raven Inc.
September/October 2016