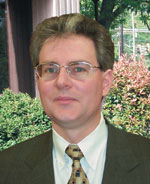 By Jim Borneman, Editor In Chief
In this issue, "Yarn Market" by Editor Jim Phillips describes a slowing market for yarn with smaller orders demanding a shorter time frame. Interestingly, that is what Buhler Quality Yarn Corp.'s David Sasso describes in his piece "Responsive Retail" as a strength of the western hemisphere — collaborative apparel supply chains. Responsive suppliers making smaller quantities with shorter lead times, reducing retailer's markdowns and stock-outs — perpetuating the fast fashion model.
In a near-shored total cost model, it makes sense. Shorter lead-times, lower shipping costs, the right product at the right time and the ability to respond quickly to the whims of the consumer is very possible.
However, it does rely on highly cooperative supply chains — but they are already built and they already exist. If you want to see for yourself, pop in on an Americas Apparel Producers' Network (AAPN) meeting — and save yourself a lot of legwork. Many AAPN members — from spinners, knitters and weavers to apparel factories and shippers — have collaborated for years. As Mike Todaro, AAPN's managing director often says, "At AAPN, we compete as supply chains."
There is an effective way to compete with goods sourced in Asia, but the change requires a review, recosting, and the use of supply chain executives, like Buhler's Sasso, who can help brands and retailers make high-quality products at competitive prices.
There are some low-cost products that aren't time sensitive and virtually never marked down that will always chase the cheapest needle. And high-end retailers already are using responsive supply chains — chasing quality not cost.
So the real opportunity may be for mid-tier retailers that followed the herd to source in Asia and achieved a lower cost when the China price simply couldn't be beaten. Many assume that China still is the answer.
The retail environment has seen incredible pressure, and a look at reshoring and a responsive supply chain that can put less product on the shelf more often may be the solution to reduce the pressure. A total cost model that puts a value on time and minimizes the risk of order quantity predictions may show a way for mid-tier retailers to mimic their high-end peers.
There are great things happening in the NAFTA and CAFTA regions. More yarn spinning has come on line with tremendous flexibility in manufacturing. With a highly developed cotton supply chain and a yarn forward rule in the CAFTA and NAFTA trade deals, conforming product is allowed into the United States duty free. Another competitive win for the regions.
As Sasso points out, communication with all members of the supply chain is key. And there are strategies of a collaborative chain — like pre-staging fabrics — that can cut days out of the cycle.
So if you are feeling the pressure — losing at the cash register and suffering the markdown blues — you may want to consider the total cost that puts a value on time. The quickest way may be to take a meeting with a collaborative supply chain. Take advantage of the work they've done and the chains they've built.
July/August 2016