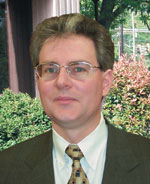 By James M. Borneman
E
ven after a record-setting ITMA and new plant expansion announcements, the low-growth economy is hard to ignore. After reviewing a collection of economic forecasts for 2016, several common themes are apparent. The U.S. economy is an odd blend of low growth, low oil prices, low reported unemployment, low to no wage growth, sluggish retail sales, falling productivity, with a Federal Reserve considering increasing interest rates. The slow-growth U.S. economy and continued slowing in China are making the global economic picture a little sketchy.
However, when you speak with textile producers, particularly non-commodity producers, there are pockets of strength. Lower manufacturing input prices including energy make things interesting. A stronger dollar makes buying equipment cheaper, but slows exports. Although productivity is slowing in general, the level of automation in textiles is tremendous and cited as a factor in investment in U.S. textile manufacturing. Stable power, strong engineering talent that can handle automation, a great cotton supply chain, strong infrastructure including ports, and proximity to the customer are still prevailing drivers for textile manufacturing investment.
It is anecdotal, but interest in U.S. textiles seems to be increasing. Inquiries about the industry and its players seems to be on the rise with Textile World editors. Editorial content from the TW Innovation Forum and coverage of ITMA 2015 provided by TW technical editors is rich with innovation and technical advancements.
With Techtextil North America (TTNA), Texprocess and the IDEA show on the horizon, more opportunity to explore the industry is soon at hand. Unfortunately, the scheduling of these events concurrently makes for some tough choices for exhibitors and visitors who would normally attend TTNA and IDEA. Many will split ranks with colleagues to have a presence or attend both events.
The "What are textiles?" question continues to appear again and again — usually from a consultant hired to do market research for a company not currently participating in the textile supply chain, but looking for opportunity. TW editors tend to point to these shows to illustrate the depth of the answer. People are astounded when you discuss anything beyond apparel and home furnishings as textiles. Automotive and medical products, composites — even the covering on a tennis ball — go largely unnoticed.
As smart technologies evolve and performance materials become matter-of-fact, there will be an even larger misunderstanding of the nature and depth of the U.S. textile industry. As automation increases, the effectiveness of the industry employment head-count is less representative of the size of the industry. As an industry participant, prepare to be more misunderstood — but that is not such a bad thing. It certainly makes reporting on the industry interesting and seeing the innovative things going on in product development areas is pretty amazing. The year 2016 is bound to be an interesting year with a political back drop, sluggish economy and hopefully some insulation from China and Europe's woes.
January/February 2016