WILMINGTON, Del. — November 14, 2023 — The LYCRA Co., a global developer of innovative and sustainable fiber and technology solutions for the apparel and personal care industries, announced today the launch of new LYCRA® FiT400™ fiber for knits.
The company's latest EcoMade offering is a unique bicomponent fiber engineered to optimize the performance and comfort of knits. It delivers a durable soft hand-feel, low shrinkage and high uniformity to fabrics. LYCRA FiT400 fiber is made from 60-percent recycled PET and 14.4 percent from bio-derived resources and is GRS certified.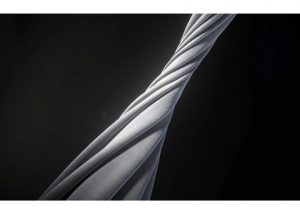 The fiber includes two different polyester polymers, which together create a helical crimp, providing permanent stretch and recovery properties, as well as breathability, cooling comfort and chlorine resistance to fabrics.
LYCRA FiT400 fiber helps set the stage for circularity, a key priority for The LYCRA Company. In controlled tests under specific conditions, this fiber was recycled back into new polyester fibers, thereby demonstrating the technical feasibility of this process.*
"We developed LYCRA FiT400 fiber to deliver in-demand performance benefits and an enhanced soft hand to the knit fabric category," said Steve Stewart, chief brand and innovation officer at The LYCRA Co. "This innovation also meets customer and consumer expectations for more sustainable solutions since it is made with recycled and bio-derived materials."
LYCRA FiT400 fiber will be advertised to the trade. The "It's Time for Better" campaign aims to disrupt the activewear, athleisure and swimwear categories with the message that consumers and the planet deserve better — better-functioning garments offering reduced environmental impact.
Fabrics and garments powered by LYCRA FiT400 fiber are eligible for LYCRA XTRA LIFE™ or COOLMAX® EcoMade brand hangtags if they meet specific brand quality standards. Both brands enjoy high levels of consumer brand awareness worldwide.
*LYCRA FiT400 fiber is compatible with established polyester chemical recycling processes. In multiple tests, LYCRA FiT400 fiber components were blended with standard polyester components and recycled back into new polyester fibers with comparable performance as standard recycled polyester fibers.
Posted: November 14, 2023
Source: The LYCRA Company