PARIS — November 8, 2023 — NATIVA™, supplier of sustainable luxury Merino wool, has extended its partnership with purpose-driven lifestyle brand, PANGAIA. Known for creating clothing that uses innovative tech and bio-engineered materials to decrease its impact on the planet – PANGAIA is a materials science company designing an earth positive business model where its products are better for the planet than if they did not exist.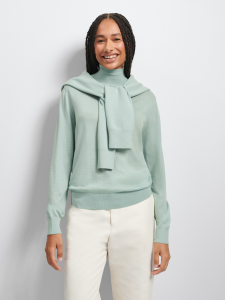 PANGAIA first partnered with NATIVA™ in 2022, sourcing the finest Merino wool from NATIVA™ via its certified farms, each committed to animal welfare. A year on, NATIVA™ and PANGAIA are excited to share the next step in their partnership — NATIVARegen™.
NATIVARegen™ works from the ground up, bettering soil quality through a triple impact system that protects lands, safeguards animals and supports farmers by improving their livelihoods. Throughout the NATIVARegen™ journey, sheep are raised ethically in harmony with nature, grazing on native plants with enough space to roam. Each farmer has a management plan that assesses feeding, breeding, behaviour and health to ensure animal welfare standards are met. This includes stress free shearing and the prohibition of mulesing.
The NATIVA™ partner farm supplying PANGAIA's Merino wool is Cerro Bombero, a family owned NATIVARegen™ accredited farm based in Uruguay. Located 130km from the city of Paysandú, where Juan and his family live, 6,000 Merino sheep are ethically raised in open fields. The farm's regenerative practices are measured through biogenic carbon and water footprint testing, meaning it is possible to monitor the positive impact at field level.
"We are so pleased to extend our relationship with PANGAIA, one of the most respected environmentally positive brands in the world. PANGAIA's mission to design an earth positive business model where its products are better for the planet than if they did not exist perfectly aligns with NATIVA™'s. We are so proud of our NATIVARegen™ partner farm in Uruguay and we can't wait for PANGAIA consumers to experience the world's finest Merino wool knowing it has further improved the environment it came from." said Nicolas Sapelli, NATIVA™ Sourcing Director.
The PANGAIA NATIVARegen™ collection of knitwear launches in November 2023 and includes women's and men's turtlenecks, hoodies, crew necks, track pants and beanies.
Posted: November 8, 2023
Source: NATIVA™ — A brand of Chargeurs Luxury Fibers, a division of Chargeurs Group