BANGKOK — October 18, 2023 — Thai Acrylic Fibre Co. Ltd. (TAF), one of the world's largest acrylic fiber producers, is excited to announce its participation in the upcoming Textile Exchange Conference 2023 at Booth 145. Set to take place from October 23-27 at the O2 InterContinental in Greenwich, London.
The Textile Exchange Conference brings together industry leaders, innovators, and experts from across the fashion, textile, and apparel industry, serving as a premier global platform to collaboratively explore challenges and solutions to overcome the climate crisis.
At the conference, TAF will be showcasing its latest innovation — Regel™ — recycled acrylic fibre. With its impressive MSI (Material Sustainability Index) scores, and outstanding LCA (Life Cycle Assessment) credentials, Regel is setting new standards for sustainability within the textile industry.
Regel, recycled acrylic fiber, has been developed with a strong focus on sustainability that offers a practical solution for a variety of textile applications. Its MSI scores and LCA demonstrate the reduced environmental impact throughout its life cycle and its potential to contribute to a supply chain, marking a significant step in the industry towards more eco-friendly textile production. Regel also retains the warmth, comfort, vibrant shades, and durability for which acrylic fibers are renowned through innovative "Regel technology."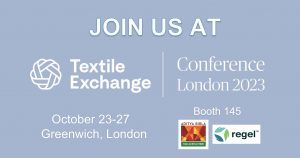 "We view our participation in the Textile Exchange Conference 2023 as an opportunity to strengthen our partnerships, exchange ideas and learn from other industry leaders who share our vision of a more sustainable future. We also believe that Regel sustainability features benefit both manufacturers and consumers by addressing the growing demand for eco-conscious products. We do look forward to engaging with industry peers, sharing insights to learn more about Regel and our broader sustainability initiatives," said Tuhin Kulshreshtha, head of Marketing, TAF.
Posted: October 18, 2023
Source: Thai Acrylic Fibre Co.,Ltd. (TAF)