KINGSPORT, Tenn.  — October 23, 2023 — Being responsible materials the main topic of the 2023 Textile Exchange Conference, Naia™ from Eastman is pleased to be among the sponsors of the event and bring its expertise on the topic, in the name of the molecular recycling technology behind Naia Renew fibers.
From recycling technology to sustainable fibers
Naia™ Renew, available at scale as both a filament yarn and staple fiber, is produced from 60-percent sustainably sourced wood pulp and 40-percent certified waste materials and can be blended with other sustainable fibers to create nearly endless luxurious fabric possibilities that are comfortable and rich in color. The carbon footprint of Naia Renew fiber is measurably reduced over its life cycle*. Eastman transforms waste materials that are difficult to recycle — which would otherwise not have an end-of-life option and would end up in landfill or incinerators — into biodegradable fibers through its patented carbon renewal technology. This is one of Eastman's molecular recycling technologies that breaks materials down into basic molecular building blocks, assuring end materials are indistinguishable from those made from virgin fossil sources in quality, performance, or appearance.
Accelerating the molecular recycling culture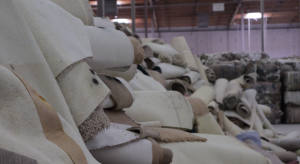 To make recycling options economically efficient and enable long terms success, Eastman is actively engaging with multiple value chain players, recognizing the need for systematic changes in collecting and sorting. The company is among the founding members of the Alliance of Chemical Textile Recycling (ACTR), a working group launched by Accelerating Circularity, the nonprofit focused on textile-to-textile recycling at a commercial scale, to move chemical recycling technology forward, share common definitions, and address policies in a collaborative way to maximize the elimination of textile waste to landfills and incineration: Naia's goal, by 2025, is to have more than 25-percent recycled content derived from textile waste material.
Visitors at Textile Exchange Conference have the opportunity to drop in and find out more about textile-to-textile recycling directly from Eastman's team contributors in a session of Q&A on October 26, from 2:00 to 3:00 PM.
A fully traceable and responsible supply chain
In parallel with its commitment to molecular recycling, Naia strives to provide its partners with full transparency and responsibility from tree to fiber, being FSC and PEFC certified, having been awarded the Canopy Dark Green Shirt and supporting the reforestation project of SOS Mata Atlantica in the Atlantic Forest, Brazil.
That is why, by choosing Naia Renew, fashion brands increase their sustainability story without compromising their creativity or the planet's resources: Patagonia, Vince, Reformation, COS, are just some of the many brands that adopt Naia cellulosic fibers in their recent collections.
"We're transforming what a fiber can be and do to meet the sustainability demands of our customers," said Ruth Farrell, general manager for Eastman's textiles division. "Naia Renew creates a world where brands and consumers can be sustainable at no compromise to quality or performance."
* As compared to conventional Naia™ products. LCA third-party reviewed by Quantis. The current REC holdings for Naia™ Renew are wind.
Posted: October 24, 2023
Source: Eastman