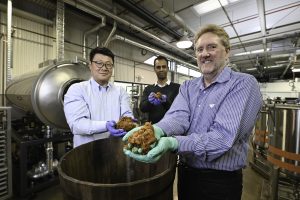 GEELONG, Australia — October 5, 2023 — Australia creates more than 7.6 million metric tons of food waste annually, costing more than $36.6 billion and producing 17.5 million tonnes of greenhouse gas. Now, Deakin University's Recycling and Clean Energy Commercialisation Hub (REACH) has partnered with Japanese company Jet Technology to address Australia's landfill crisis by recycling organic waste into valuable products, including converting apple waste into organic fabrics and sugar waste into stock feed.
Alfred Deakin Professor and Deakin's Chair in Biotechnology Colin Barrow and his team from the Centre for Sustainable Bioproducts will work with Jet Technology to explore the capability of the company's Environmental Recycling System (ERS) to convert organic waste into reusable products.
Professor Barrow said sending organic waste to landfill was a missed opportunity to use it as a resource.
"Through this project we are exploring innovative methods to reduce organic waste, mitigate environmental impacts, and create value-adding products for a range of sectors," he said.
Jet Technology's CEO, Howard Ju, said there was great potential to improve organic resource recovery in Australia's agricultural, dairy and fishery sectors and develop a circular economy.
"Australia's agricultural and fishery resources represent significant tonnage of organic product that could be scaled-up for commercialisation. Through this pilot project we will develop a range of applications and solutions to resolve current organic waste issues for different sectors and improve Australia's organic resource recovery," Ju said.
"Our world leading ERS technology reduces the organic recycling process from weeks or months to a few hours. It is a clean process with almost zero pollution to the environment that will produce organic products such as fertiliser, cow feed and textiles."
The four-year research project will be undertaken at the 'BioFactory' at Deakin's Waurn Ponds campus. It will initially focus on processing agricultural waste, converting apple pomace into a bioproduct for the textile industry. Apple pomace consists of the apple skin, pulp, seeds and stems left over from apple juice manufacture. Its disposal in landfill can lead to greenhouse gas emissions and potential soil and groundwater contamination.
The project will also look at new ways to deal with one of Australia's biggest organic waste problems. Bagasse, the material left over when sugar is made, accounts for around 20% of the nation's organic waste. The researchers will investigate ways that Australia's 10 million tonnes of bagasse can be reused as a food source for cows that has the potential to yield $1000 per tonne commercially.
"Supporting Jet Technology with supply chains and infrastructure, we will develop viable solutions for repurposing industry-generated organic waste to build a circular economy across different sectors, unlocking millions of dollars in value and strengthening domestic manufacturing," said Professor Barrow.
If successful, it could lead to the establishment of a local multi-million-dollar bioeconomy where organizations such as councils, supermarkets and food and beverage businesses could cut costs while generating new revenue streams and job opportunities.
Deakin's REACH initiative collaborates with progressive industry, government and education partners to establish a multi-billion-dollar bioeconomy in Victoria and push the limits of technological innovation to deliver energy and recycling solutions that reduce landfill, fossil fuel emissions and the devastating costs of global warming.
Posted: October 5, 2023
Source Deakin University