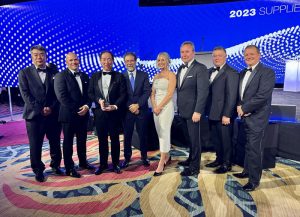 TACOMA, Wash. — August 29, 2023 — Toray Composite Materials America, Inc. proudly announces it is the recipient of the Boeing Supplier of the Year Alliance Award, a leadership-nominated award given to supplier companies that support and propel Boeing's strategic objectives through risk-sharing and enduring partnerships. Receiving the Supplier of the Year Alliance Award represents Toray's commitment to performance excellence in quality, cost, and delivery. Furthermore, it demonstrates the successful collaborative relationship between the two companies on strategic programs.
Toray CMA was honored alongside other Supplier of the Year (SoY) winners on August 23, 2023, in Championsgate, Florida. Boeing's Supplier of the Year Award program is an industry-leading recognition program that recognizes Boeing suppliers for driving a stable, predictable production system that contributes to the company's safety, quality, sustainability and delivery commitments to customers.
"It is an honor for Toray to receive the Supplier of the Year award again. Receiving it is a testament to our disciplined engineering approach and passion for excellence. It drives us to relentlessly pursue ways to improve so we can meet the needs of our customers," according to Andy Sakata, senior vice president of Sales and Marketing. "We're thankful to Boeing for recognizing the efforts of various teams that have worked with them over the past decades."
Toray began supplying Boeing when it first qualified TORAYCA™ T300 carbon fiber for commercial application on the Boeing 737. Since then, Toray CMA has provided high-performance intermediate modulus carbon fiber and highly toughened, primary structure carbon fiber composite prepreg on various programs.
"The Supplier of the Year winners were proactive, transparent and reliable in a challenging environment," said William Ampofo, vice president of Parts & Distribution Services and Supply Chain for Boeing Global Services and chair of Boeing's Supply Chain Operations Council. "Over the past year, their collaboration and commitment to safety and quality was the gold standard to help us drive stability in our supply chain and consistently deliver for our customers."
Posted: August 29, 2023
Source: Toray Composite Materials America, Inc.