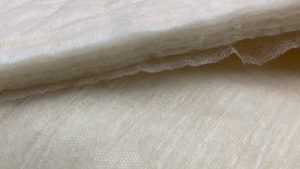 COWANSVILLE, Canada— January 18, 2022 — Vegeto, a Canadian supplier in the sustainable production and processing of plant textile fibers, innovates with the launch of a high performance milkweed insulation material. This new innovative product represents a preferred, ecofriendly solution for the outdoor clothing and equipment market, notably jackets, handwear and sleeping bags.
"This new insulation material fills a gap in the textile industry: a plant-based, ecofriendly insulation textile that makes no compromise on performance. Our alternative, conceived and produced in Canada, does not rely on the usual model of using animal-sourced or petroleum-based products; we are sowing the seeds of change for the entire garment and textile industry" mentioned Ghyslain Bouchard, general manager of Vegeto.
Performance for the great outdoors
The non-woven laminated textile insulation is a mix of milkweed and kapok fibers, and a biopolymer made from cornstarch. Testing conducted at an independent laboratory (CTT Group) confirms the product's exceptional thermal insulation properties. The CLO value ranges from 2.5 to 4.5, depending on the weight of the chosen product — 100 grams per square meter (gsm), 150 gsm, 200 gsm and 250 gsm.
This weight range meets the insulation needs for mild spring weather as well as for winter's frigid temperatures. "Study of the milkweed fiber's properties revealed that its tubular form makes it an excellent thermal insulation material. The hollow part of the fibre stores air and maintains temperature. It's this natural characteristic, which synthetic materials try to reproduce, that inspired us to create our milkweek insulation textile" Bouchard explained.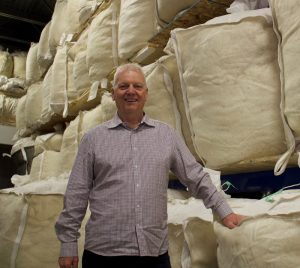 Eco-friendly, naturally
When choosing a textile insulation material, selection is limited to synthetic products, mostly composed of petroleum derivatives, or animal-sourced materials. From production to their end of use, synthetic materials have harmful effects on the environment. "To reduce a product's impact at the end of its useful life, Vegeto uses plant-based components that will break down into industrial compost at the end of the garment's or accessory's useful life," Bouchard mentioned.
Furthermore, consumers' perception towards fur and duvet is changing. "There is no denying the efficiency of duvet; however, it is quite expensive and does not fit in with the vegan lifestyle. Our insulation material succeeds in combining performance and respect for the environment and animals," Bouchard added.
Big names with big interest
Major clothing brands are levering this trend by incorporating more and more eco-friendly materials into their fashion collections. "We want to work with manufacturers who share our business philosophy. What Vegeto has accomplished sets the pace for the industry and we hope to get manufacturers on board and inspire them to explore further, off the beaten path," Bouchard said.
Investment is key to stable production
Vegeto — a true pioneer in its field — has succeeded in developing a "field to fiber" transformation process, exclusive in Canada, that meets the ever-growing demand for green raw materials.
Past investments in the development of machinery have today lead to the efficient processing of plants into textile fibres. Thanks to the technical expertise of the Vegeto team, the company has the capacity to produce unique, high performance textile blends. Textile engineers, agronomists and machinery operators work hand in hand to manufacture this new generation of eco-friendly materials.
"I've always said that milkweed was the fibre of the future. We persevered through our unsuccessful trials, we built the machinery we needed to process the fiber. We always believed in this project, and the high performance product we now have on hand proves that it was all worthwhile," Bouchard emphasized.
Although widely common in Canada, milkweed and its virtues remain rather unknown. Vegeto works with Canadian farmers wishing to harvest a stable milkweed crop meeting textile-grade standards. Growing demand for the indigenous plant leads the company to consolidate more and more partnerships with farmers to ensure long term supply.
Posted: January 18, 2022
Source: Vegeto