ARNHEM, The Netherlands — November 12, 2018 — Teijin Aramid — a manufacturer of aramid super fibers with production locations in the Netherlands, Thailand and Japan — has revamped its brand identity with renewed product logos and pay off. Teijin Aramid's new pay off Be Sure reflects the company's ambition of reinforcing the promise to its customers and to create high-performance products, that are stronger, lighter and more durable.
The world has changed and there is a broader demand for super fibers like Twaron and Technora. Teijin Aramid's customers get the assurance that the company is able to meet future market demand and provide its customers with the material they need to excel in their markets. Teijin Aramid pursues a growth rate of 8-percent per year, which should eventually lead to a future market share larger than 50 percent. Several substantial investments are planned to optimize the production facilities.
Teijin Aramid has been able to increase its Twaron production capacity by 130 percent since 1999 by introducing the lean methodology and internal optimization programs. It is continuously investing in its factories, implementing the latest technologies, and ensuring economies of scale. This will enable the company to anticipate market demand and market competitiveness, while meeting its customers' demands.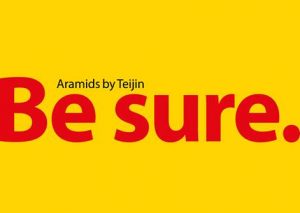 Updated brand identity to reflect strong ambition
Teijin Aramid's new product logos and pay off show the ambition of the company and address the need for customers to be assured in a world and market that are changing rapidly. It has become a heavily competing global market where you need to be agile, get more and more engaged with your customers, showcase amazing stories and cases and deliver proof of technological advancement.
Gert Frederiks says: "At Teijin Aramid, we're deeply connected with what we do. From the factory floor to the management board, our passion translates into dedication, commitment, and expertise. Every day, we are driving forward, continuously improving our processes, our technology and ourselves. It is why we deliver the best aramid in the world. Today and tomorrow. Of that you can Be sure."
Posted November 13, 2018
Source: Teijin Aramid