Thailand-based ES FiberVisions (Thailand) Co. Ltd., a joint venture company formed by Duluth, Ga.-based FiberVisions LLC — owned by Bangkok-based Indorama Ventures Public Co. Ltd. (IVL) — and Japan-based JNC Corp., recently held a grand opening for a new plant in Rayong, Thailand. The state-of-the-art facility is designed to manufacture up to 14,000 tons of high-quality bicomponent fiber in a hygienic environment. At the opening ceremony, executives including IVL's CEO Aloke Lohia; JNC's CEO and President Dr. Yasuyuki Gotoh; FiberVisions CEO Tom Zaiser; and Yozo Shimomura, chairman of ESFV and managing executive officer of JNC, were joined by more than 100 government representatives, customers, suppliers and contractors.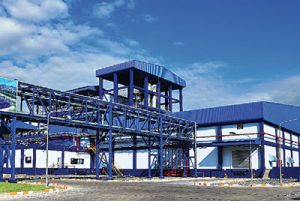 "At this Thai factory, a key center for supply to the Southeast Asian region, we have introduced global cutting-edge technology," said Gotoh. "We believe that the state-of-the-art ES fiber produced here will not only contribute to the development of the Thai economy but also help all the citizens of countries in the ASEAN region lead more comfortable lives."
In related news, the companies announced they are expanding bicomponent manufacturing capacity at the Covington, Ga.-based FiberVisions facility to support the need for bicomponent fibers in the U.S. hygiene and industrial sectors.
The added capacity is expected to be operational by the end of 2017.
January/February 2017