BIRKENHEAD, England — February 19, 2015 — Cotton Outlook forecasts world raw cotton production in 2015-16 at 23,869,000 metric tons, almost 2 million metric tons lower than the estimate for 2014-15. Reduced output is anticipated in all major producing countries, with the biggest fall witnessed in China.
World consumption is forecast to rise modestly by around 1.4 percent, to almost 24,000,000 metric tons, with the result that 2015-16 looks set to be the first season since 2009-10 to show a reduction in world stocks, though the decline is marginal.
Full details of Cotlook's figures for this season and next are published in this week's edition of the weekly Cotton Outlook magazine.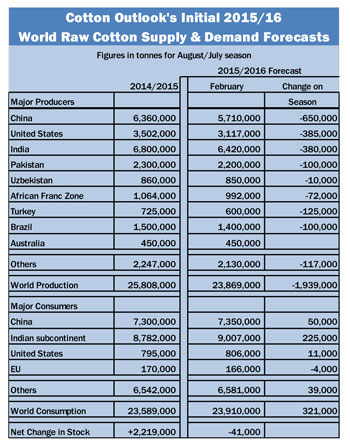 Posted February 24, 2015
Source: Cotlook