Austria-based cellulosic fiber producer Lenzing AG has received a 100 million-euro loan from the European Investment Bank (EIB) to support Lenzing's R&D projects and investments for the production of new TENCEL® fiber products. Under the multi-year initiative, Lenzing will build and bring new research facilities and pilot plants on-line and implement innovations in production processes, primarily at its Tencel site in Austria.

The loan, dubbed a Risk-Sharing Finance Facility, is jointly financed by EIB — the European Union's long-term lending bank — and the European Commission, and is targeted to private enterprises and public institutions that are conducting R&D, demonstration and innovation projects. Such loans in 2013 totaled 16.5 billion euros.

Tencel, a regenerated cellulosic fiber derived from wood and produced using a closed-loop, eco-friendly lyocell process, is used as a traditional textile fiber as well as for nonwoven and technical applications. Properties include high wet and dry modulus, softness and high moisture absorption capacity.

At the loan signing, Lenzing CEO Peter Untersperger noted that Lenzing is already operating three pilot plants in Europe for Tencel development. "We still see considerable potential for growth in the future which must be explored now, as the demand for high-quality fibres manufactured in environmentally compatible processes will continue to increase," he said.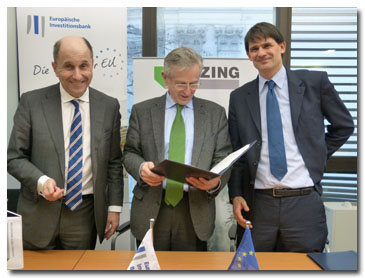 Left to right: Lenzing CEO Peter Untersperger, EIB Vice President Wilhelm Molterer and Lenzing Head of Finance Patric Thate celebrate the signing of EIB's 100 million-euro loan to Lenzing.

February 4, 2014