Cary, N.C.-based Cotton Incorporated; the Memphis, Tenn.-based National Cotton Council of America
and its export promotion program Cotton Council International; and Cotton Australia have come
together to establish Cotton LEADS™ — a program focused on raising awareness of the responsible
cotton production practices among growers in the United States and Australia, which produce some 17
percent of the world's cotton supply. Targeted to brands, retailers and manufacturers that want to
use responsibly and transparently produced cotton, the program touts the advancements made in the
U.S. and Australia vis-à-vis water and soil conservation, pest management, land use and
biodiversity practices, reduced carbon footprint, and traceability.
"Cotton producers in Australia and the U.S. pioneered practices that have resulted in
impressive country-wide environmental gains," said Adam Kay, CEO, Cotton Australia. "Both countries
approach improvement on a national level. This includes national reporting and regulatory
enforcement, but also facilitates the national implementation of best practices and the ability to
collect data on a national level."
"Apparel brands, retailers, and manufacturers require large volumes and a reliable supply of
responsibly produced fiber, as well as proof of responsible production," said Berrye Worsham,
president and CEO, Cotton Incorporated. "Through Cotton LEADS we demonstrate how cotton grown in
the United States and Australia can help meet these requirements."
The program is based on five core principles: commitment to social, environmental, economic
and regulatory considerations related to world-class cotton production; recognition of the need for
ongoing improvement, investment, research and sharing of best practices information among growers
and industry; understanding of the importance of collaboration with farm, regional, national and
international programs to bring about more responsible, sustainable cotton practices; belief in the
benefits of cooperation with other similar programs for ensuring cotton's competitiveness in global
fiber markets; and confidence in a cotton identification system that ensures traceability
throughout the supply chain.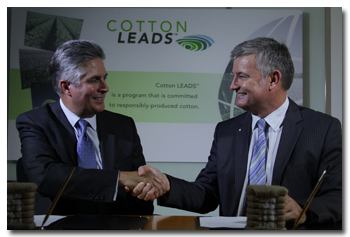 Left to right: Cotton Incorporated President and CEO Berrye Worsham and Cotton Australia CEO
Adam Kay celebrate the establishment of the Cotton LEADS™ program to promote the use of responsibly
grown U.S. and Australian cotton by textile brands, retailers and manufacturers.


October 29, 2013