Japan-based Teijin Fibers Ltd. has developed a hollow polyester fiber with eight lobes, giving its
cross-section an octopus-like appearance. The Octa fiber, targeted to fall and winter innerwear,
fashion apparel and other applications, will be available on the market beginning in April 2012.
The spaces between the projections, in addition to absorbing perspiration and contributing to
quick drying, add bulk without weight — with yarn weight approximately half that of yarns of
comparable thickness — and enhance the fiber's insulation and heat-shielding properties, Teijin
reports. The company also notes that Octa can be combined with other fibers using processes such as
false twisting, combined filament processing and two-strand yarn spinning.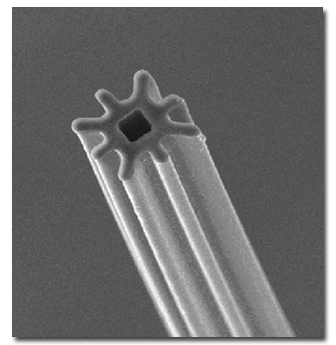 Teijin Fibers' Octa eight-lobed hollow polyester fiber


November 29, 2011