The new Zoom Victory Spike running shoe from Nike incorporates Kuraray America Inc.'s high-strength
multifilament Vectran® fiber. The shoe utilizes Vectran — which Kuraray supplied to Nike for
conversion into embroidery threads — in its new Flywire technology. Each shoe uses 116 Vectran
fiber Flywire strands, which help to provide support and cushioning at such key points as the
forefoot and heel.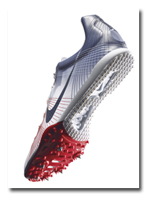 "Vectran fiber's unique combination of properties, including its tensile strength, light
weight and flexibility, enabled Nike to design the lightest-weight spikes ever made," said Robert
Knudsen, Kuraray's sales and marketing manager, Vectran.
September/October 2008