T

he Gastonia, N.C.-based Synthetic Yarn and Fiber Association (SYFA) will continue the
theme of sustainability at its upcoming summer meeting to be held July 31-August 2 in Myrtle Beach,
S.C. The conference, titled, "Sustainable is Attainable: Opportunities for Textiles," follows the
successful Winter SYFA meeting.
According SYFA, it is a non-profit organization comprised of individuals affiliated with the
man-made yarn and fiber industry. Members include fiber producers, texturizers, knitters, weavers,
and dyeing and finishing personnel. Raw material suppliers, equipment manufacturers, and service
providers associated with the industry also are considered valuable contributors to the
organization.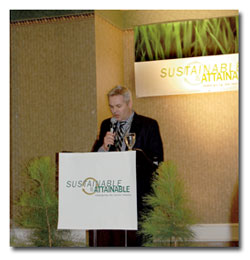 Ulrik Frodermann, Oerlikon Barmag, and outgoing SYFA president, addresses attendees at
SYFA's Winter 2008 meeting.

Conference Continues

SYFA hosts two major conferences each year – a winter conference in late February and a
summer conference in late July. The Winter 2008 conference, held in Charlotte, had record-breaking
attendance for the organization, and because of the popularity of the sustainability topic, the
summer meeting will continue to highlight this very timely theme.
SYFA has a slate of speakers committed from: Wal-Mart, Coca-Cola, Toyota Automotive, Unifi
Inc., Nan Ya Plastics, O'Mara Inc., Automotive Textile Solutions, Environmental Protection Agency,
ERM – the world leader in providing environmental consulting – Santee Cooper power company, and PCI
Fibres.
According to the association, the primary goal of the conference is to exchange "information
on the sustainable programs at major industry customers such as Wal-Mart and Toyota; the
sustainable fiber developments from Unifi, O'Mara, and Nan Ya; the opportunities for greater energy
efficiencies; and raw materials perspectives and how they may be impacted by the growth in
sustainable awareness."
Sponsors of the event include Accotex, DyStar, ERM, Goulstan Technologies Inc., Measured
Solutions Inc., Mezger Inc., Nan Ya Plastics, NatureWorks Inc., Nilit Ltd., Oerlikon Saurer, Omtex,
PolySpinTex Inc., Pulcra Chemicals, Strategic Textile Solutions Inc. and

Textile World
.
In other SYFA news, the association has announced that Pat Murray, Unifi Inc., is the first
female to be in line for the presidency of SYFA. Murray is in line to be elected the first female
president of SYFA in its 36-year history. She will succeed Ulrik Frodermann, Oerlikon Barmag.
Frodermann is acknowledged for his dedicated service to the association.
---
For more information about the event or organization membership, contact SYFA Managing Direcor
Kim Pettit, 704-824-3522;
kpettit@thesyfa.org.
July/August 2008