A
t a time when many manufacturers are looking for points of difference to set themselves
apart from the competition, there is one arena within the textile/apparel/fiber complex in which
proprietary processes and innovative new products are the norm. Performance fibers and polymers
account for some of the most advanced processes in the industry; and provide the means through
which significant advances are made in providing end-users with increased safety, enhanced comfort
and added convenience. On the commercial side, advanced fabrics provide structural reinforcement,
high-tech insulation, special coatings, fire barriers and more.
In this competitive arena, the operative word is "innovation." The race to develop something
new, differentiated and sometimes, even, breakthrough creates an environment in which fabrics and
fibers are infused with some truly remarkable properties.

Propylenes Impart



Performance Advantages

The Dow Chemical Co., Midland, Mich., is among the most well-known companies in
the world and has a long history of product invention. Currently, Dow is touting a new
manufacturing process that has enabled the production of an olefin block copolymer (OBC) product
the company calls Infuse.
Before Dow developed the new process, block copolymers of simple olefins, such as ethylene,
propylene and a-olefins were attempted in the laboratory using a cost-prohibitive batch process
similar to that used to produce other types of block copolymers styrene butadiene styrene (SBS) and
styrene ethylene butylene styrene (SEBS), for example by using one initiator to make a single
polymer molecule. Dows Insite manufacturing technology enables production of polyolefin block
copolymer catalytically in the companys continuous solution polyolefin process.
"Developmental versions of the ethylene-based OBC were found to have better processing, elastic
and stress-relaxation performance characteristics that filled the performance gap between 'random'
polyolefin elastomers and styrenic block copolymers (SBC), which are currently widely used in the
form of elastic films, tapes and panels in health and hygiene articles," said Andy Chang, Ph.D.,
research specialist.
OBC is differentiated from other polymers by having hard and soft blocks within the same
polymer chain. According to Dow, this imparts certain performance advantages, including improved
elastic performance and improved stress-relaxation performance.
For applied strains greater than about 200 percent, Dow reports "random" ethylene-based and
random propylene-based copolymers exhibit higher permanent set compared to styrenic block
copolymers. In contrast, the OBC polymers exhibit permanent set values that are more similar to a
formulated styrenic block copolymer for applied strains of 100 to 500 percent.
Stress-relaxation performance relates to the ability of an article to maintain fit. High
amounts of relaxation lower loads translate to greater sag and poorer fit. Less stress-relaxation
higher loads translates to better "holding force" and better fit.
OBC maintains higher stresses compared to a random copolymer, a styrenic block copolymer and
a commercial diaper tab when stretched to 50 percent strain at body temperature and allowed to
relax. This means better and differentiated fit over time when it is used as the primary elastic
component or in combination with other materials.
As a consequence of OBCs various properties, Dow claims the elastomer not only bridges the
performance gap between random polyolefin elastomers and styrenic block copolymers, but also
exhibits differentiated characteristics that can translate to performance in medical and hygiene
applications. Potential applications also include hoses and tubes; profile extruded products such
as automotive weatherstripping; appliance, furniture and building/construction gaskets; crosslinked
foams for industrial, consumer and footwear applications; closure liners for caps; and interior
automotive parts.
Another polypropylene product new to the market is CoolVisions, a dyeable polypropylene
fiber from FiberVisions Corp., with production facilities in Covington, Ga. CoolVisions is a
disperse-dyeable fiber for use in ring-spinning applications. The product, according to
FiberVisions, has essentially the same properties as solution-dyed polypropylene fibers, but,
because it is disperse-dyeable, adds flexibility for the design and fashion-driven markets.
Catering to the consumer trend toward softness, CoolVisions T-108 yields a soft, cottony hand even
more than solution-dyed staple, according to the company. It can be blended with wool, cotton,
cellulosics or man-made fibers; and can produce garments that are lightweight, comfortable and
breathable with excellent moisture-management properties.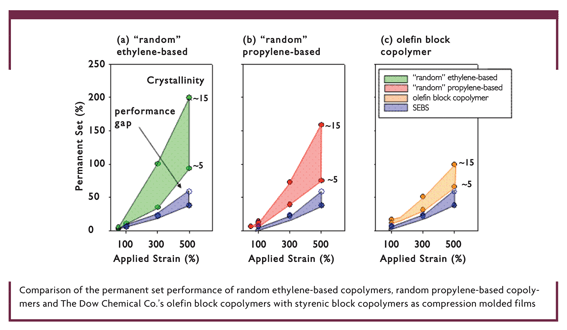 Comfort And Convenience


While performance products serve a number of useful functions, perhaps nowhere are they in
demand as much as in the areas of consumer comfort and convenience. Eastman Chemical Co.,
Kingsport, Tenn., has recently introduced the EastONE® family of technologies and performance
polymers for nonwovens. These products are targeted toward microfiber nonwovens, filtration and
flushable/dispersible nonwovens. EastONE S85030 copolyester is a water-dispersible polymer
engineered to enable more sustainable production of microfiber nonwovens using segmented pie or
islands-in-the-sea technology, which is essentially a fiber within a fiber. Use of this technology,
according to Todd Williams, nonwovens global industry leader for Eastman, provides significant
consumer benefits, including enabling lightweight, high-strength applications; enhancing fabric
durability and breathability; and improving air and liquid filtration performance, and high wet
pickup and wiping applications.
"While segmented pie and islands-in-the-sea processes are currently used to produce nonwoven
materials for the household, industrial and personal hygiene markets, the advent of EastONE S85030
water-dispersible polymer will greatly expand the range of applications for nonwovens," Williams
said.
Also new for the production of dispersible wet wipes is Nacrylic STP from Dallas-based
Celanese Corp. The Nacrylic STP polymer system features a trigger mechanism that enables chemically
bonded nonwovens to achieve a wipes desired wet strength during use, while dispersing in an excess
freshwater environment. Nacrylic STP is, according to Celanese, ideal for chemically bonded
nonwovens. The polymers can be applied by spray, print, foam and saturation.
Charlotte-based Polymer Group Inc. (PGI) recently introduced a new category of
high-performance nonwoven fabrics called Spinlace®. These products deliver "high performance at
best-value pricing," according to the company, through technology and product research.
The Spinlace manufacturing process incorporates continuous filament with hydroentanglement
and eliminates the carding step. The process also uses PGIs proprietary Apex technology to
integrate unique 3-D images directly into the fabric. Initial applications are expected to include
consumer and industrial wipes. However, the company expects the product line to broaden into every
market it serves. PGIs Benson, N.C., plant will house the first Spinlace line, which is expected to
come online in the second half of this year.
In the area of comfort, Footjoy® has just introduced a new golf glove made from Holofiber®,
according to Jim Ciccone, operations manager, Hologenix LLC, Fort Mill, S.C. Holofiber was
introduced to the market several years ago, according to Ciccone, and provides properties that
regenerate oxygen back into the skin. Footjoy claims the properties of Holofiber give its new
ShockStopper® golf glove the ability to provide maximum cushioning and grip performance, while
minimizing club vibration. Holofiber also has been used in a number of medical and comfort
applications, including an antimicrobial sock manufactured for diabetics, since its introduction
several years ago.
DAK Americas LLC, Charlotte, recently introduced SteriPur FC® and Airloft® to its family of
specialty polyester staple fibers. SteriPur FC is engineered to be Food and Drug
Administration-compliant for food contact. Airloft is a high-void hollow fiber for nonwoven and
fiberfill applications.

Coated Products,



Structural Fibers And Composites

In the coated fabrics market, Richmond, Va.-based Performance Fibers has
introduced new spun-dyed, high-tenacity yarns for use in coated fabrics. These new yarns are
available in various colors and are high-strength, colorfast and fade-resistant, according to the
company. The yarn can be treated with Performance Fibers SeaGard® marine overlay finish for
water-related applications. End-uses include rope and cordage.
Fibers for structural or industrial applications require high strength, high stiffness and
other properties, depending upon the ultimate end use. Zoltek Corp., St. Louis, a manufacturer of
carbon fibers, has developed Pyron®, a fiber finding a home in flame-retardant fabrics, according
to Zolteks Mark Davidson, Pyron products account manager. Pyron is an oxidized polyacrylonitrile
fiber that blends the high temperature and flame resistance offered by carbon with manageable
processability for textile operations. Pyron has been processed into yarns for woven fabrics and
used extensively in needlepunch, spunlace and other nonwoven techniques. Pyrons standard density
product and Pyron Plus, a higher-density version, both score well in a Limiting Oxygen Index test a
common benchmark for flame-retardant fibers. Davidson said there are no chemical additives to
improve these readings; Pyron is inherently fire-resistant.
From Germany-based BASF AG comes Acrodur®, a formaldehyde-free binder for use in molded
fiber components. The molded components can be made from wood and/or other natural fibers, and are
used for such applications as automotive instrument panels and interior trim. Acrodur is an aqueous
single-component system consisting of a modified polycarboxylic acid and a crosslinking agent
containing hydroxyl groups. It is a storage-stable single-component system, according to BASF.
Before curing, it is thermoplastically deformable; and afterwards, it has duroplastic, mechanically
stable properties.
Air Products Inc., Allentown, Pa., has created Flexbond® AN214, a fine particle-size aqueous
dispersion of a self-cross-linking vinyl acetate/acrylic copolymer. The product forms a hard, tough
plastic film and exhibits resistance to water and aging, as well as slow swelling in chlorinated
hydrocarbons. Because it forms a particularly hard film, Flexbond AN214 dispersion is targeted for
such applications as a sprayable binder for waddings and as a finishing agent for woven and knitted
goods.
Omnova Solutions Inc., Chester, S.C., has developed Omnapel 3158, an aqueous emulsion of a
hydrophobic acrylic copolymer, for applications in specialty nonwovens and paper. The company
recommends using the product for applications requiring ultra-hydrophobicity/barrier
characteristics, superior resistance to heat and ultraviolet (UV) exposure, high wet/dry strength
and a medium hand.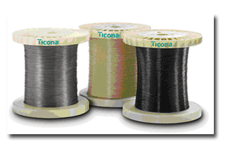 Ticona GmbH's monofilaments made using Riteflex(R)

thermoplastic polyester elastomer offer enhanced UV stability.
New technology has provided enhanced UV stability for the monofilaments made with Riteflex®
thermoplastic polyester elastomer from Ticona GmbH, Germany. Polyester monofilaments made with
Riteflex thermoplastic polyester elastomer have more than 90-percent property retention in color
and elongation, for example at UV exposures of as much as 1,500 kilojoules per square meter when
tested according to SAE J1960. As a result, the fibers are targeted as solutions for auto seating,
outdoor furniture and other applications exposed to sunlight. The product also provides a high
barrier for liquid water while allowing the transmission of water vapor preventing mold formation
when used as fabric for furniture, auto seating or incontinence pads.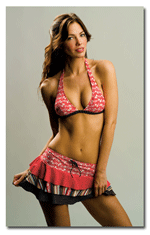 RadiciSpandex produces S-17B, polyether-based

chlorine-resistant spandex suitable for swimwear.
SpandexS-17B, a chlorine-resistant, polyether-based spandex from Gastonia,
S.C.-based RadiciSpandex Corp., protects stretch fabrics from degradation from prolonged exposure
to chlorine, UV rays and suntanning oils. S-17B also has greater modulus than standard spandex
fibers.
According to the company, S-17Bs protective features prolong the wear life and enhance the
appearance of swimwear and lingerie, providing end-use customers more value for their money.
RadiciSpandex S-45 yields disperse-dyed polyester stretch fabrics in various colors with
dyeing versatility, elimination of cationic polyester fabric streakiness and American Association
of Textile Chemists and Colorists wash-fastness ratings of 4 to 5. S-45 provides an economical
opportunity for apparel producers to market garments in polyester stretch fabrics with a clean,
colorful appearance, according to the company.
Hyosung Corp., South Korea, is building a new creora® spandex facility in Turkey
(See "Fiber World News,"
TW, this issue). "We are investing in Turkey as part of Hyosungs global
growth strategy and to demonstrate our commitment to the textile industry," said Greg Vas Nunes,
president, Europe and the Americas. "The new factory will be located in Cerkezkoy, near Istanbul,
to ensure fast and reliable delivery locally as well as to African and European regional
customers," Vas Nunes said.
Hyosung's Creora H-350 is a high-heat-resistant spandex that provides aesthetic and economic
benefits for the end-user, according to Hyosung. Some features include lasting power fit and
freedom of movement, long-lasting color wash-fastness when blended with polyester, and excellent
knitting efficiency.
---
May/June 2007